Trust Kylie Jenner to be ahead of everyone in the makeup business. Whether it's tactful marketing, gorgeous packaging, or something as creative as a Kylie Cosmetics Vending Machine.
We love Kylie for how inventive and confident she is. There's no denying that even her products are LIT! What's even more lit is this new development that means an all-new, simplified way of making Kylie purchases.
Kylie Cosmetics Vending Machines
YES, forget about chocolates or snacks now. You can actually buy Kylie Cosmetics through their very own vending machine.
The first vending machine is located at McCarren International Airport in Las Vegas. This is honestly great news. The machine is black, which says 'KYLIE' in capitals, and a huge glass window with rows of Kylie Lip Kits, and blushes, as well as palettes on display. SO tempting, right?
Kylie posted a picture on Twitter earlier to share how happy she is about her new vending machines.
Kylie Cosmetics fans are loving this…
Of course, someone who loves her beauty-line would be happy to have more accessibility to her products!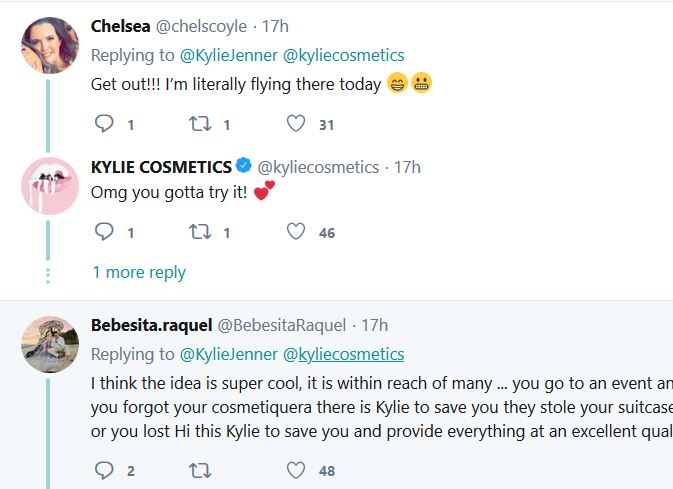 Ahh, we WISH all airports had this vending machine!
Some are appreciating 'momager' Kris Jenner
Kris Jenner, mom, and manager to Kylie Jenner (and all the Kardashians) is a true business-woman who knows how to use her assets wisely. She also deserves the credit for her daughter's success and people always say it.

Some noticed how Benefit Cosmetics did it first
Yes, Benefit Cosmetics vending machines have been around for a long time.


And Benefit Cosmetics said something too!

As of now, the only two brands to have their own vending machines are these two. However, instead of seeing Kylie as a competitor, Benefit chimed in to support her brand. We love the positivity from Benefit Cosmetics.
You never know when you're on the go, ready for a new vacay, and feel like buying a gorgeous new lippie. Or, when you decide last-minute to buy a cute gift for someone you're visiting. Kylie Cosmetics vending machines have got you covered!