Jordyn Woods and Jaden Smith have always been closest to each other. They have been close friends since they were kids and the friendship just keeps getting stronger. Jaden was also the person that introduced Kylie Jenner to Jordyn Woods. Though Kylie and Jordyn are not friends anymore. However, it has not affected Jaden's friendship with Jordyn. Many people do not know that Jordyn made her first cameo in a music video when she was a kid. And it was for Will Smith's very famous track, Black Suits Comin'. In fact, they recently revealed that Jordyn was not the first choice for the cameo.
Jordyn Woods & Jaden Smith spill the tea
Will Smith's Black Suits Comin' was a very famous track back in the days. The song was done for Will's movie; Men in Black. There are tons of aliens in the official music video, making it a 4 minutes musical version of the movie.
Jordyn Woods makes an appearance in the video at 3:23, after an alien breaks Will's black shades. Being that cute little girl she was, she offered Will Smith her own shades so that he can continue the performance. Seeing how far Jordyn has come since that cameo, it feels like Will Smith always knew she would be a celebrity one day.
Recently, Jordyn Woods made a special appearance in G-Eazy latest music video for his song Down. A few people pointed out that she just started making appearances in the music videos after Kylie Jenner's cameo in Cardi B & Thee Stallion's WAP. To prove them wrong, Jordyn posted this on her Instagram:
In the comments section, Jaden Smith spilled the tea that 18 years ago, it was supposed to be Jaden making a cameo appearance in Black Suits Comin'. But he got nervous and started crying, so Jordyn Woods saved the day by replacing Jaden.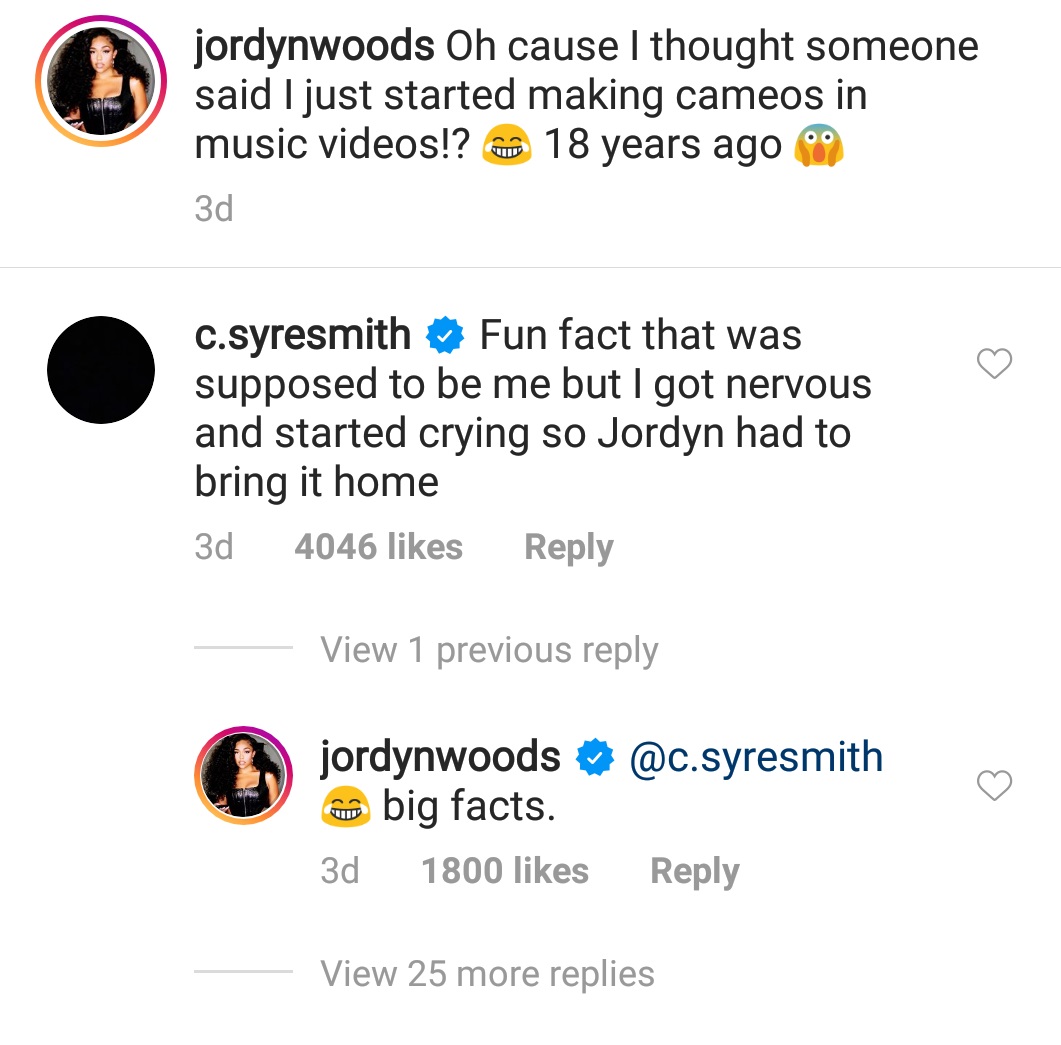 A fan commented under the post, confirming that he remembers seeing a behind-the-scenes shoot of the video where Will Smith was trying to carry Jaden on his shoulder to stop him from crying.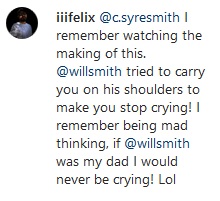 That's interesting.