Who would have thought that we would be back to the beauty community drama this soon. The whole world witnessed a massive scandal of the beauty community involving Jeffree Star, Shane Dawson, Tati Westbrook, and somehow James Charles as well. While everyone else has spoken on the matter one way or the other, Jeffree is the only one who has not come forward with his statement. And that did not sit well with many. Following the whole drama of the beauty community and the center spot Jeffree is allegedly playing in it, the makeup retailer Morphe has cut ties with Jeffree and his cosmetics officially. Following which, Jeffree's team has responded and kind-of shaded Morphe?
Morphe cuts ties with Jeffree Star & Cosmetics
It seems like Morphe is done with the beauty community drama. On Friday, Morphe shared their decision on the drama, on their official Twitter handle. The tweet shows that Morphe is cutting ties with Jeffree Star, and all of his affiliated brands. That means Morphe wouldn't be showcasing Jeffree's products anymore.
Today we've made the decision to cease all commercial activity related to Jeffree Star and affiliated products. We expect this to conclude within the coming weeks. As we look to the future, we will continue to share updates on what lies ahead for the Morphe brand.

— Morphe (@MorpheBrushes) July 10, 2020
The official procedure will be concluded in a few weeks. Even though Jeffree Star Cosmetics appears to be doing pretty good on its own, however, after the recent drama and now Morphe cutting ties with the beauty mogul, the brand is going to take a hit.
Jeffree's team responds
Jeffree Star might be staying quiet on many things but he was not going to stay quiet on Morphe kicking his products out of the system. After Morphe's tweet, Jeffree Star Cosmetics shared its official statement on Instagram.
View this post on Instagram

Dear Star Family…
At the first glance, the statement does show a positive attitude by Jeffree since it states the company is proud of everything they have accomplished together. Jeffree Star Cosmetics also promises more products dropping this year. The brand has already launched new shades and formula of Velour Lip Liners.
View this post on Instagram

Our Velour Lip Liners are back and more luxurious than ever! 😇Available in 26 highly pigmented shades that match up perfectly with our iconic Velour Liquid Lipsticks! 🔥 This NEW formula has a stunning suede matte finish, creamier texture, and allows for multi-layer applications without buildup! 💖 Launching this Friday 7/10/2020 at 10AM PST / 1PM EST 🌟 Photographer – @marcelocantuphoto Set design – @keithboos Makeup – @lipsticknick Hair – @hair_by_jay1 #jeffreestarcosmetics #velourlipliner #velouliquidlipstick
Now comes the alleged 'shade' towards Morphe. The statement says "excited to share our new products with you and our partners around the world". That means, even if Morphe will not be retailing Jeffree Star Cosmetics, the company still has many partners around the world.
Jeffree Star's closest friends and teammates also commented under the post: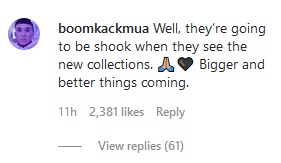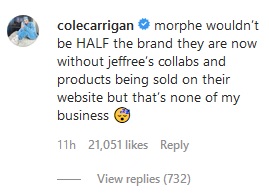 Fans react to the news
True Jeffree Star fans are not liking the latest turn of events. They are calling out Morphe for being "politically correct" and focusing more on selling their own products.
One fan wrote: "Morphe was nothing before Jeffree. They owe their success to him bringing people awareness to their company. What a dumb move." Another said: "It's truly disgusting what they did to you and Shane Dawson because it goes to show that they've hopped on a political bandwagon and it's more about selling their own products, being politically correct,, than doing the right thing. Very sad."
Jeffree Star Cosmetics are still available on Morphe and it'll take a few weeks for them to take it down.
Do you think Morphe cutting ties with Jeffree Star & his affiliated products will lead to both the companies losing business? Let us know your views in the comments below.