Edie Falco did some incredible justice to Carmela Soprano in The Sopranos. I don't think there's anyone who could have played the famous Tony Soprano's wife as better as she did. Falc perfectly portrayed the moral complexity of Carmela. However, it turns out that Falco herself has never seen The Sopranos!
Edie Falco says she never saw The Sopranos in one go!
Recently, Edie Falco appeared as a guest on the Talking Sopranos podcast. There, Steve Schirripa asked her whether she had ever watched The Sopranos, to which she said no! And here's the reason that Falco gave for not watching it:
Well, I saw periodic episodes over the years. I have certainly not seen all of them. I either was staying in my place out east for a while. A couple of years we said let's just watch it from the beginning to the end. So, we started, you know, episode 1 season 1. We got to episode 4 season 1, we were both like, I can't do it, I can't. It was emotionally exhausting, it was upsetting, it was sad, it was beautiful, it was melancholy, and it's just not what you want to watch before you go to bed. I was so, sort of, racked.
It is especially tough for Edie Falco to rewatch The Sopranos because of James Gandolfini's passing. The famous actor who played Tony Soprano passed away in 2013, which the entire cast has still not gotten over. James Gandolfini was like the glue that held the entire cast together. Everyone in the crew felt his demise down to their hearts.
Moreover, other actors like Nancy Marchand, director John Patterson have also passed away. With so many memories attached to them, it is evidently hard for Falco to watch the show. Even Steve Schirripa and Michael Imperioli are only now watching the entire show for the first time.
Moreover, Robert Iler also admitted to never have seen the show outside of the premiers. In fact, he went a step further and left acting altogether.
However, Falco still had some memorable moments from the show, which she adores and admires to this day.
Her favorite scene was one of silence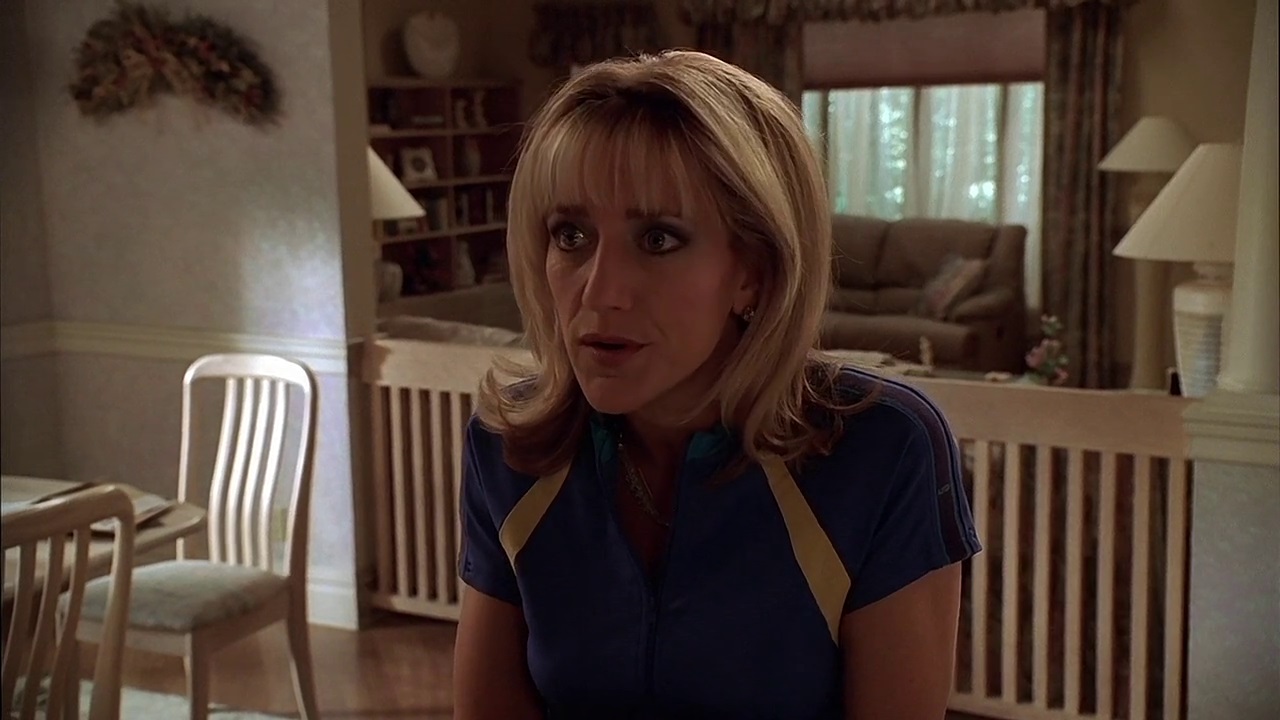 One thing that Edie Falco admired about David Chase and The Sopranos was that there were several scenes where she and James Gandolfini did nothing. It was just them living their life on screen, with some tension that made their encounter tense for the audience. That is pure drama on television, the likes of which were never seen before The Sopranos. Here's Edie Falco's favorite moment from The Sopranos:
There was one scene I forget. It was in the kitchen and he came home late and he hadn't eaten, so I walked in and I go to the kitchen, get something out. I cook it up and he's sitting and then I put it in front of him and then I sit next to him. I don't think a word was said through the whole thing.
Moreover, Falco believes that those silent moments were very moving and rich with emotion, even though no one said a word:
It ended up being so moving and just so rich, you know. But it was one in a number of scenes that Jim and I had where we didn't talk. And it's such an opportunity I hadn't had nor have I had it since then.
There's no doubt that there is no show on Earth that can ever be like The Sopranos. But, we do hope Edie Falco gets the courage to see her own work of art. It was nothing less than exquisite.