Popular YouTuber, Mark Dohner still has feelings for Kylie Rae Hall. The couple split recently  after two years of lovey-dovey relationship.
Mark Dohner And Kylie Rae Hall Break Up
Just two weeks ago, the internet celebrity Mark Dohner announced his split with girlfriend Kylie Rae Hall. Hall happens to be a big name on YouTube and is known for her modelling ventures
Doner Vlog Confirming His Split With Kylie
Doner, in fact, shared a heartbreaking vlog explaining why the couple decided to set apart.
Mark Doner has recently posted his "we broke up" vlog on YouTube, saying that a video announcement of the break up is pretty easier than to talk about it. Moreover, he thought it's his responsibility to explain his fans why the two eventually split.
Mark shared his views on the recent split,:
I owe it to you guys because you guys have been such a big part of [mine and Kylie's] life for the past two years. And all you Marlie fans — I love you guys so much. Thank you all for your support over the last couple of years but unfortunately, Kyle and I are no longer together,
Who Is Mark Dohner
The 23-year-old YouTuber initially became famous as a Vine star, Later, he invaded YouTube via hilarious videos and achieved immense success as a Vlogger. Mark Dohner thus managed to grab the gold play button. He has more than 2 million YouTube subscribers and more than 1.7 million followers on Instagram.
Back in March 2018, fans got the news that the 24years old Youtuber is dating the Instagram pro, Kylie Rae. Kylie Rae Hall is an American model and social media star with massive fan-following on her Instagram account. The Social Media Diva, in fact, has over 510 K subscribers on her channel. This news spread blazingly across the social media platforms ultimately adding up followers to both lovebirds. Moreover, both of them got an extra dose of subscribers with a sprouting fanbase on their YouTube destinations.,
Mark-Kylie Love Story
The couple, in fact, got introduced on January 6, 2017, at a public club. Then, they sensed some special feeling for each other and thus started dating. It's nothing confidential as Mark openly uploaded a video about his first date with Kylie on January 14 2018.
Furthermore,  last February Mark posted an Instagram image with his beloved girlfriend celebrating the first anniversary of their relationship. The caption further read that 'the time flys when you are having fun'.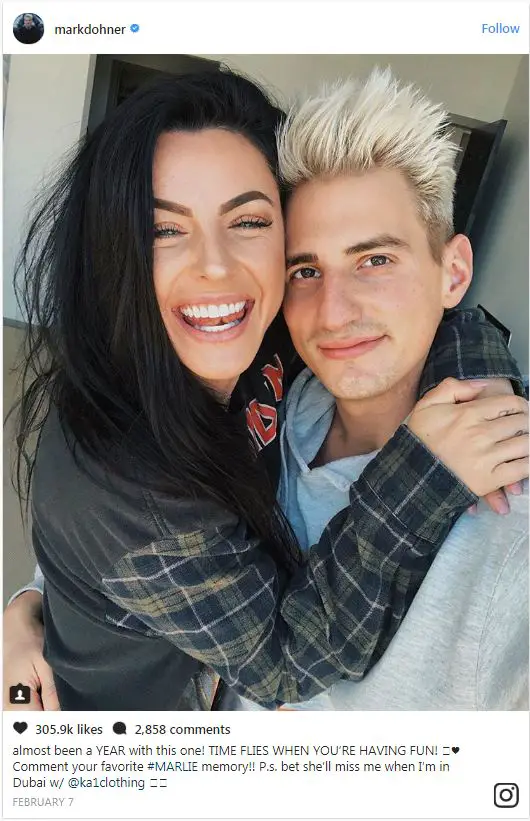 In response to such affectionate posts, Kylie also shared her love on Instagram as a Valentine treat. Moreover, Kylie is spotted in almost every Dohner vlogs. Kylie, in fact, became his assistant and all their respective social sites post displayed the couple in a contented mode.
Why Did They Split?
fans are shocked when the internet celebrity announced his split with girlfriend Kylie Rae Hall. According to Mark, things are not flowing steadily between both of them. After the honeymoon phase, the couple couldn't mend some serious conflicts and eventually decided to end their relationship.
Mark thought that his inexperienced love life leads to such separation. He confessed that this was his first official relationship. The popular YouTuber is still in love with Kylie despite their decision to break up.
Mark commented,
"I loved Kylie…I still love Kylie. She has the most amazing eyes and the most beautiful smile.