When you look at the Vlog Squad, you can tell people other than David Dobrik are hilarious as well. Take Zane Hijazi, for example. He is witty and creative in more than one way. Just recently, Zane, often mistaken as Zayn Malik for no apparent reason, teased his fans with an upcoming cover of WAP. It's one of the most streamed songs this year. Cardi B & Megan Thee Stallion nailed the song. However, they had to censor the explicit chorus. Otherwise, the song would've definitely been demonetized. Turns out, Zane was not scared of demonetization. He sang with his heart, and turned the s*xy uncensored WAP song into a melody. That's not all, the official cover music video features Addison Rae, Stassiebaby and more.
WAP featured Kylie Jenner, Zane Hijazi's cover features her BFF Stassiebaby
While Cardi B and Megan Thee Stallion had many cameos in their WAP music video, the major one was by Kylie Jenner. To counter such a huge cameo, Zane Hijazi brought one of his closest friends (rumored girlfriend), and Kylie Jenner's BFF, Stassiebaby. Anastasia Karanikolaou is equally hot, just like Kylie. And Zane could not have done a better job other than having her in his WAP cover.
Fans are still confused whether Zane and Stassiebaby are dating or not. But this confusion is not stopping them from shipping them together. They are really happy to see them collaborating again as a couple, this time for a music video. Zane and Stassie have previously collaborated for their YouTube vlogs.
Zane Hijazi can be hilarious and romantic at the same time. And Stassiebaby loves him for that.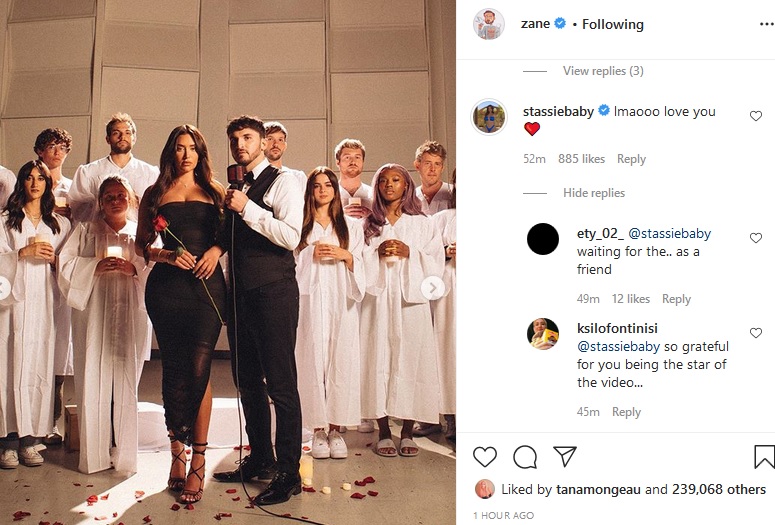 Addison Rae & the Vlog Squad
Excluding David Dobrik, you can see almost all the Vlog Squad members in the official cover music video of Zane's WAP. The whole choir in the background includes Addison Rae, Heath Husser, Scotty Sire, Jason Nash, Natalie Noel, Matt King, Ilya Feddy, Mariah Amato, Quen Blackwell, Kenny Allen, and Courtney. Moreover, the video also features Natalie Noel's boyfriend Tod Smith playing piano.
While many people were wondering why is David Dobrik not a part of the video, some were not happy to see Natalie Noel with the Vlog Squad in the choir. Some of them dislike her, while some are not in favor of her hanging out with the Vlog Squad.
In any case, she made a good addition to the choir in the background.
Zane Hijazi's WAP Cover review
Zane Hijazi did not censor a single word in the official cover of WAP. That shows he was more focused on promoting his cover, instead of earning money through it. If you have heard the original WAP song by Cardi B and Megan Thee Stallion, then do not expect Zane to sing just like they did.
Zane Hijazi turned the extremely explicit words and the swearing into a lovely melody. He sings quite good as well. The song is so lovely and melodious that you will not even register that you are playing an explicit song at full volume. By the time you'll realize it, it'll be too late.
But don't let that stop you from checking out the song. It's beautiful and we hope both Cardi B and Megan Thee Stallion like this version of their song.