Last week, Mike Flanagan's latest horror show premiered on Netflix. Already, fans are speculating about Midnight Mass season 2. Although Flanagan is known for mini-series, there might be a chance that this show returns for a second installment. However, the chances are quite dim. At the end of season one, only two residents of Crockett Island survived. Therefore, the second season might see them settling in a new town. So far, there is no confirmation or news of a second season.
Although Flanagan is best known for horror shows, his newest is a little different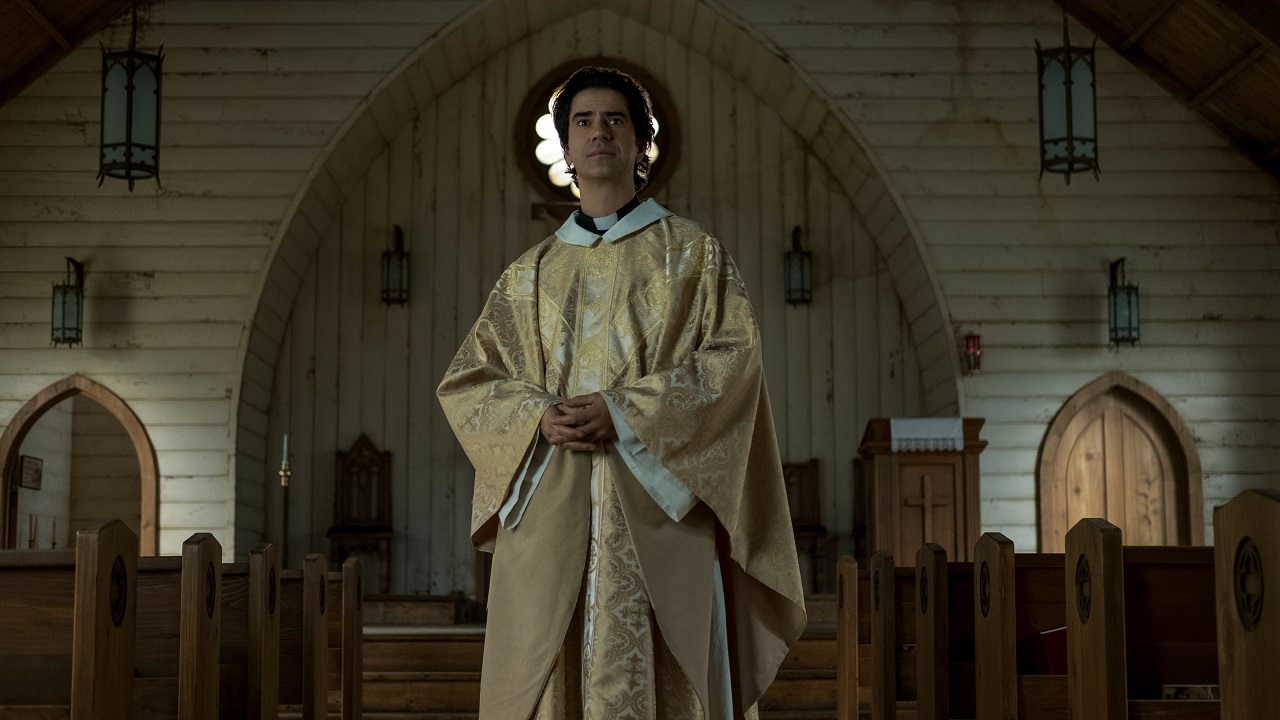 While The Haunting of Hill House and Bly Manor are the ultimate dream of horror fans, Midnight Mass has taken a different route. Nevertheless, it is another show which has instantly become a fan favorite. Therefore, there are already speculations about Midnight Mass season 2. The story revolves around the residents of Crockett Island. While this sleepy island is nearly a ruin, things start to change with the arrival of new priest Paul Hill. At the same time, Riley Flynn has returned after spending some years in jail and seeks redemption for his troubled past. However, the show takes an unexpected turn. While we waited for the horror to ensue, the show presented a new take on zombie apocalypses. At the same time, it focused on religion, salvation, and sacrifices.
Related: The Haunting Of Bly Manor Is An Amazing Season 2 Of Hill House
Shortly after the first season came out, people wanted to know about Midnight Mass season 2
The way season one ended, there is little chance of Midnight Mass season 2. However, the fans still want to know if there is any possibility. At the end of season one, we saw all the residents of Crockett Island turn to dust after sunrise. However, there are few questions left unanswered. Before the islanders vanished in thin air, the angel/creature was seen heading west. Therefore, it is still unclear if it is alive or dead. On the other hand, the remaining two people, Leeza and Warren were seen sitting in the boat. The fans speculate their future as well.
If Midnight Mass season 2 happens, which cast members will return?
Although only Annarah Cymone and Igby Rigney's characters survive, there can be a new cast for Midnight Mass season 2. During the first season, almost all of the characters died. However, we saw incredible performances by all of them. Hamish Linklater, Zach Gilford, Katie Seigel, and Rahul Kohli mesmerized the viewers with stellar performances. At the same time, Samantha Sloyan was terrific as Bev Keane. However, Midnight Mass season 2 might not have any of these actors.
Although people want another season, it might never happen. However, we should never say never and wait for an official announcement.
Related: Midnight Mass: ending explained