Childish Gambino recently rolled out an animated clip of his song 'Feels Like Summer,' putting Gambino in boiling waters. How? Well, now Gambino's This is America has a formidable competitor in its race to assume the mantle of the video of the year; as crazy as it may sound, Gambino's one song is up against his other, and that too for all the good reasons.
Maybe the video isn't just as impressive; there are features to it that set it distinctively apart. Featuring 21st-century icons in animated cameos, Feels Like Summer is an exciting, enthralling 4:46-minute journey bloated with several messages to be decrypted. This article focuses on the meaning behind the characters.
The animated clip features the hip-hop artist walking down a street while scrutinizing every passerby. The initial feature introduces two young cameos, presumably Trippie Redd and Lil Pump; depicted as children, they hint towards a musical revolution. It's hinting at an inevitable takeover of the industry by younger blood. The scene then shifts to the children struggling through all odds after getting rebuked by Savage, Metro Boomin, and Kodak Black. This signals that newer, fresh talent gets blown off by established older artists who feel alienated by a 'threatening' change.
Related: Why is Donald Glover So Damn Good at Everything?
Inspirational Message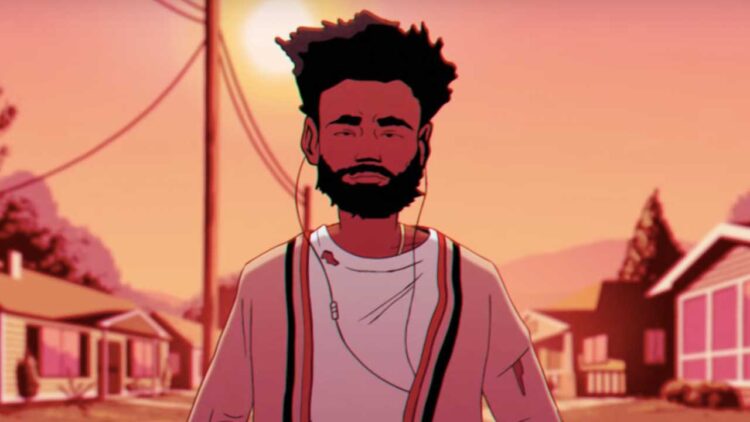 We also see Migos playing basketball; a strong message is set here. People can be multi-talented, so look for success wherever you can find it. We later have Kid Cudi stranded alone in the dark with an eerie light radiating out of his body. Cudi has often taken his songs to emphasize the awareness of mental health by including dialogues addressing the issue. He has also made a roaring comeback in the industry after days of dark, and his feature elaborates on Gambino's appreciation for Cudi's internal triumph.
Kanye West and Michelle Obama then steal the stage; Michelle Obama hugs a crying Kanye West. This specific feature is ambiguous and open to any explanation. Glover could be making reference to Snoop Dogg's comments that Kanye "needs black women in his life." And with the former First Lady being a symbol of compassion, the hug is pretty understandable.
Petty Drama
We also see Nicki Minaj and Travis Scott playing and quarreling like kids in the music video for 'Feels Like summer'. It almost seems that Grover has belittled their recent feud as nothing more than a publicity stunt. The video also showcases The Weeknd Ty Dolla $ign and Frank Ocean in a tug of war against A$AP Rocky, Solange, and Willow Smith. The aimlessness of the game depicts how the media maneuvers the audience into thinking that celebrities have been involved in controversy. In reality, it is just overhyped drama.
Beyonce is in the video as well. She stars sporting a t-shirt paying tribute to the Late Fredo. This provides insight into the star's compassionate, respectful, and charitable nature.
Other References that we can see in 'Feels Like Summer'
Will Smith is also washing his car; this carries strong references to his Summertime lyric 'You just finished washing your car down.' Perhaps the most iconic offering of this video is Azealia Banks up a tree. Glover has indeed carefully mocked the artist for retiring from the community. She had done so after a range of controversies.
'Feels like Summer' effectively cashes on the popularity of American icons in a way that is not only melodic but inspiring. It contributes to society and the environment most warmly.
Did you like the music video? What did you think? Let us know in the comments below.