You may recognize Bill Skarsgård from the horror movie IT. He played the creepy clown Pennywise and amazed the world with his acting. Some may say that this role even put his acting on the map! But did you know he comes from Sweden? He has many siblings in the Hollywood industry such as Alexander Skarsgård. But how did Bill Skarsgård come from Sweden all the way to Hollywood? The Swede actor is on his way to superstardom with the upcoming movies such as 'The Devil All The Time'. It's worth seeing how that came about.
Bill Skarsgård's entire family consists of actors
Born in Sweden, Bill Skarsgård started acting at the age of 12. He starred in the Swedish Thriller film 'White Water Fury' in 2000. Bill played 'Klasse' alongside his older brother Alexander Skarsgård.  The interesting thing that most people don't know is that their father Stellan Skarsgard is a well-known actor who starred in 'Pirates of the Caribbean', 'Good Will Hunting', 'Mamma Mia', and 'Thor: A Dark World'.
Bill shares their father used to take the kids on the sets of the movies he was doing. That instilled a curiosity in the minds of the children since most of them grew up to be actors. In Bill's own words:
Like you're 8 years old and you're on a set and your dad's like–
your dad is your dad but like on set he has a gun, fake mustache and like the whole thing. So for me, like as a kid, that's what you do being a kid. Playing like with your friends. So the appeal of this imaginary, fantastical way of just being paid and being an adult and acting
like a child I think was planted
at a very young age.
The very happening Swedish film career
Even though Bill didn't want to follow the footsteps of his family and become an actor like them, he still ended up right there. After a short gap of a couple of years, Bill Skarsgård appeared in 2 short Swedish movies 'Spending the Night' and 'Pigan Brinner' in 2007 and 2008. Then he got the role of Erik in 'Arn – The Kingdom At Road's End'. The movie revolved around templars and historic battles. Then in 2009, Bill Skarsgård got a bigger role as Pontus in 'Kenny Begins'. The 2009 movie showed Bill as a 15-year old bullied kid, Pontus, who ends up absorbing superpowers from a crystal ball. Pontus uses his power to help his new friend who's not from Earth: Kenny Starfighter.
'Kenny Begins' was a comedy and sci-fi film which was completely different from Bill's last movie. It's clear even at the initial stages of his career that Bill Skarsgård has the skill to play a variety of different characters.
However, it was the 2011 movie 'Simple Simon' that brought him some international recognition. Bill Skarsgård played Simon, who has Aspergers Syndrome. He lives with his brother Sam and Sam's girlfriend Frida. In this comedy movie, Bill did an outstanding performance with his eccentric portrayal of someone with a mental condition. The movie happened to be selected as the Swedish entry for Best Foreign Film at the 83rd Academy Awards. It was also the first time Bill received a nomination for the Guldbagge Award.
He also did some other Swedish movies such as 'Behind Blue Skies', 'The Crown Jewels', and 'Simon & The Oaks'. Then he entered into Hollywood.
Starting his Hollywood career with Anna Karenina, Bill Skarsgård lands roles in Hemlock Grove and Allegiant
Bill Skarsgård finally enters the Hollywood world with his role in 'Anna Karenina' in 2012. The Keira Knightley starrer movie had Bill playing Captain Machouten. Shortly after that, he got a recurring major role as Roman Godfrey in Netflix Original Series 'Hemlock Grove'. The TV show ran from 2013-2015. During that time, Bill also appeared in a Norwegian movie 'Victoria'.
Then Bill Skarsgård landed himself a role next to Shailene Woodley in 'The Divergent Series: Allegiant'. That brought him much more fame than all his previous roles. He definitely got under big Hollywood producers' radar.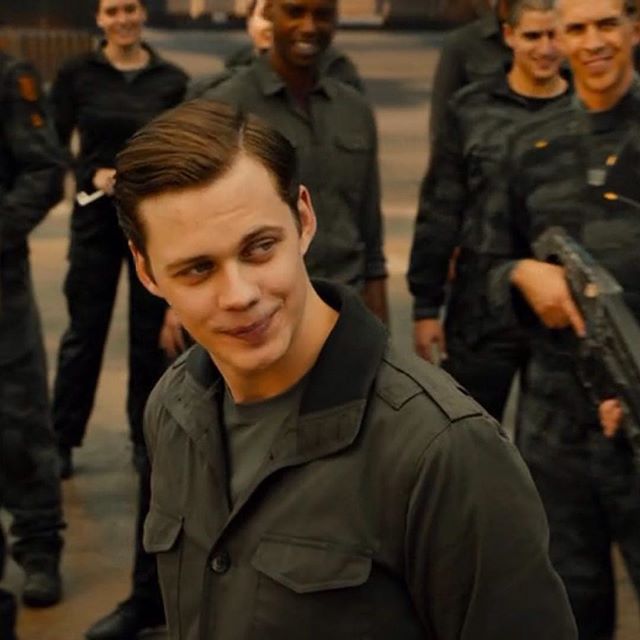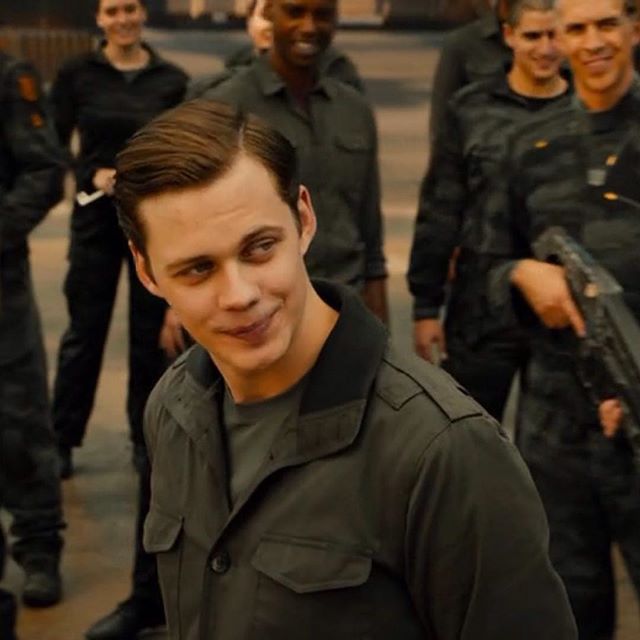 The famous IT Role that put Bill Skarsgård on the map
Then in 2017, Bill Skarsgård plays Pennywise The Dancing Clown in IT. This role is undoubtedly his most famous yet. Bringing him major success, critical acclaim and fame, people often associate Bill with the Pennywise clown. That cemented Bill Skarsgård as someone who can effortlessly play creepy and dark characters. He himself admitted to liking such roles. The infamous Pennywise smile and the cross-eyed look was all Bill himself and no CGI was used.
Here's Bill showing Stephen Colbert on how to do the smile:
The IT role also took a toll on Bill Skarsgård personally because he fully immersed himself in the role. So much so that after he was done playing it in the first movie, it was as if a heavy shadow was lifted from his shoulders. He shared with the New York Times:
"Everything I did took 100 percent of my energy. It was by far the most exhausting character I've ever done, physically and mentally."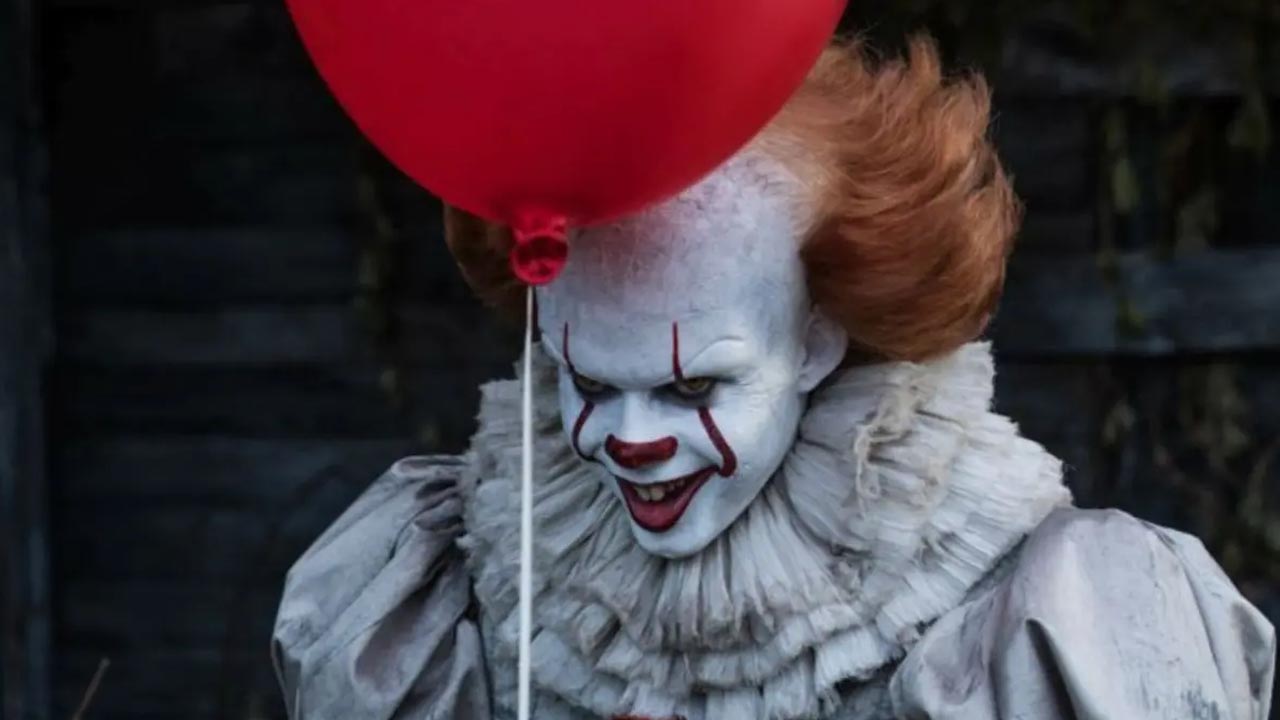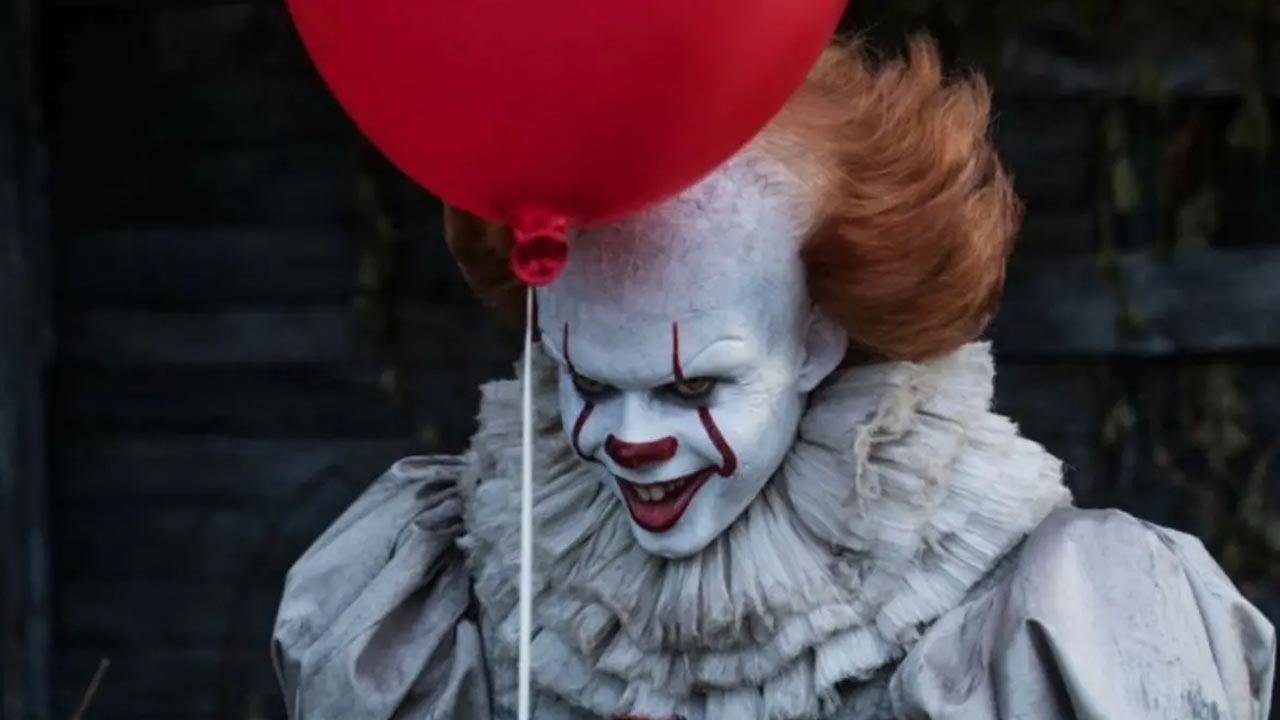 In fact, he tried to do his own stunts as much as he could. On the set, Bill Skarsgård had to interact with child actors because Pennywise interacts with the 'Losers Club'. The actor said that he would remain in character even when they weren't shooting:
On set, I wasn't very friendly or goofy. I tried to maintain some sort of weirdness about the character, at least when I was in all the makeup.
He was also placed separately on set so the child actors weren't aware of what Pennywise would look like during the scenes. It was so effective that it led to a disturbing moment:
"This one kid started crying. He started to cry and the director yelled, 'Action!' And when they say 'action,' I am completely in character. So some of these kids got terrified and started to cry in the middle of the take, and then I realized, 'Holy s***. What am I doing? What is this? This is horrible.'"
He even suffered from Pennywise the dancing clown haunting him in his nightmares. But he thought it was his psyche letting the character go.
It's clear that Bill takes any role he's given very seriously. In this regard, he's very similar to the late actor Heath Ledger who played Joker in The Dark Knight Trilogy. Heath is also praised for his method acting and completely losing himself in the roles he's playing.
Bill Skarsgård can be seen next on Netflix's 'The Devil All The Time'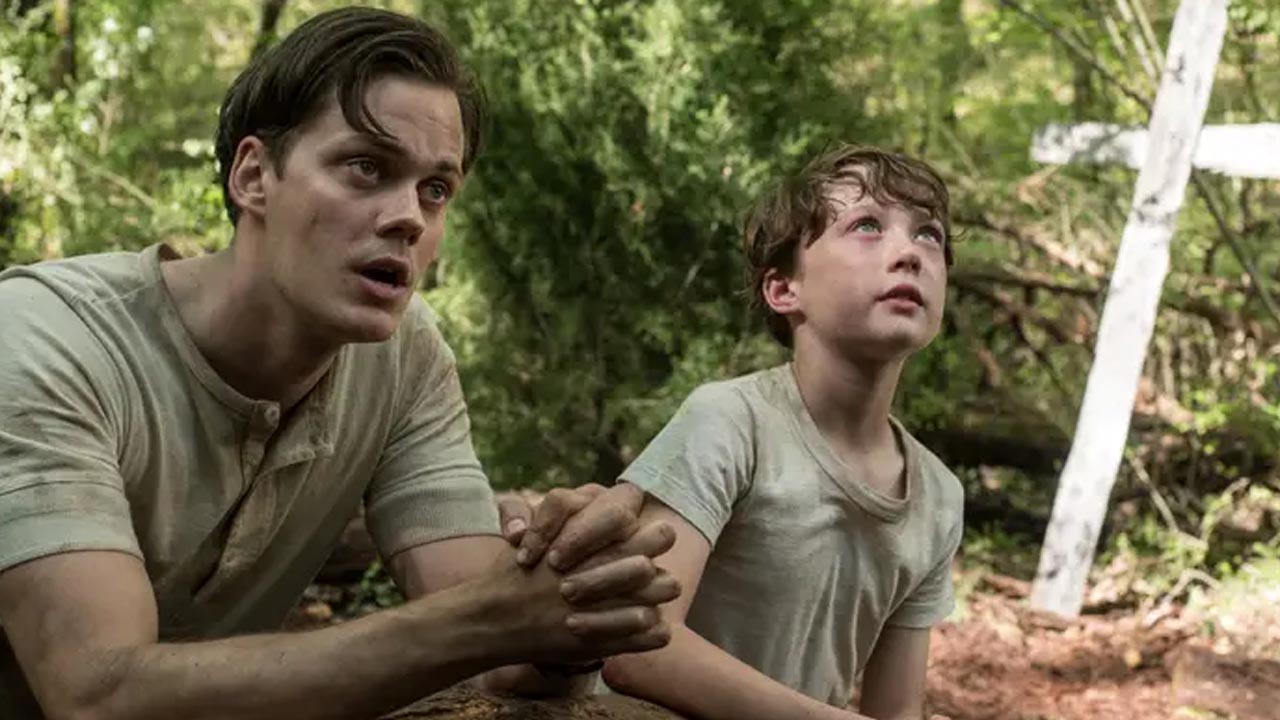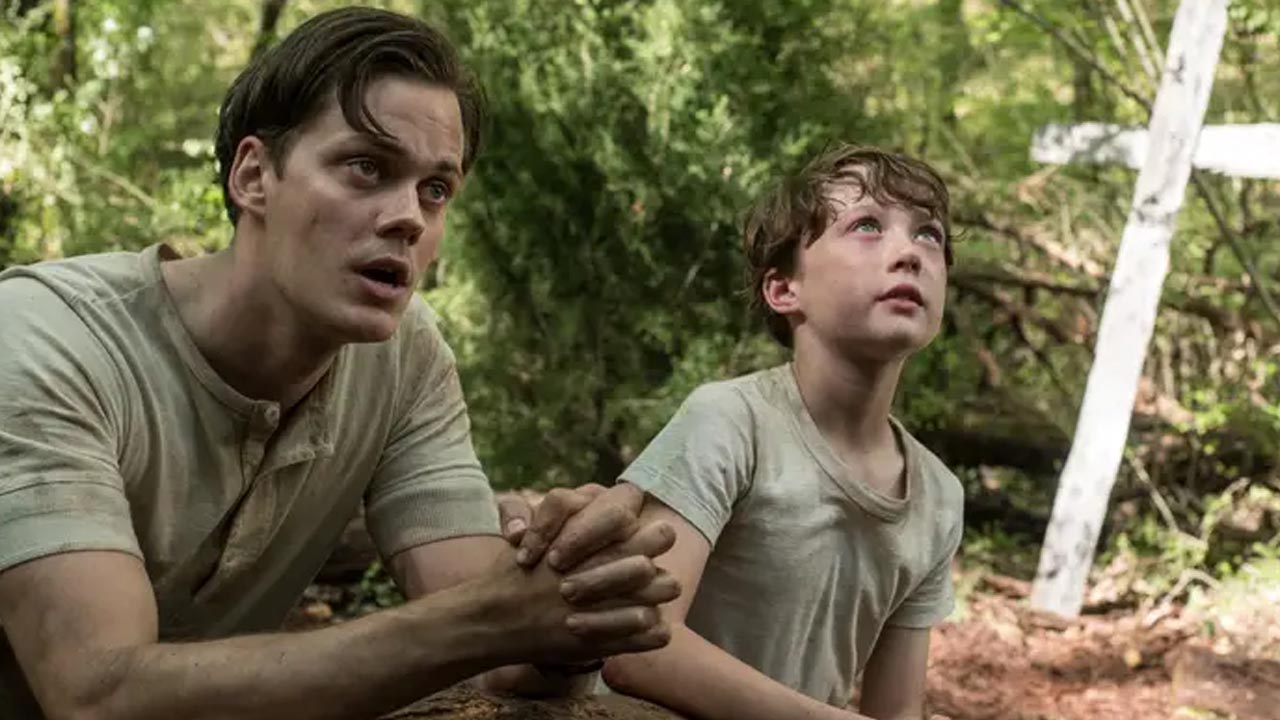 If you were thinking anything could slow down Bill Skarsgård, you would be wrong. We are now going to see him in the upcoming Netflix movie that shows him in another dark setting. In 'The Devil All The Time', Skarsgård is traveling back to the 1900's era right after World War 2. Bill Skarsgård plays a father, Willard Russell, who is a war veteran suffering from extreme PTSD.
After marriage and having Arwin, Willard develops a severe obsession with praying. His mental condition worsens when his wife Charlotte (Haley Bennett) gets cancer. Ultimately Charlotte dies, and all these factors greatly affect their son. We see the son in his adulthood, played by Spiderman actor Tom Holland. The movie shows how adult Arwin deals with challenges in his small hometown. The cast includes Sebastian Stan, Robert Pattinson, and Eliza Scanlen.
All in all, this dark story is right under Bill Skarsgård's forte. It'll hit Netflix in September. Other movies Bill has been working on are 'Gilded Rage', 'The Northman', 'Emperor', and 'Naked Singularity'.