Oh, my God! We know that Logan Paul and his Impaulsive friends go out of their way to stay in the spotlight by participating in controversial activities. If they are not doing that, they will definitely pick up a fight with somebody. Hence, it's no surprise that Logan Paul just invited the very controversial music artist 'Tekashi 6ix9ine' on the latest episode of 'Impaulsive' podcast. One of the Impaulsive's podcast members, Mike Majlak even questions Tekashi 6ix9ine about his snitching. And he seemed really off about Logan Paul inviting the controversial singer/rapper on their podcast.
Why was Tekashi 6ix9ine a part of Logan Paul's Impaulsive?
Now you all must be thinking why is Tekashi 6ix9ine taking rounds on social media all of a sudden. Well, he is putting a lot of effort into promoting his new album 'Tattle Tales'. He even visited the Hype House and made a couple of videos with the house members.
Some of us might not know Tekashi was sentenced 2 years in prison for multiple conviction charges. And have tons of questions regarding his time in jail. But we really don't know why Tekashi made these rash decisions and mistakes.
We just know what the media outlets have been telling us. But Logan Paul and his team were kind enough to have a chit chat with Tekashi and ask those questions directly.
Let's Jump To Tekashi 6ix9ine's Interview With Impaulsive
Alright, so 3 minutes into the podcast and it's impressive how he is explaining the fact that Spotify and Apple Music is being unfair to him. The platforms are apparently promoting other singers who dropped their songs and albums on the same dates at his.
"Shout out to Big Sean. Everywhere you look is Big Sean. Which is okay but at least make it fair. It is like basically saying or putting your brother fight with Nate Robinson in a few weeks. And they put handcuffs on Jake and say oh go fight. That's literally what they are doing."
Well, Tekashi is right on this one thing. He cannot undo what he has done in the past. But he can definitely start a new chapter by creating music. And people can appreciate his music and promote it. But limiting him from the music sites and apps is a little extreme.
We all know Mike said a lot of things about Tekashi 6ix9ine in the previous podcasts. He was not even happy about Tekashi coming on the Impaulsive's podcast. But he thought about giving Tekashi a chance and get to know him a little better.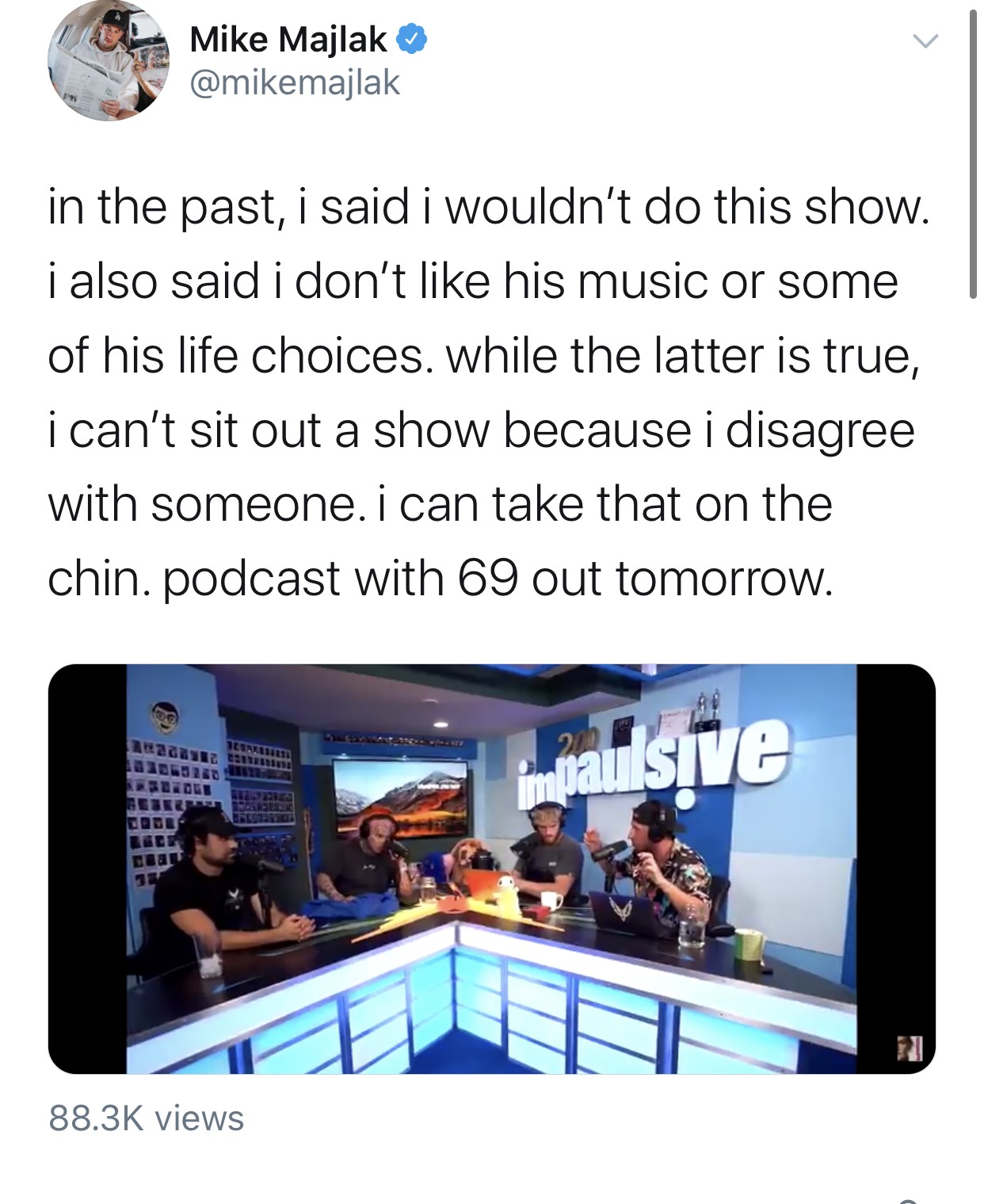 Mike then shared his thoughts on Twitter. And he even mentioned it to Tekashi during the podcast that he disagrees with a lot of things. He never wanted to be a part of this podcast. But he had to change his thinking so that he can get to know the rapper's point of view. Mike even questioned Tekashi about his snitching (during custody). And I was shocked to hear Tekashi's reply.
"Listen, I did that. And I feel like it is completely justifiable. When I was going down for attempted murder, the robbery, two shootings and……. shot shot shot. Everything I was rapping about was really happening. These (other) rappers, that rap about the sh*t they rap about, they don't live."
This is a little complicated. So, you guys will have to fast forward the podcast to 33:30 and continue watching it for a few minutes. Because there are a lot of parts in the podcast which has the gangster terminology.
Overall, the podcast went smoothly. Tekashi 6ix9ine knew his gig too well. He really gave a tough time to Logan, Mike, and George. Tekashi further added that he is focusing on making music at the moment. And he is also buying a house soon. Because our boy here is head over heels in love with this girl named Jade.
Tekashi even got Jade a very pretty diamond ring recently. Hence, we can just say that Jade is the yin to Tekashi's yang. She visited him when he was in jail. She accompanied him on dangerous tours. It's safe to say that Jade is one powerful woman who knows how to handle Tekashi.
Anyways, long story short, this podcast was really epic. And you have to watch it till the end so that you can get to know another side of Tekashi as well.