Mindy Kaling has decided to take on the teen genre for her new Netflix show. However, it has one great twist. It will be focusing on a brown teenager. Yes, it's an American teen show which will be told through a brown lens; something we rarely see on television. Only in recent years have we been given more representation for teenagers belonging to minority groups, thanks to sitcoms such as Fresh off the Boat and Black-ish. Kaling's new show Seeking will also showcase the coming-of-age journey of a first-generation Indian American teenage girl. Netflix already gave Kaling the green light for the show.
The show's creator has now announced that she is taking open casting calls. That means anyone can appear to audition as long as they fulfill the criteria below.
Many would surely love to audition for this new show, which is adding to the great diversity of modern television. But one Brown television personality, in particular, wants to be on display!
That's Queer Eye's fashion expert Tan France. France is an English-born fashion designer and television personality born to Pakistani Muslim parents in England. His journey has landed him in the modern retake of the show Queer Eye where five gay men strive to improve the lives of lost souls.
Ever since Queer Eye came to Netflix, the Queer Eye guys have become friends with almost everyone in the Hollywood industry. With each one unique in what they offer to their reality show and the world, Tan France certainly has what Mindy Kaling would want in her new show Seeking: his brownness.

The open casting calls were for females, but it doesn't mean Tan France cannot play an Uncle or high school teacher or, as he said himself, 'a Desi Guy Extra'.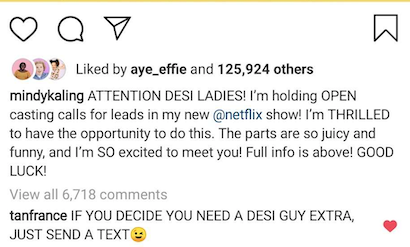 We certainly hope that Kaling takes this opportunity to give him a TV show role that is just as iconic as his authentic self! Seeing Tan France showcase his acting ability will be a treat for all of us.
Maybe Mindy Kaling Will Cast Jameela Jamil Too
Who knows? Maybe, Mindy will cast Jameela Jamil as well!
There has also been news that Mindy Kaling was hanging out with Priyanka Chopra. Perhaps, Seeking will star Bollywood sensation Chopra as well!
It'll be entertaining for all the Brown Hollywood stars to make their own cameos in Seeking. Hasan Minhaj has already worked on Mindy Kaling's canceled show Champions where he played her drug-riddled snobbish brother, so there's a great chance he will guest star on the show.