Shahrukh Khan is one of the avid admirers of Hasan Minhaj's Netflix Talk Show, 'Patriot Act.' It was revealed when Hassan Minhaj publicly shared that his father always compared Minhaj's worth with Bollywood King Khan, 'Shahrukh Khan'.
Hasan Minhaj Shared His Tweeting Conversation With His Dad
As we earlier posted, the Indian-American Young Celebrity has recently shared a screenshot of his profile page with his father. He, in fact, wanted to show him the number of followers he gained. Amazingly, Hasan Minhaj is adroit enough to collect one million followers at this budding age. He, thus, texed his father expecting some words of praise.
"Hit 1 million followers dad! Hope you're proud."
To Hassan's surprise, the reply was totally from left field.
His dad, in fact, answered, "That's 17 million less than Shah Rukh Khan"
Hasan has shared the screenshot of this tweeting conversation with the caption "So lucky to have family in my life (sic)."
So lucky to have family in my life. pic.twitter.com/znDKnc9UU2

— Hasan Minhaj (@hasanminhaj) August 22, 2019
Fans Bash Out On Twitter
Obviously, fans flooded on Social Media to respond, including fellow celebs like YouTuber Lilly Singh and Bollywood star Huma Qureshi. The Indian fans exchanged both criticizing and positive comments on the image. In fact, many related  Minhaj's dad's responses to their  Desi — parent's concepts. Moreover, sarcastic yet hilarious memes and critical posts overflowed the internet via this screenshot inkling.
https://twitter.com/syrinje/status/1164765110864240641
— Eqber Cha (@EqberCha) August 23, 2019
Shahrukh Khan Is The Fan Of Hasan Minhaj Patriot Act
It seems that this viral issue has gained Shahrukh Khan's attention as the Bollywood Guru responded the post Patting on Hassan Minhaj's back.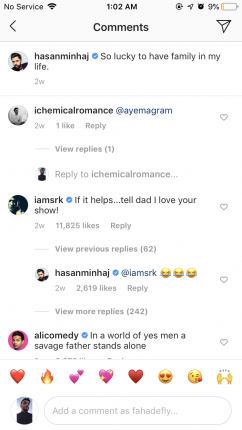 The Indian Superstar, in fact, replied that he is a great fan of Hassan Minhaj popular talk show The Patriot Act aired on Netflix. Although, one million followers is a bunch amount to celebrate the popularity, yet, Hassan Minhaj needs some extra 16 M followers to impress his father.
Hasan Minhaj, The Talented Host
Apart from the joke, the 33 year-anchor, Hassan Minhaj has taken the talk show to another height with his endowment. Patriot Act continues to grow dynamically with Minhaj for its major-league interviews with renowned personalities.
The recent Patriot Act show where Minhaj sat down with Canadian Prime Minister Justin Trudeau is fabulous both in terms of humor and solemnity. Minhaj, in fact, aptly addresses the issues regarding climate change and Canada's continued economic relationship with Saudi Arabia. Moreover, those funny and playful moments with the Canadian chief of state are unforgettable.
Patriot Act with Hasan Minhaj
Patriot Act with Hasan Minhaj is an American comedy web television talk show. Hasan is the host of the show that premiered on October 28, 2018, on Netflix. The series was created by Hasan and Prashanth Venkataramanujam, With four seasons to date, the show has won a Peabody Award and two Webby Awards.
Netflix And Shahrukh Khan
The Netflix-Shahrukh Khan association is nothing unusual. The Indian actor has acted in Netflix shows. Moreover, Shahrukh's production company Red Chillies Entertainment has collaborated twice with Netflix and presented Bard of Blood, and Class of 83. Now, the team is collaborating with a third presentation that is a horror series, BETAAL.