Quentin Tarantino might be on his way out of Hollywood after one last film, however, he is not one to stay silent on criticism. He has now fired back at critics of his two most recent films, Once Upon a Time in Hollywood and The Hateful Eight. The problem that people have with these two films is his portrayal of Bruce Lee and the allegations of promoting violence against women.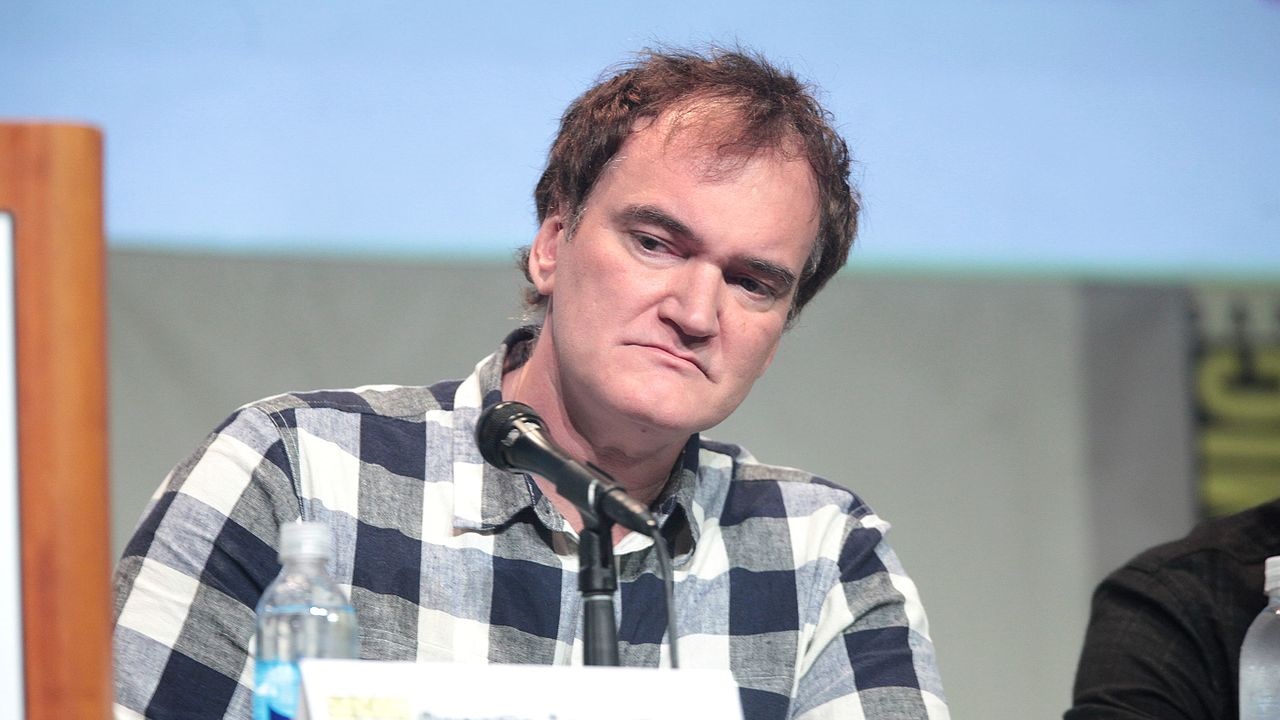 Quentin Tarantino recently appeared on The Joe Rogan Experience podcast, where Rogan brought up the flack that the director got for how he portrayed Bruce Lee in Once Upon a Time in Hollywood. In the movie, we see Bruce Lee as quite a rude and churlish figure. However, in a fight, Cliff Booth (Brad Pitt) got the better of him and gave him a beating. In response to critics, Tarantino said:
I can understand his daughter having a problem with it, it's her f***ing father, I get that. But anybody else [can] go suck a d**k.
Quentin Tarantino explains and defends the Bruce Lee Cliff Booth fight scene
Tarantino later explained that the scene was not in any way a mockery of Bruce Lee's talents. Instead, it was all circumstantial and trickery from Cliff. Tarantino said that he explains it better in his book on the movie, telling Rogan:
It's obvious cliff tricked him. That's how he was able to do it. He tricked him. It's explained more in the book… they do a two false out of three contest. So, Cliff loves s**t like that you know. And he has a method. And his method is to give the guy the first fall. Okay, do your f***ing move dude… and he gives him no resistance whatsoever. The guy does the move. He knocks him on his ass.
Tarantino continues saying that Cliff took advantage of Bruce Lee's arrogance and is able to beat him as a result, saying:
There's like 4 different ways Bruce could have come at him the second time, that cliff would have very little defense against. But, most of the time, if a guy has a particular move, and it looks like the guy's a lunk, a big mouth, who can't defend himself, they do the first move again a second time. Now Cliff knows what it is, so he prepares for it, he pivots, he catches him and he throws his ass into the car… He tricked him, and Bruce realized he got tricked.
Cliff differs from Bruce Lee in one major way
Quentin Tarantino further explains that according to the many books he read, Bruce Lee "had nothing but disrespect for stuntmen and he was always hitting them". Moreover, he was particularly not respectful of American stuntmen, thinking they were "not good enough". Furthermore, he emphasized that Cliff was also quite an expert in fighting. But, he was a trained killer, unlike Bruce Lee. He continued:
Cliff is a hand-to-hand combat killer. He fought in WWII, he fought with the Filipino resistance fighters in the Philippines against the Japanese. If Cliff fought Bruce Lee at one of Aaron Banks' Madison Square Garden tournaments, Cliff wouldn't stand a chance… but as a killer who has killed men before, in a jungle, he'd kill Bruce Lee. Bruce Lee's not a killer.
About The Hateful Eight
As far as The Hateful Eight is concerned, Quentin Tarantino defended himself against accusations of misogyny. In the movie, we see Kurt Russel's John Ruth give his female prisoner Jennifer Lason Leigh's Daisy Domergue quite a severe beating. Many critics had an issue with that, saying it promoted violence against women. However, Tarantino was not having it, as he told Joe Rogan:
It's bulls***. There's nothing that happens to her that couldn't have happened to a man in that same situation. If instead of Daisy Domergue, it's Big Bill Shelly, a man who's 250 pounds and a big Grizzly Adams beard, you wouldn't think s**t about Kurt Russell smacking him all the time. Well, I'm having it happen to a girl who's just as bad as Big Bill Shelly because I'm not playing f***ing favorites. It makes it a little harder to watch, but I'm down with it being a little harder to watch, good, it's a f***ing rough movie. It's supposed to hurt.
Tarantino also got similar criticism for Once Upon a Time in Hollywood, particularly the final scene where Cliff beats the members of the Manson Family to death, which included two women – Susan Atkins (Mikey Madison) and Patricia Krenwinkel (Madisen Beaty). Tarantino says that both Cliff and Rick Dalton (Leonardo DiCaprio) acted in self-defense, saying:
We are talking about three of the bloodiest, most violent killers of the 20th century. Their own madness grandfathers their face being bashed in.
What do you think of Tarantino's reasoning? Let us know in the comments below.
Related: Quentin Tarantino set to retire after 'one more film'