The 31-year-old actress, Nina Dobrev famous for her role in The Vampire Diaries has returned to the set and the preparations to work in the Coronavirus pandemic are at full swing. Taking to Instagram, Nina Dobrev films herself being tested for the Coronavirus, looking extremely uncomfortable as the healthcare professional carefully takes the swab from her nose.
How Nina Dobrev took her Coronavirus Test post lockdown!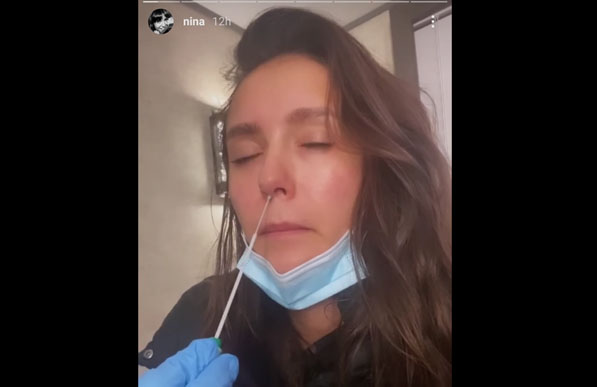 The swab was seen being circled around in each nostril around 10 times. Nina's eyes seemed to water, however; the actress insisted that she was 'doing good' when asked how she was doing. Within a matter of a few seconds; the test was over as Nina Dobrev reveals this is an essential measure that enables her to 'get back to work' in a post coronavirus world.
So, Nina returns to the set after a 14-day quarantine as she reaches Canada. She recently returned from her home country Bulgaria. During the 2020 coronavirus global health pandemic lockdown; she has been catching up on reading. Dobrev sent reminders to fans that it's important to focus on the power of now as the Coronavirus is altering everything.
She writes on a recent Instagram post:
The power of NOWWWW. that's all we got right? this moment, right here, right now. seems simple but it's actually really hard for a lot of people to do. Myself included.
While Nina Dobrev hasn't shared what movie she is working on, she has been reminding her fans to take the necessary precautions to adapt to the new climate under the Coronavirus pandemic. Hence, we must remember that as we head back into routines, life shall never be the same. A lot of our norms will be different. You wouldn't always just get up and walk out your door even on your worst days. Necessary precautions such as masks, sanitizers, distancing, and lack of direct contact will be an element in our new normal.