As we all know NikkieTutorials has just announced her much-awaited collaboration eyeshadow palette with Beauty Bay, I personally love it so much. Nikkietutorials x Beauty Bay eyeshadow palette has 20 beautiful eyeshades. Which are a mix and match of both matte and glittery pigmented eyeshades! Now comes an interesting part, when Nikkie announced the collaboration palette on Youtube in her latest video 'My Own Palette! NikkieTutorials x Beauty Bay Reveal!'. And a lot of fans are thinking Nikkie's new palette is quite similar to Jeffree Star x Shane Dawson 'Conspiracy' palette. And they are liking it a lot.
NikkieTutorials eyeshadow palette's similarity with Jeffree Star's Conspiracy palette
If you haven't checked the palette reveal video, please watch it before we go any further. Or I will just add some pictures here so you guys can have an idea of what we are really talking about here. After the eyeshadow palette's reveal, fans started making speculations that Nikkie's palette is quite similar to Jeffree and Shane's Conspiracy palette. Almost 8-10 colors are the same with a slight difference in the color tones.
All of the eyeshades which are similar to each other are marked with white outlines. Jeffree's palette has a brighter red while Nikkie's palette has blood red. The burnt orange shade from both the palettes resembles a lot.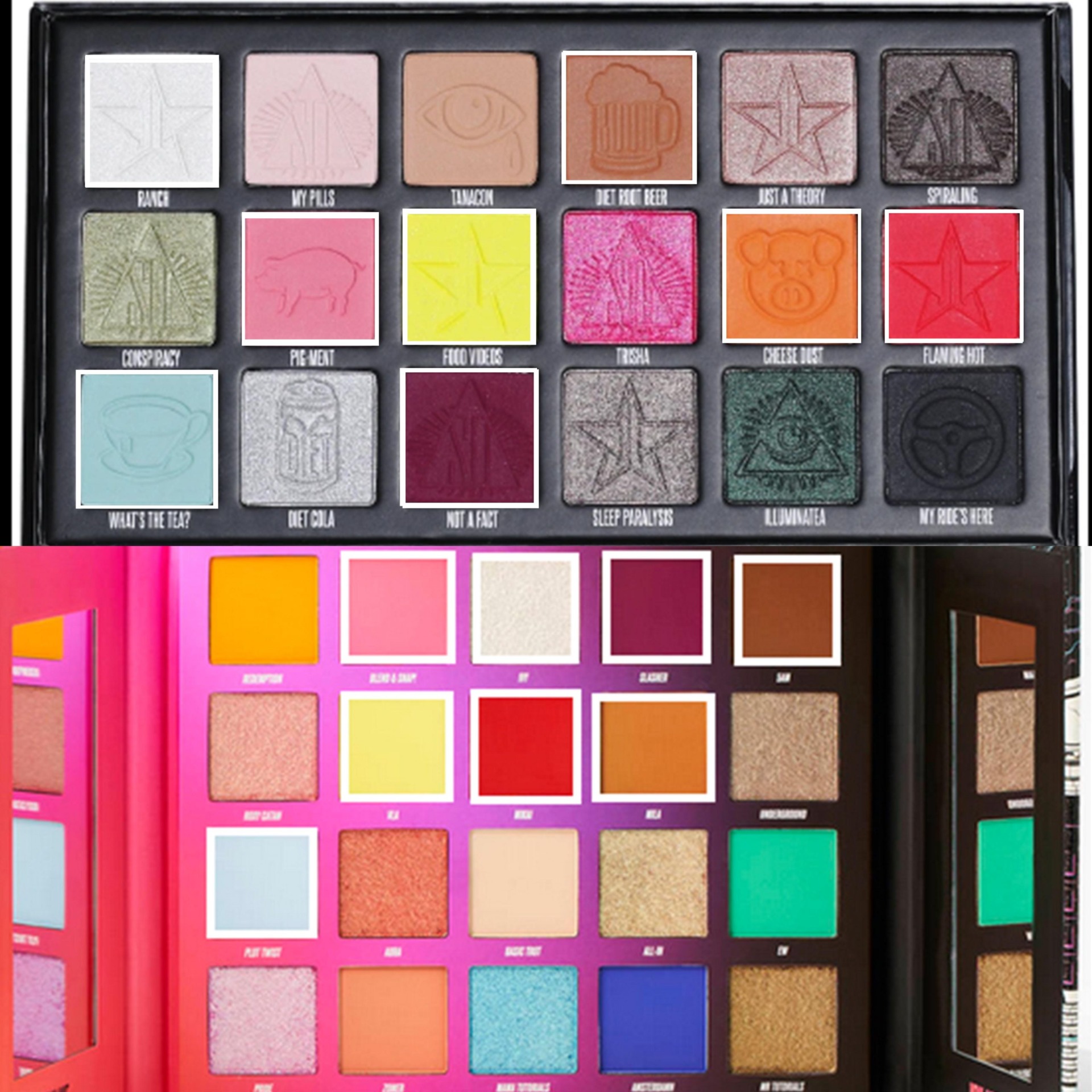 There is a slight difference in color tones. But the shades resemble a lot. And no, we or the fans, are not saying that Nikkie's palette is a copy of a conspiracy palette. We are just saying that the two palettes resemble a lot with each other.
Shane and Jeffree's Conspiracy palette has eight pigmented eyeshades and ten matte ones. While Nikkie's palette has 12 matte eyeshades and 8 pigmented ones.  And the best part about Nikkie's palette is that it has mirrors on both sides of the palette.
And one of them is a magnifying mirror. So you can look at your eyes a lot more clearly and clean all the fallout eyeshadows in seconds. Oh, I need to tell you guys two more things.
Nikkie's palette is cruelty-free. And it's a little less expensive than Jeffree's conspiracy palette. So this means we can clearly get our hands on it. But it's a limited edition so you might want to get your name registered on the waiting list.
And the last good thing is that Jeffree Star is supporting Nikkie for launching her very first palette with Beauty Bay. Nikkie last collaborated with Too Faced for an eyeshadow palette. And that deal did not go over too well.
So, let's just wish Nikkie all the best. Fans can't wait to get their hands on the new palette which is dropping on 31st August.