Makeup artist and YouTuber Nikita Dragun has consistently been in the negative limelight for various reasons. She lied about her bachelor's degree and 'coming first' in her batch. Then, a disabled fan in a video shared how Nikita was very unkind to her when they met. She has even pointed out for being mean to her friends in her YouTube videos, especially when she got really rude to Bretman Rocks' sister. Now she is facing backlash for cultural appropriation. Read on to find out.
Nikita Dragun faces backlash… again
Now the internet is 'canceling' Nikita for something very personal to a specific community. In a new snap, Dragun was seen in a do-rag, and a face filter intending to make her look blacker than she is. And the Black community is not having any of it. In fact, they are quite upset and Nikita Dragun is being heavily criticized for cultural appropriation.
A Twitter user @missgnews was one of the first to point it out and her tweeted gained quite some attention.
In another tweet, she dissed Nikita Dragun for being a part of the problem but 'pretending' to raise awareness for Black hairstyles.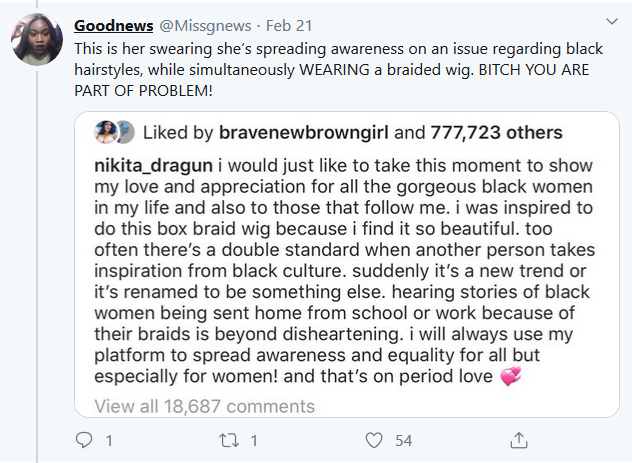 The problematic behavior here is more obvious if one takes a look at the reply by Nikita when the backlash began.
And more importantly, these old tweets by her which a Twitter user @yungaxia shared.
https://twitter.com/yungaxia/status/1231067349182226432
Another user @ItsColombe also made her own list of all that is wrong with Nikita as an 'influencer'.
I'm tired of these INFLUENCER that don't know how to act and what is basic human decency!

Being a Bad Bitch does NOT give you the right to:
1) to appropriate other ppl's culture
2) Be excessively rude
3) Mistreat others
4) Belittle/disparage others

I'm disgusted #NikitaDragun https://t.co/xyAYSDXyZO

— . (@ItsColombe) February 24, 2020
Now that's some seriously racist stuff to say. And now that it's getting the public eye again, it means Nikita is on her way to being canceled for real.
The opposition
Whereas, there is a huge number of people calling Nikita racist and blaming her for 'using' Black culture.
But a few others think it's not something that deep and don't agree with 'canceling' Nikita Dragun for it. Twitter user @brandonjossseph replied to the tweet against Dragun and shared this stance.
is it racist to wear a durag if you're not black? that just sounds sus lmao. as for the filter, it's a filter. she literally posted something after and was her normal spray tan color. yes she has a past but y'all doin a tiny bit too much this time.

— b〰️ (@brandonxjoseph) February 22, 2020
Well, it looks like Nikita Dragun is in for some tough time again. Let's see if she decides to apologize or simply ignores all the backlash this time again.