Spoiler Alert! Netflix's True Spirit is a new movie based on the inspiring true story of Jessica Watson, a young Australian girl who became the youngest person to sail solo around the world in 2010.
The director of True Spirit movie is Sarah Spillane, who tells the story of Watson's incredible journey, from her early childhood spent sailing with her family to her remarkable accomplishment at the age of 16.
The cast
The cast is led by Teagan Croft, who plays Jessica Watson and includes Anna Paquin as Julie Watson, Jessica's mother, and Josh Lawson as her father Roger. Bridget Webb, Stacy Clausen, and Vivien Turner play Jessica's siblings, Emily, Tom, and Hannah, respectively.
Story of Netflix's True Spirit
The plot follows Jessica's journey as she sets out to sail around the world alone, facing numerous challenges and obstacles along the way. As depicted in the film, she encounters treacherous storms, equipment failures, and loneliness, but never loses sight of her goal.
One of the strengths of True Spirit is how closely it follows the true story of Jessica Watson's journey. The film accurately depicts many of the challenges she faced and the triumphs she achieved, staying true to the spirit of her incredible accomplishment.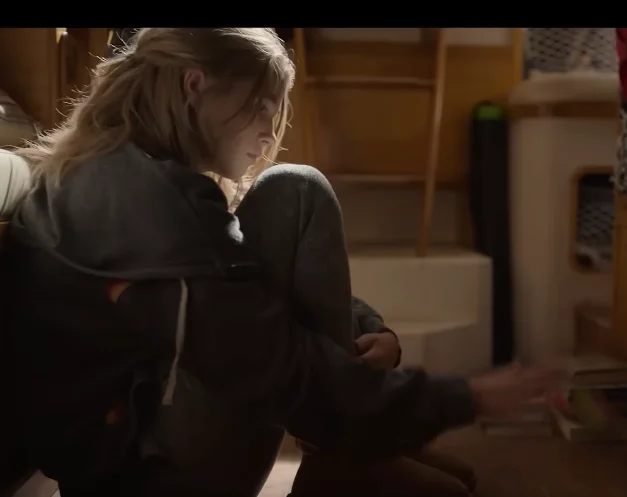 In addition to the inspiring story of Jessica Watson, True Spirit also explores the bonds of family and the importance of pursuing one's dreams. Through the portrayal of Jessica's relationship with her family and her unwavering determination to achieve her goal, the movie delivers a message of hope and perseverance that is sure to resonate with audiences.
Overall, True Spirit is a well-made and engaging movie that offers an inspiring and heartfelt portrayal of an incredible real-life achievement. With its talented cast, compelling storyline, and strong message of hope and perseverance, it is a must-watch for anyone looking for an uplifting and inspiring story. So, if you are looking for a movie that celebrates the human spirit and the power of determination, be sure to check out True Spirit on Netflix.
In the film, Jessica Watson was portrayed as being inspired by a fictional sailing coach named Ben Bryant. However, in reality, Jessica was inspired by the book Lionheart: A Journey of the Human Spirit by Jesse Martin. She was also assisted by a team of real people in preparing for her voyage.
Although the character of Ben Bryant is a work of fiction, Jessica has expressed admiration for the character and what he represents. She has acknowledged that Ben represents the whole team of people who helped her to achieve her dream of sailing around the world solo.
Although Jessica Watson did not break the world record for the youngest person to sail around the world non-stop and unassisted, her achievement was impressive nonetheless. The World Speed Sailing Record Council requires a full circumnavigation of at least 21,600 nautical miles, of which Jessica fell short by about 2,000 nautical miles.
However, she managed to sail around the globe in 210 days at the young age of 16, which is still remarkable. As depicted in the movie, there was a huge crowd waiting for her when she returned to Sydney after her journey. Jessica expressed her gratitude to everyone who helped her along the way, including her sailing team and her family.
The film depicts Jessica as being surprised and overwhelmed by the number of people who greeted her when she returned after completing her journey. However, in a 60 Minutes Australia interview, Jessica revealed that she was only expecting a few people to welcome her back.
She was astonished by the massive turnout, which was completely overwhelming. Jessica's achievement of sailing solo around the world was genuinely impressive, and people were amazed by her determination and stamina, as shown in the movie. The film accurately portrays her sailing through turbulent weather and high waves.
What challenges does the main lead have to face in True Spirit?
During her journey, Jessica Watson faced many challenges, some of which were depicted in the film. In reality, she survived seven knockdowns, where her boat was knocked on its side to 90 degrees or worse due to wind or waves. She also had to endure her boat being capsized and three powerful low-pressure systems. Despite the dangers, she was determined to complete her journey around the world solo, without assistance.
For those who are interested in her story without the embellishments of a Hollywood film, there is a documentary called 210 Days, narrated by Sir Richard Branson. This documentary showcases the real-life footage of her voyage, along with interviews and behind-the-scenes glimpses of the preparation that went into her journey. In addition to the documentary, Jessica Watson also wrote a book called True Spirit: The Aussie Girl who took on the World, which provides a detailed account of her experience sailing around the globe.
Watson's story is a remarkable one, and her determination and courage have inspired many. While the film may have taken some creative liberties, it still manages to capture the spirit of her journey and the incredible accomplishment of sailing around the world solo at such a young age. Whether you choose to watch the movie, the documentary, or read her book, there is no doubt that Jessica Watson's story is one that will leave you in awe. True Spirit release date is February 2023.
Related: Best Adventure Movies You Must Watch