Umm, So I am a big fan of Jeffree Star's ex-boyfriend Nathan Schwandt. He is someone who knows how to cook without creating a mess. Nathan's makeup skills are top-notch. He will definitely give a lot of makeup influencers a very tough time if he starts a makeup channel on YouTube. He has so many talents that I cannot explain. But there is this one talent which stands out from the rest. And you guys might know it as well that Nathan loves weed and he started smoking it from 1999. But only on special occasions because a kid cannot just afford smoking weed on a daily bases. After his break-up with Jeffree Star, Nathan has been seeing rolling and smoking weed tons of times. I think Michigan's legislative government has legalized cannabis in its whereabouts. Because I have seen Nathan posting a lot of weed/cannabis plant pictures on his social media.
Nathan Schwandt might be starting his own weed business
We all know Jeffree always wanted to own a weed empire and he even planned to start his weed business in Grand Rapids. But the plan got a little delayed and Jeffree launched some weed grinders on his Jeffree Star Cosmetics' website. A lot of fans think Nathan might have come with this plan to launch weed grinders. But he used to take a lot of interest in reading about different types and cannabis.
Nathan's weed intake was normal when he was in a relationship with Jeffree Star. But then one day both of these love birds decided to end things. Because they were having a hard time keeping up with each other's problems. So they called it quits.
Jeffree has been smoking joints too often. Now Nathan has been surrounded by weed plants and joints like 24/7. And can you guys just take a moment and appreciate Nathan's eye color complimenting the weed leaf. It's such a pretty picture.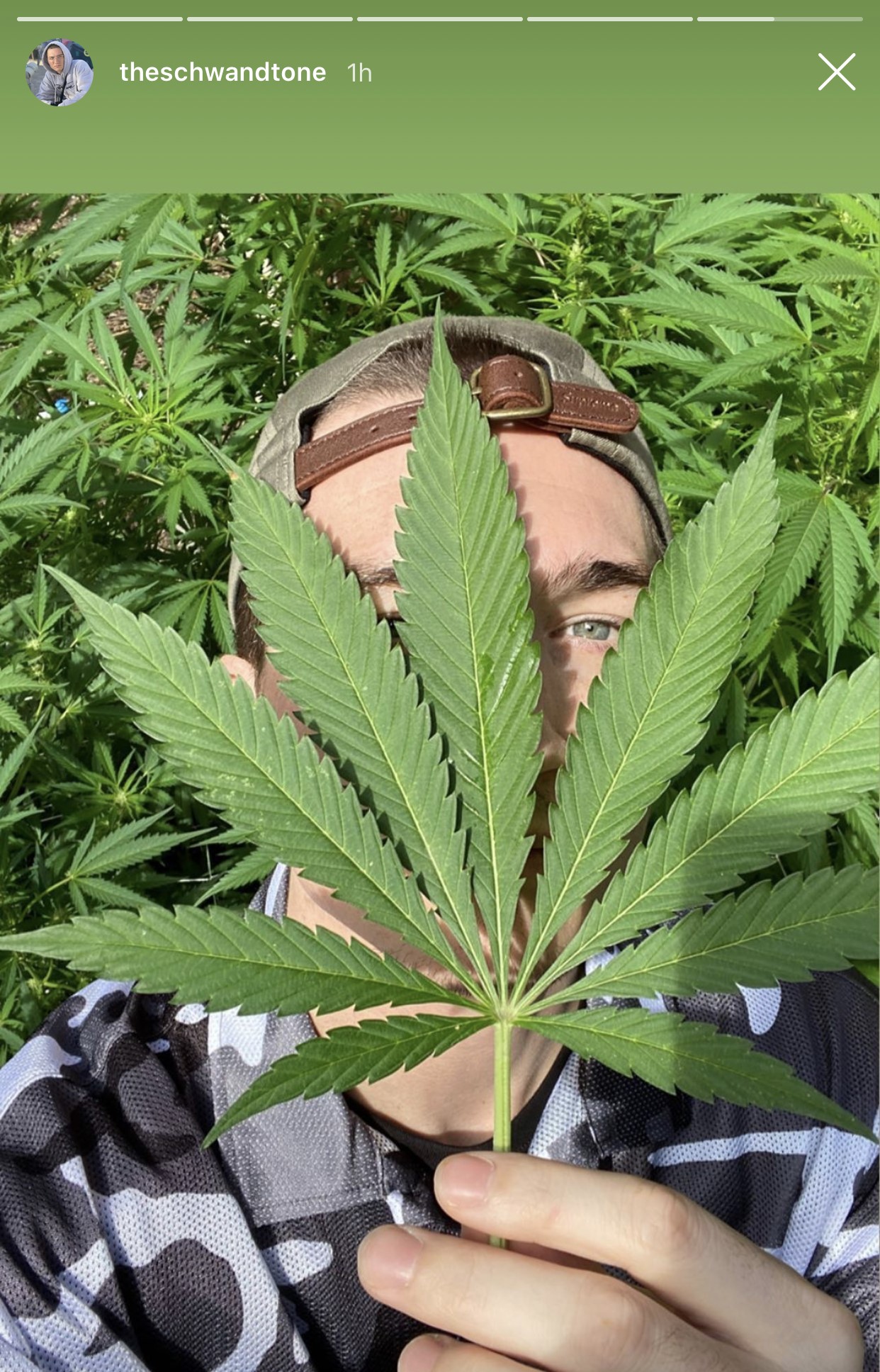 Though the background shares another side of the story. Either Nathan is still having a hard time coping up with the post-breakup effects. Or he is starting a weed business. His clothing merch 'Homebody' was a hit and sold out in a few days.
So let's see what Nathan plans to do any further. Oh, and I have one blast from the past for you guys. There is a video on Jeffree's YouTube channel in which Nathan rolled some joints with the help of blotting paper.
I never knew blotting papers could be used as rolling papers. That's interesting. You can watch the video if you want to learn how to roll a joint in a few seconds. Okay, that was a bad joke, my bad.
That's it for today guys, let's just hope that Nathan gets to have as much fun as Jeffree is having these days with his friends. Peace Out!!