Netflix is releasing an intriguing investigative docuseries, 'Broken'. In fact, Youtuber, and founder of cosmetics line 'Makeup Geek' Marlena Stell also stars in it. The series is highly anticipated as it will reveal the reality of consumer products. We find these products on shelves constantly even though they cause us more damage than we can fathom. It looks into the way that corporate companies deceive others into buying harmful products whose risks far outweigh the benefits. It looks like Netflix is working tirelessly to expose the reality of capitalism and the corporate world.
'Broken' on Netflix
The Netflix documentary 'Broken' is executive produced by Christopher Collins who has also previously worked behind other series like Anthony Bourdain: Parts Unknown, MeatEater, and The Hunt with John Walsh.
'Broken' will essentially uncover the hidden, ugly truth of a range of consumer goods and industries episode by episode. These include the vaping industry, fake cosmetics, plastics, and fast furniture.
Watch the trailer here:
Marlena Stell also stars in it
Marlena Stell is a beauty influencer with 1.52 million subscribers on YouTube and is also a businesswoman; also stars in docuseries.
In fact, she is quite thrilled to be a part of the Netflix series and thanked the streaming service for the opportunity earlier. She wrote:
Thank you

@netflix

for the opportunity to be a part of this documentary! It was an honor to work with such an amazing film crew. Excited to watch Broken tomorrow.
Marlena also
shared a trailer
of her part in the series where she shares her journey as a "chubby" girl her whole life but makeup would make her feel creative, confident, and positive.
"It's a transforming quality. It can make you live almost a fantasy where I'm not 'just' Marlena today, I'm this glamorous rockstar or maybe I'm a retro girl with this nice red lip."
The 'drama' with James Charles
Earlier when the news of the docuseries was announced, Youtuber and makeup artist James Charles spoke out against Marlena and kind of 'ruined' the good news for her.
Charles had brought his personal opinion or grievances into the limelight just when the news of this show broke out. Charles had tweeted that "This woman (Marlena Stell) knows nothing about the industry other than blaming her bad decisions and personal issues on influencers."
Later on, it was found that Marlena Stell had blocked James Charles to put an end to the negativity. She tweeted two days ago about the release of 'Broken'..
Here, another YouTuber Nick Snider (The Viewers Choice) commented, "I'll just wait for a certain sister to pop in these responses."
Marlena Stell not only made a savage comeback but also informed that she has blocked James Charles.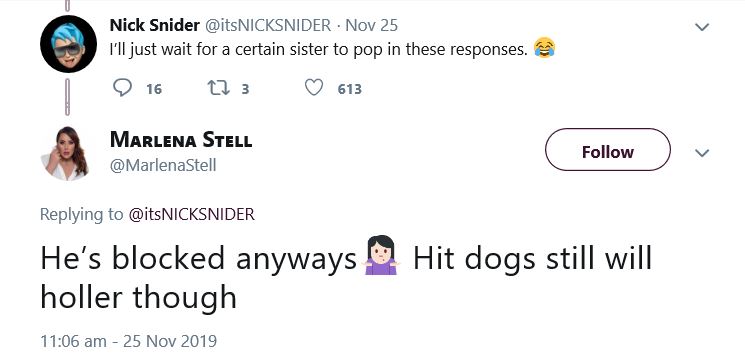 She also clarified today that the upcoming documentary will not consist of any beauty community drama.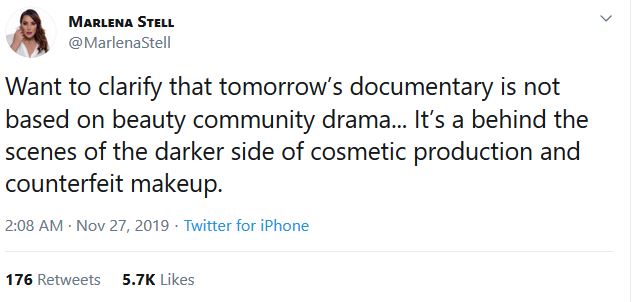 We're not just excited to watch these dark and interesting series and find out what it reveals, but we are happy for Marlena Stell for avoiding the negativity and reaching this new milestone.