I don't think you guys need an introduction of this guy. Logan Paul has managed to achieve so much at such an early age. He is not only an actor but also a very famous YouTuber. Logan is also running a podcast channel on YouTube by the name of 'Impaulsive' since 2018.
Logan also has his very own clothing brand by the name of 'Maverick Clothing'. Last but not the least, this multi-talented guy is dating 'Josie Canseco' who was a Playmate in Playboy's June edition. Oh and we all know how Paul brothers get themselves into different controversies and situations. Recently, his brother Jake Paul threw a huge party in his Calabasas house and put so many lives in danger. Following the backlash by the authorities and the internet, Logan Paul got himself tested for Coronavirus.
Logan Paul Just Received His Test Result For COVID-19
We really don't know if Logan and his girlfriend attended Jake's recent house party. Even the tabloids only mentioned names of Jake's two friends and ex-wife only.  But Logan made a smart move by getting himself tested for the COVID-19 antigens. And the results came out as negative.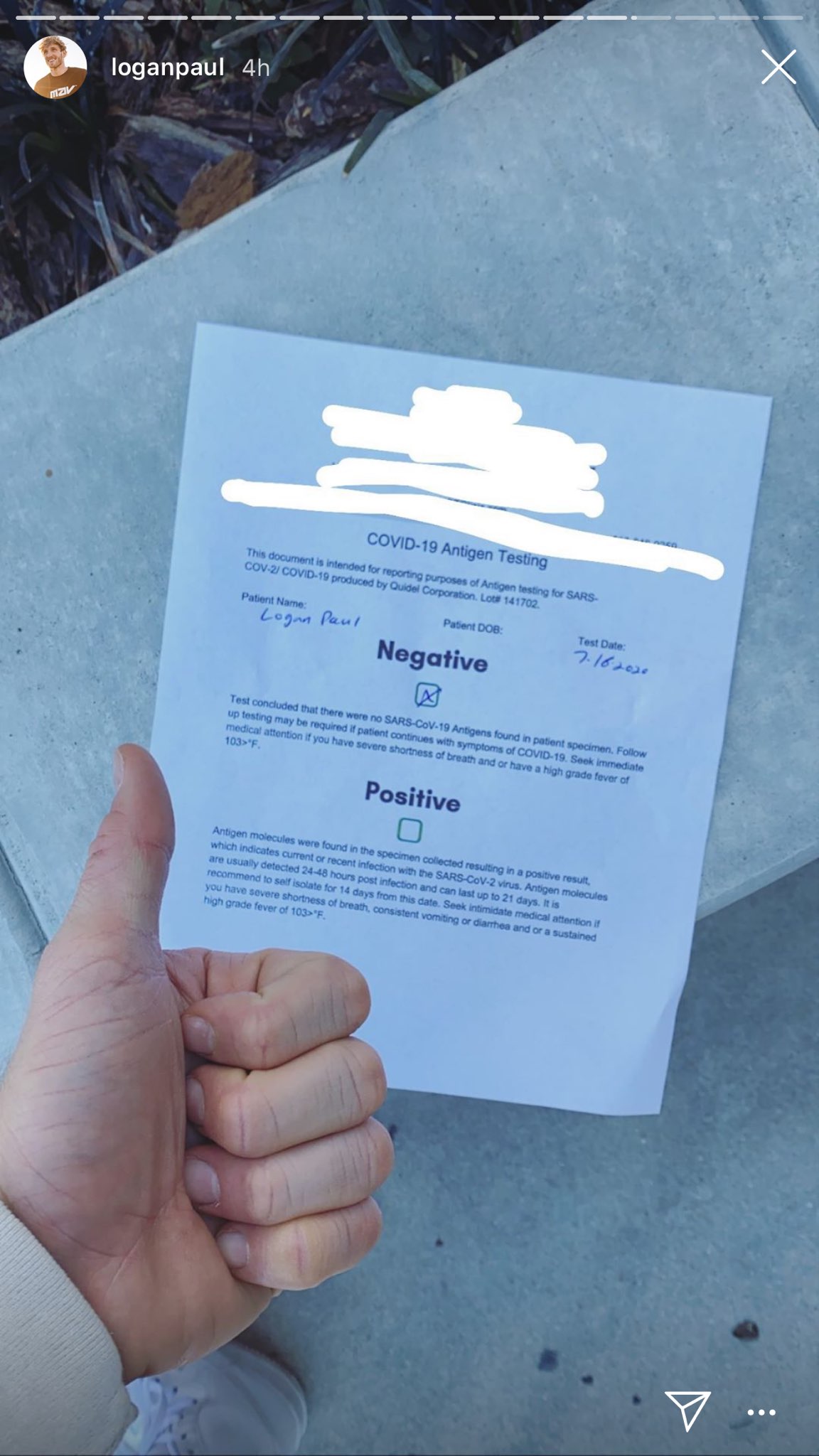 "Test concluded that there were no SARS-CoV-19 antigens found in patient specimen. Follow up testing may be required if patient continues with symptoms of COVID-19. Seek immediate medical attention if you have severe shortness of breath and or have a high-grade fever of 103>*F."
A lot of people are still unaware of the antigens (bacterias/virus)  test. Let's just suppose that you are having symptoms of COVID-19. You go for an antigens test. If your body has antigens of COVID-19, your result will come as positive. And if there are no signs of antigens related to COVID-19, your result will come as negative.
Logan's Podcast From The Past Regarding COVID-19
Logan Paul posted a podcast in March in which he discussed all things related to the COVID-19.
"L.A just got pretty much shut down last night. No restaurants, no clubs, pretty much any public gatherings with especially 50 people or more."
LA is being locked down again due to increasing number of cases. We still don't know why Logan Paul got himself tested for the COVID-19. He might be having some corona like symptoms. Or maybe he just went for it just for his own peace of mind.
Stay tuned for more updates on Logan Paul's recent vlog and podcast updates.