As we all know that Lana Rhoades announced her pregnancy news when a fan called her out for having a shiny forehead because of Botox on Twitter. The supermodel shut the fan down by stating the fact that it was the pregnancy glow.
And the internet literally went into a frenzy after that. Though most of Lana's fans, friends, and followers were happy to hear this news. But at the same time, they were really confused and curious to know about the baby daddy. So everyone started assuming on the internet that it can be none other than the very un-problematic Mike Majlak. Because Lana and Mike kept on seeing each other even after they broke up for the billionth time. Though Lana was keeping a low profile and we didn't see her appearing on Mike's Vlog channel. But surprisingly, she appeared in the latest Vlog and sent another wave of shock to her fans.
Related: Mike Majlak Reacts to Lana Rhoades Pregnancy announcement | Is he not the father?
Is Mike Majlak Really The Daddy Of Lana Rhoades' Baby??
Before we go any further, I would like to tell you all that Mike's Vlog title "I Moved In With My Pregnant Ex-Girlfriend | The Night Shift" is clickbait. Because Mike only helped Lana to move from L.A to Chicago. But he got a comfy air mattress for her so that she can sleep peacefully at night. And he was there with her on the big move which clearly says a lot about him.
Anyways, 3 minutes into the Vlog, Lana shares that she is getting all of her tattoos removed and Mike doesn't seem happy to hear this news.
"What did you say you're getting removed? The Arabic tattoo? And the John Tattoo?"

Lana replies with a "Yes". And continues saying "the hearts & the dragons" too. Because according to her, moms don't have tattoos.

"Mike: You are not getting the hearts removed?That's like Michael Jordan saying I don't f*ck with the number 23.
Lana: No one is going to see my b*tt anymore so how are they gonna know.
Mike: What about the baby daddy?
Lana: YOU!!
Mike: (while laughing) That's not me, it's not me."
Lana!! Girlie, what did you do just there? I can't stop laughing. She is just messing with us guys. Because she is not ready to tell us all about the actual baby daddy.
"Me and Mike chose to use a sp*rm donor because his armpit hair is in the wrong place and he has fat flat feet."
Related: Lana Rhoades Aka Amara Maple Shares A Healthy Recipe Of Coffee For Pregnant Women
Related: Lana Rhoades Boyfriend Alert | Who Is The Mystery Guy?
Though I am not going to say anything about the feet part, but the other thing which Lana pointed out is simply hilarious. Later in the Vlog, Lana asks Mike if he will visit her in February and f*ck her brains out? Mike makes a weird face and says, "I will bleep that so they don't need to hear it, but yeah". Though, he only said Yeah to the visiting part.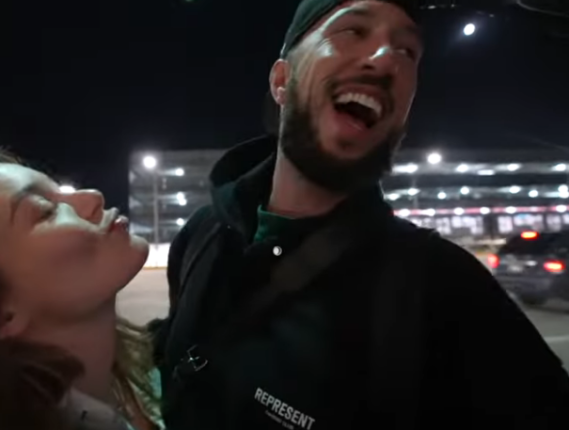 And then Lana asks Mike to give her a goodbye kiss, which he turns down twice. *Sighs*
I guess the baby daddy thing is still going to remain a mystery until Lana's due date. Which is probably somewhere around mid-January. So let's just keep our fingers crossed and pray that the baby comes out healthy.
Related: Mike Majlak Denies Kissing Ex-girlfriend Lana Rhoades
Related: Mike Majlak Congratulates Ex-Girlfriend Lana Rhoades On Delivering A Healthy Baby On The Impaulsive Podcast