Uhh well!! I don't know about you guys but I can't wait for the day when Lana Rhoades aka Amara Maple will be delivering a healthy baby. And the day when she will be revealing the baby daddy to her fans. Because it's literally driving us all crazy and making us think if Mike Majlak is the real baby daddy? As we all know Mike and Lana share a very different bond. They had a very on and off-going relationship with multiple breakups. But one thing remained constant, and that's their chemistry. I guess it's safe to say that these two dated for a year. And when Lana asked Mike to move in with her (in her house) so that they can start their own family. Mike chickened out and that's how these two finally called it quits.

But don't worry guys, both Lana and Mike ended stuff on a good note. They are really good friends who discuss things which each other all the time. Recently, Mike helped Lana with her sudden plan of moving to Chicago. As most of Lana's family live there. And she will definitely be needing help from her family when the baby arrives. Anyways, Mike vlogged the whole move and posted it on his YouTube channel. You will also get to see a very chirpy side of Lana which everyone missed seeing on Mike's Vlog channel. And one thing which shocked me and a lot of other fans was when Lana asked Mike to give her a kiss on the lips. That too not just once, but twice. And Mike politely declined. Not just that, Lana also said in the Vlog that Mike is the baby daddy. Which was a joke by Lana, obviously. But she mentioned in the Vlog that they chose a sperm donor. Umm, well, that might be true or not.
Related: Mike Majlak says he is not the father of Lana Rhoades' baby
Lana and the baby try burger for the first time in Mike Majlak's The Night Shift
Did you guys ever hear people saying you need to eat for two when you are pregnant? Or hearing them say you need to eat healthy and cut down on your caffeine intake. Well!! Lana is doing the same. As she avoids eating junk food and tries to have more fruits and vegetables. Mike also posted a Vlog on his YouTube channel in which Lana had her first-ever burger since she got pregnant.
Mike: "I am here with Amara Maple, veteran burger reviewer. Remember, she was here from the beginning, from the very first burger tasting on The Night Shift. I think she is back with me, so you actually get two judges' scores on this one. Because you (Lana) can actually talk to the baby."
Let's see how Lana responds to Mike.
"This is actually going to be the baby's first burger that he has ever tasted. Because I haven't eaten a burger yet while pregnant."
Lana loved the burger and wished there were more pickles in it. Mike, on the other hand, loved it. But wished it was less salty.
How does Lana Rhoades manage to look active during this tough time?
We all love some caffeine in our life, right? And most people can't function without having one or two cups of coffee in the morning. Now some people like their coffee sweet and black, while some of them add in a lot of milk. There is also a myth going around for centuries that pregnant women can't have caffeine. But this myth is proven false as pregnant women are allowed to have a limited amount of caffeine, with their doctor's approval.
And Lana also shared a healthy recipe for coffee which can be taken twice a day. As pregnant women are allowed to have 200 mg of caffeine per day.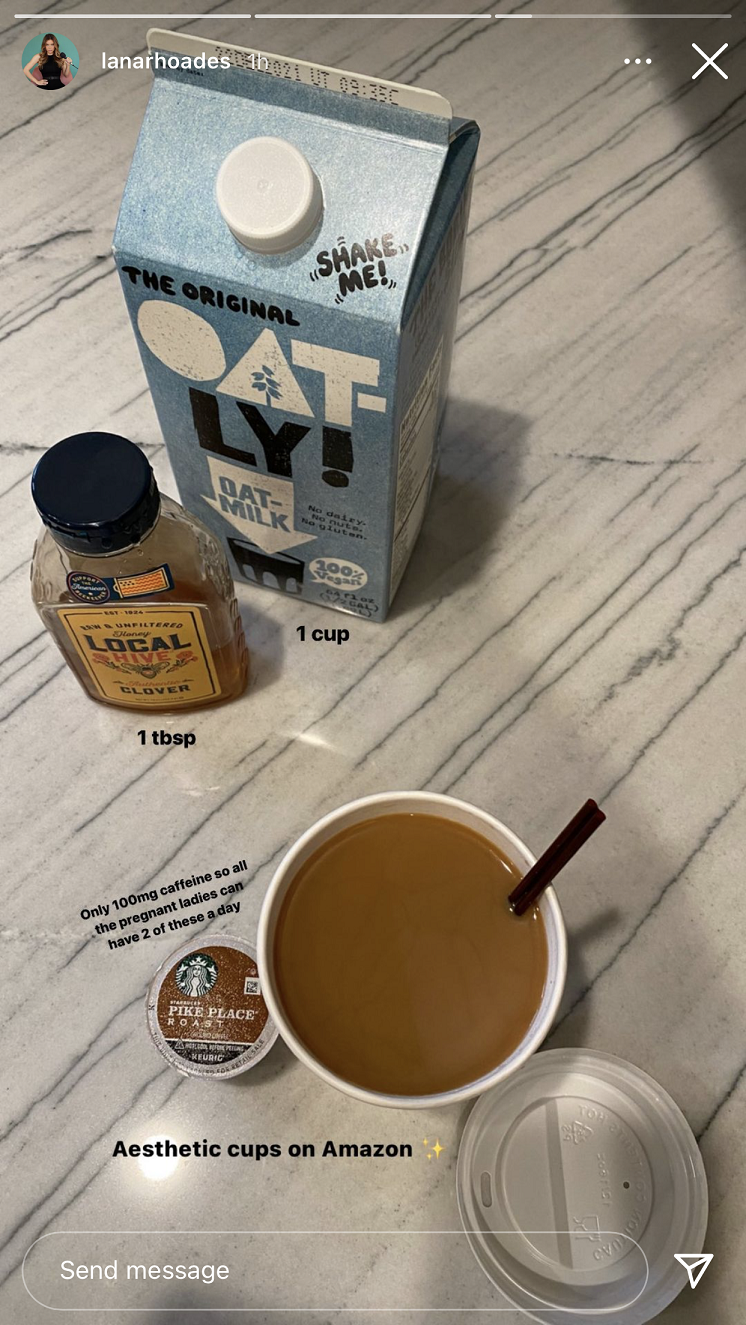 This healthy recipe contained raw and unfiltered honey, oat milk and ground coffee. Well!! This coffee looks really tempting so I am just going to take a short trip to the kitchen. And make a tiny little cup of coffee for myself. Let us know in the comments down below if you're a coffee person or a tea person?
Related: Mike Majlak Reacts to Lana Rhoades Pregnancy announcement | Is he not the father?