Kylie Jenner, the beauty mogul, stays up to date whenever she can. While quarantined, she is taking care of herself and spending time with her daughter Stormi. Kylie is also seen cooking and baking these days. While she is already bored after staying home all the time, she had no idea that she won a Streamy Award 3 months ago. Yes, that's right.
Kylie Jenner won Streamy Award
Streamy Awards took place in December 2019. Back when everyone was enjoying their life and routine, and no one knew how the next few months would be like. the famous YouTuber and Vlog Squad founder, David Dobrik was nominated with Kylie Jenner for the best collaboration.
At the ceremony, Zane Hijazi and Heath Hussar, David's friend and Vlog Squad members, were the presenters. While Trixie and Katya announced the nominations of Collaboration category.
Nominees were:
David Dobrik and Kylie Jenner. (SURPRISING PEOPLE WITH KYLIE JENNER!!)
Moly Burke & The Dolan Twins. (Blindfolded Skydiving)
Patrick Starr & Naomi Campbell. (MAKEUP TUTORIAL)
Rebecca Zamolo & Game Master Network. (World's Largest YOUTUBE Takeover In REAL LIFE at ViDCON!)
Sofie Dossi & Matt Steffanina (7 Rings – Ariana Grande)
Zane & Heath announced the winners. And those were none other than David Dobrik and Kylie Jenner. While Kylie could not attend the ceremony, David Dobrik was there to receive the award. Jason Nash was there to portray Kylie though.
KJ had no idea about the win?
Now, after a period of three months, David Dobrik shared the Streamy Award on his Instagram stories. He just received them apparently and tagged Kylie Jenner to confirm if she received hers yet. In response, Kylie asked:
lol wtf did we win?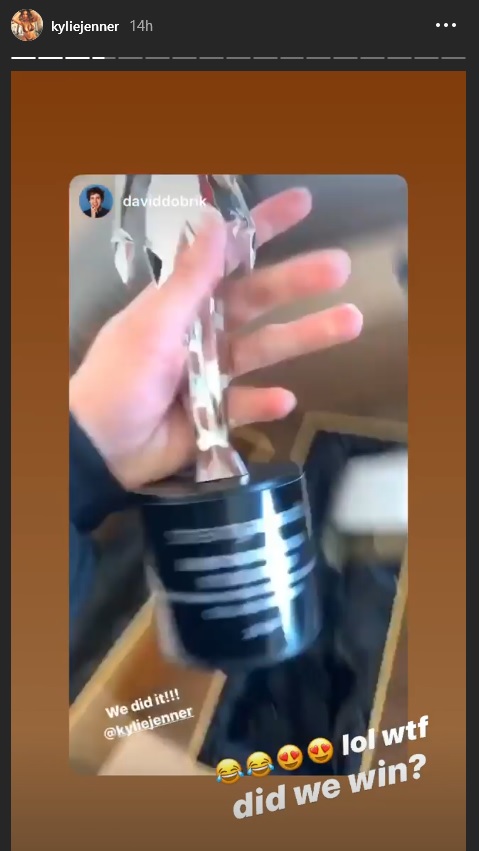 wtf indeed. Well, it is unbelievable but probably true that Kylie Jenner had no idea about winning the Streamys. What's more surprising is, David did not even call her to congratulate and share the news? I mean, that was the collaboration award.
Anyways, jokes aside. We are happy they won the award and hope to see more collaborations in the future. Something to do with Kylie doing David's makeup.