There is not a single internet user at the moment who does not know about Kobe Bryant by now. Bryant's death has left many fans devastated. While Vanessa Laine Bryant, his wife, is still recovering from the death of her husband and her daughter Gianna, there are some people who are trying to encash the unfortunate accident and use it to gain their 15 seconds of fame. Since the news of his death hit the news, a tweet is going viral for predicting Kobe Bryant's death in a helicopter crash.
The tweet is dated November 14, 2012, and people are wondering how a random tweet can turn out to be a prediction after 7 years. Surprisingly, there are a few internet users who are aware of certain applications and they have receipts that this prediction tweet by @dotNoso is a hoax.
DotNoso Predicts Kobe Bryant's Death
A random Kobe Bryant fan with Twitter handle @dotNaso predicted Kobe Bryant's death 7 years ago.
On January 26, 2020, the five-time NBA champion Kobe Bryant, 41, was flying with his daughter and others including John Altobelli, Keri Altobelli, Alyssa Altobelli, Coach Christina Mauser, Sarah Chester, Payton Chester and the pilot Ara Zobayan. All 9 of them died at the spot after the helicopter crash. John Altobelli was a longtime baseball coach at Orange Coast College and he was flying with his wife Keri and daughter Alyssa who was also a Mamba teammate like Payton Chester. Sarah Chester was Payton's mother.
Our thoughts go out to all the grieving families.
The Prediction Tweet Is A Hoax?
What puts a big question mark on @dotNoso tweet is the term Carbon v2.5 which is not visible when you post it as a normal tweet, as I did just above. If you follow the link, you can see what we are talking about. The screenshot of the tweet is given below: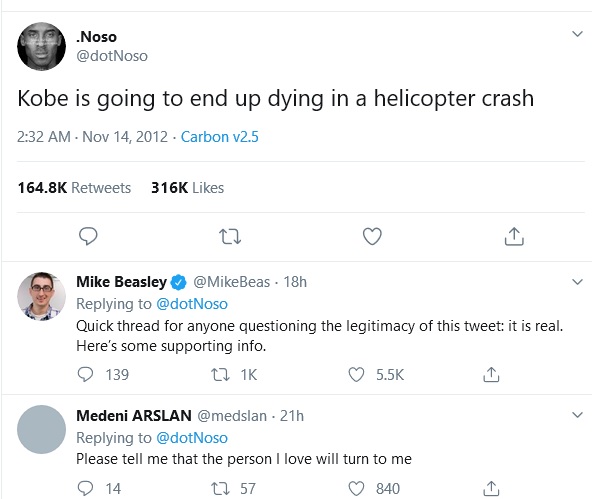 See that "Carbon v2.5" in a colored font? That's what must have triggered some people who ended up dissecting it. We do not know who shared it first, but here are some tweets we found.
And then there are some very reasonable logics coming up as well.
But the same guy later posted this to prove that Carbon release dates do not prove anything:
Carbon 1.1.3 was released on February 3, 2013. Whereas; Carbon 2.7 came out on December 25, 2017. (These dates are mentioned on Carbon download links for Android).
Whether it was a Twitter bug or not, we are still unsure. However, it is confirmed that @dotNoso uses third-party Twitter applications. Like, he is currently using Tweetbot. If it was a hoax then it's really inhumane, if not then we're leaving this here:
P.S. Please read this thread. It proves Twitter does not allow date amendments.