This has to be one of the most bizarre headlines that have come out of Donald Trump's administration. But, as previously said, we're living in unprecedented times. After Trump's COVID-19 diagnosis, a number of his staffers and aids contracted the Coronavirus too. It includes Chris Christie, Kayleigh McEnany, Thom Tillis, Mike Lee, Ron Johnson, and others. Moreover, former senior counselor Kellyanne Conway is also on that list. However, in her case, her COVID-19 diagnosis has turned into a family drama over social media. Kellyanne Conway's daughter, Claudia Konway, is creating a public drama on the Chinese social media app TikTok. And along the way, she may have revealed some White House secrets too. Here's what's happening!
Related: Donald Trump & Melania Trump test Positive for COVID-19! Is Joe Biden in Danger?
Who is Claudia Konway?
As we said before, Claudia is Kellyanne Conway's 15-year-old daughter. However, unlike her mother and the administration she serves, she has a lot of left-leaning views. This isn't really that big a problem. But, when your mother is so close to the White House and its workings, it is bound to catch the public's eye. She posted once on her TikTok:
"hi so if you're leftist, acab, anti-trump, blm, etc. please interact w this."
As a result, Claudia has gathered more than 1 million followers on the app. That said, Kellyanne Conway's daughter is not her only family member who leans towards the left. Talk about awkward family dinners!
George Conway also supports his daughter's politics
Kellyanne's husband, George Conway, has been an outspoken critic of President Donald Trump. They've even engaged in public spats on Twitter!
Tell us, @realDonaldTrump—which of these diagnostic criteria do you not satisfy?https://t.co/3wB5U54X9J pic.twitter.com/aJ8hUKtE4Z

— George Conway (@gtconway3d) March 19, 2019
George Conway, often referred to as Mr. Kellyanne Conway by those who know him, is VERY jealous of his wife's success & angry that I, with her help, didn't give him the job he so desperately wanted. I barely know him but just take a look, a stone cold LOSER & husband from hell!

— Donald J. Trump (@realDonaldTrump) March 20, 2019
This family drama with her daughter and husband got a little too out of hand for Kellyanne Conway. As a result, she left the White House and released a statement, where she pretty much confirmed that she will be focusing more on her family and children. But, that doesn't seem like the case. And that's where Kellyanne Conway's daughter and her reckless TikTok come in.
How Claudia's TikTok account is spelling danger for Kellyanne Conway and Donald Trump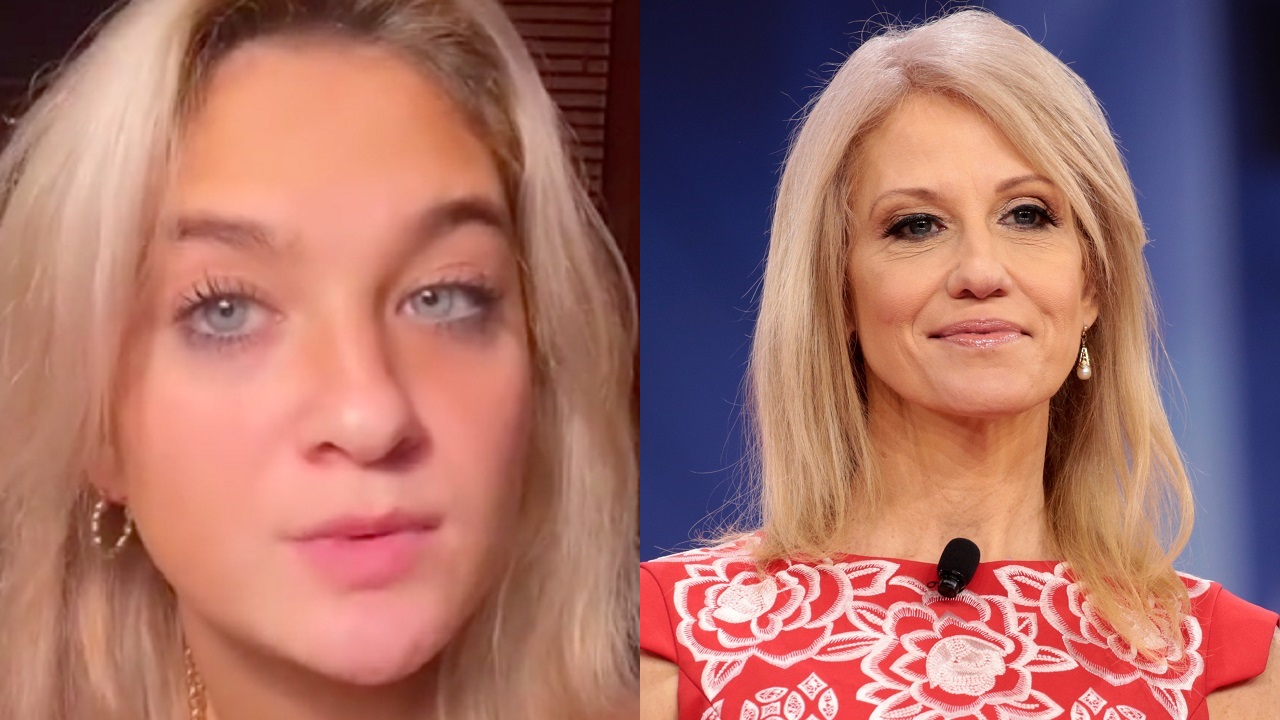 And so, that brings us to what's happening on TikTok with Claudia and how she may be leaking White House secrets. Moments before Kellyanne Conway revealed that she had contracted COVID-19, Claudia posted a TikTok, confirming that Kellyanne had the Coronavirus, as she posted "update my mom has covid."
Moments later, she posted another TikTok, where she said that:
im furious. wear your masks. dont listen to our idiot fucking president piece of shit. protect yourselves and those around you.
However, Claudia may have spilled some White House secrets too in the process. As we all know, Trump recently got discharged from the Walter Reed hospital and is now back at 1600 Pennsylvania Avenue. He claims to be perfectly healthy, but Claudia doesn't seem to agree. She disputed the President's claim, commenting on a TikTok:
apparently he is doing badly lol and they are doing what they can to stabilize him.
https://twitter.com/SailorZZtar/status/1313234717106470917?s=20
Moreover, there might be video evidence of that too!
Trump appears to be wincing in pain while he breathes pic.twitter.com/YKhGhu0VN0

— Brennan Murphy (@brenonade) October 5, 2020
That is quite harrowing news for not just Donald Trump, but the whole of the United States. And it is all coming from Kellyanne Conway's daughter. There were other TikToks too, where you can see Kellyanne Conway arguing with her daughter, saying:
You've caused so much disruption. You lied about your f**king mother, about COVID!
Is Claudia Conway an American hero? Who can be sure https://t.co/kRVUKQi7OK

— Evan Palmer (@thebc12) October 6, 2020
She might single-handedly bring down the GOP by herself, something that the Democrats couldn't do for decades. And she is getting a lot of support from the rest of Twitter.
What does the public say?
Unsurprisingly, Claudia is getting a lot of praise from Twitter and the left-leaning audience on Twitter. Many even called her the "supreme whistle-blower of our time":
https://twitter.com/mattwest929/status/1313424684080398338?s=20
Is Claudia Conway an American hero? Who can be sure https://t.co/kRVUKQi7OK

— Evan Palmer (@thebc12) October 6, 2020
https://twitter.com/oliviaalley18/status/1313404598846017537?s=20
https://twitter.com/kirkacevedo/status/1313473723383517184?s=20
Moreover, when Kellyanne Conway confirmed the news of her getting COVID-19, she was being called out for silencing her daughter too!
https://twitter.com/JuddApatow/status/1313368995987288065?s=20
Kellyanne Conway responds
Considering the mindblowing revelations Claudia Conway made on TikTok, Kellyanne just had to respond. She called her daughter "beautiful & brilliant". However, she also called everyone who follows her social media accounts and believes in her "speculations" as the ones who are really sick:
My daughter, Claudia, is beautiful & brilliant. She has access to top doctors & health care & lives comfortably

Like all of you, she speculates on social media

Yet she's 15

You are adults

We have COVID, but it's clear who's really sick

— Kellyanne Conway (@KellyannePolls) October 6, 2020
But, of course, people didn't spare her underneath this tweet either:
Claudia Conway bringing down the GOP is peak 2020 and I love it.

— Ben Cooper (@bencooperrr) October 6, 2020
Omg!!! Oh no!??? @KellyannePolls … HOW did your daughter get COVID!????? Omgosh! Did she sneak out of the house and go to a party? Teenagers… am I right? I can't believe she brought Covid home to you! You're so important! Is she going to get punished? https://t.co/B7scpoeRAk

— Meredith Salenger (@MeredthSalenger) October 6, 2020
https://twitter.com/Mail4Cheri/status/1313362368773189634?s=20
And so, this is what's happening in Kellyanne Conway's COVID-infected household. What do you think about Claudia Conway being a bigger problem for the GOP than the Democrats? Let us know in the comments below.