Everyone is well aware of Taylor Swift's feud with the couple Kanye West and Kim Kardashian. It all started way back but it fueled into something more when Kanye released a song 'Famous' which contained a fake Taylor Swift and some very real and offensive lines towards Taylor Swift. The feud got messy, to say the least. And Kim Kardashian even ended up calling Taylor a 'snake'. Now Kanye West tweets out 'Not gonna use a snake emoji cause you know why… I'm not sure if Christians are allowed to use snake emojis'. Let's take a quick recap of the whole feud.
How Kim Kardashian and Kanye West were lying to the world about Taylor Swift
When 'Famous' was released, Taylor Swift was shocked like everyone else. She said that she didn't know about the lyrics. Kim Kardashian then released a phone call with Kanye and Taylor and it was edited in such a way that seemed like Taylor did know about the lyrics and did approve them.
The lyrics in the clip were Kanye singing 'I feel like me and Taylor might still have s*x'. The complete lyrics of the song were:
For all my Southside niggas that know me best
I feel like me and Taylor might still have s*x
Why? I made that b*tch famous (God damn)
I made that b*tch famous
Taylor Swift shared that she had no idea about the lyrics using the word b*tch. It was then Kim Kardashian indirectly called Taylor a 'snake'. She tweeted out:
Wait it's legit National Snake Day?!?!? They have holidays for everybody, I mean everything these days!
But then in March, another clip surfaced which clearly showed that Taylor was not asked about all of these lyrics. It didn't contain the b*tch lyrics. In that clip, Kanye West was telling Taylor that he's writing a song including her name and if she could promote it on her Twitter, stating 'It has a very controversial line about you'. To that, Taylor Swift was sounding upset and asked if the lyrics were mean. Kanye West replied to her that the lyrics weren't mean and only shared these:
'To all my Southside n***as that know me best / I feel like Taylor Swift might owe me s*x.'
In response, Taylor Swift laughed and shared that it was not mean. But that was just it. Then Kanye West went on to say:
'If you felt that it's funny and cool and hip hop, and felt like it's the College Dropout and Ye that you love, people would be way into it, and that's why I think it's super genius to have you be the one that says, 'Oh I like this song a lot… this is cool.'
Taylor responded with telling Kanye that she needed some time to go over it. During the whole call, there was no mention of all b*tch lyrics.
Taylor Swift felt vindicated after the truth came out
When the whole truth was revealed to the public and Taylor Swift's name was cleared up, she said she felt vindicated. But she also responded this way: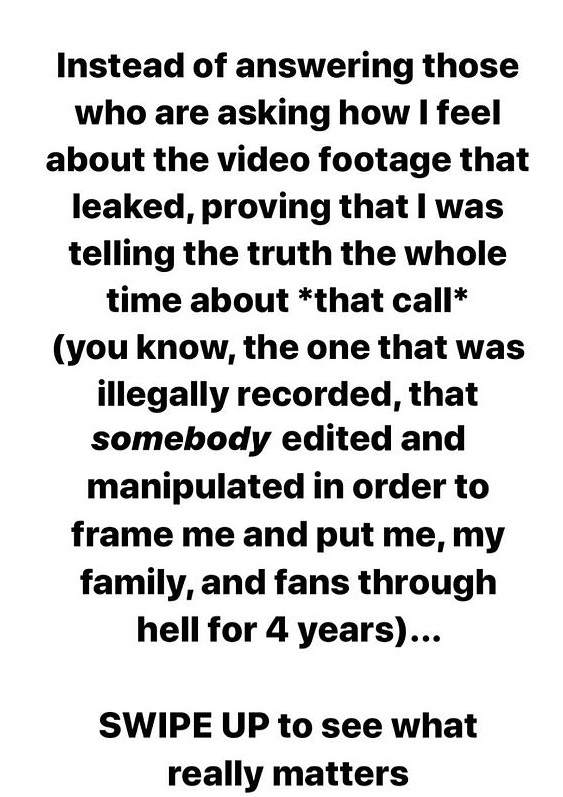 The Swipe Option redirected users to links that were for helping people during the pandemic. In March, the lockdown started and the world started to get serious about the global health problem. The links went to Feeding America and The World Health Organization.
Kim Kardashian also responded to Taylor Swift at the time and said that Taylor was merely reigniting an old flame. Kim also stated that Taylor was still lying. She shared:
"The lie was never about the word b*tch, It was always whether there was a call or not and the tone of the conversation,"
After defending her husband Kanye West in some tweets, Kim Kardashian said she won't speak about this issue again because the world was facing more serious issues at the time.
How did Kanye West shade Taylor Swift now?
The 'Famous' singer suffers from Bipolar Disorder and often goes on multiple Twitter rants. Last time, he went on one, Kim Kardashian came to his defense and told everyone to have some sympathy for his condition.
Kanye West is currently on another Twitter rant, this time it's about emojis: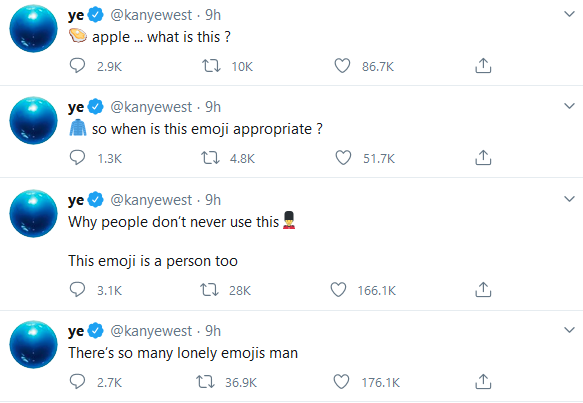 Kanye West then talks about snake emojis: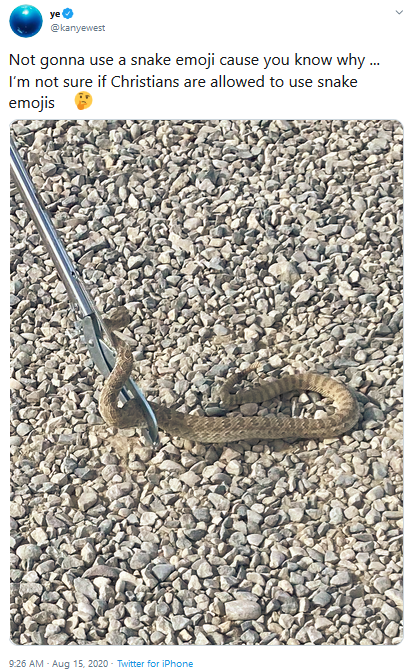 This appeared to be a subtle shade to his old feud with Taylor Swift. After Kim Kardashian had deemed Taylor a 'snake', there was a lot of haters bashing Taylor online. The 'Folkore' singer shared that she felt extreme isolation and public shaming. It was after that she also took a hiatus from her music because it deeply affected her.
Kanye West may not have been trying to shade Taylor Swift but her fans definitely came to her defense underneath the tweet:
https://twitter.com/meIaniemartini/status/1294490880447922176
A fan also pointed out to the success of Taylor's new album 'Folkore':
https://twitter.com/JustinEnchantin/status/1294493371877081094
Here's another one:
https://twitter.com/wildestnights_/status/1294550371164200961
The internet can be a messy place for fans to argue but Taylor Swift fans prove they're completely loyal.
Let's see if Taylor Swift chooses to respond to this or not.