Josh Richards and Bryce Hall are not just your regular TikTok boys anymore. They are turning into official YouTubers, as well as businesspersons. Both Josh and Bryce have been a vital part of the Sway House. Even though Josh & Jaden Hossler moved to another house, they are still close friends with the Sway boys. Josh has been seen with Bryce Hall and the crew a lot these days. They are making TeaTalks together. And if you have not seen Bryce's updated profile yet, the boys are launching an energy drink of their own. It's called Ani Energy drink. Yes, they now have their own cans to "shotgun".
Josh Richards & Bryce Hall launch Ani Energy Drink
It's official. Bryce Hall has just uploaded the official announcement of Ani Energy drink launch a few minutes ago. The energy drink is a joint venture of Bryce Hall and Josh Richards. Both have been really close with each other for quite some time. And it seemed fitting for them to start a joint venture of their own.
For Monday mornings and Friday nights.
The hashtags #whereisAni and #AniAllDay are starting to trend on the social media handles. As per the Ani Energy site, Bryce and Josh wanted something different from the regular energy drinks available in the market. We know about Red Bull, as well as Bang Energy Drink that is sponsoring many TikTokers.
Main Features
Entering into the Beverages industry with an energy drink that has more caffeine than a diet coke and less caffeine than an energy drink. Moreover, the selling point is the amount of sugar in the drink. It is only 6 grams of sugar.
We wanted an awesome taste and a simple formulation for energy and focus – not one that would carpet bomb our brains with caffeine and other additives.
Standard energy drinks are reported to have 30-40 grams of sugar. On contrary, Ani energy drink does not just has less sugar. It is also formulated with green coffee beans and vitamins that keep you energetic all day.
You can pre-order 12 pack of 12 oz. cans at $24 by following this link. A subscription to the packs allow you a 4.16% discount as well. Shipment will start in September.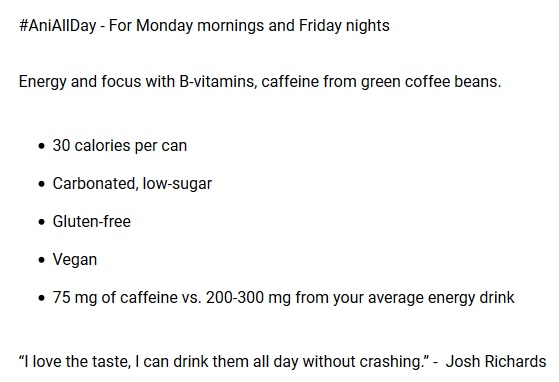 People have already started ordering. If you are a Sway House fan, do not miss the chance to Ani All Day.