Unless you live under a rock, you must have seen Jessica Chastain and Oscar Isaac raising the heat on Venice Film Festival red carpet. In a viral clip, Isaac kisses his co-star's arm and makes eyes at her. Although they both are happily married to other people, the video made the fans swoon over their chemistry. After trending on social media, Chastain has finally responded.
After James McAvoy, Isaac is one co-star who frequently works with Chastain
Previously, this A-list duo was seen playing husband and wife in A Most Violent Year. Interestingly, they will be playing a couple once again. Scenes From A Marriage is a remake of Ingmar Bergman's 1973 Swedish miniseries. Initially, Michelle Williams was to play the wife's role. However, Jessica Chastain replaced her. Due to scheduling issues, Williams will only serve as an executive producer. Revolving around a married couple, the show spans 10 years and focuses on their relationship. This is the second time Jessica Chastain and Oscar Isaac have come together on-screen. Apart from him, James McAvoy and Chastain have worked together in four films.
Recently, Jessica Chastain and Oscar Isaac made us swoon over their chemistry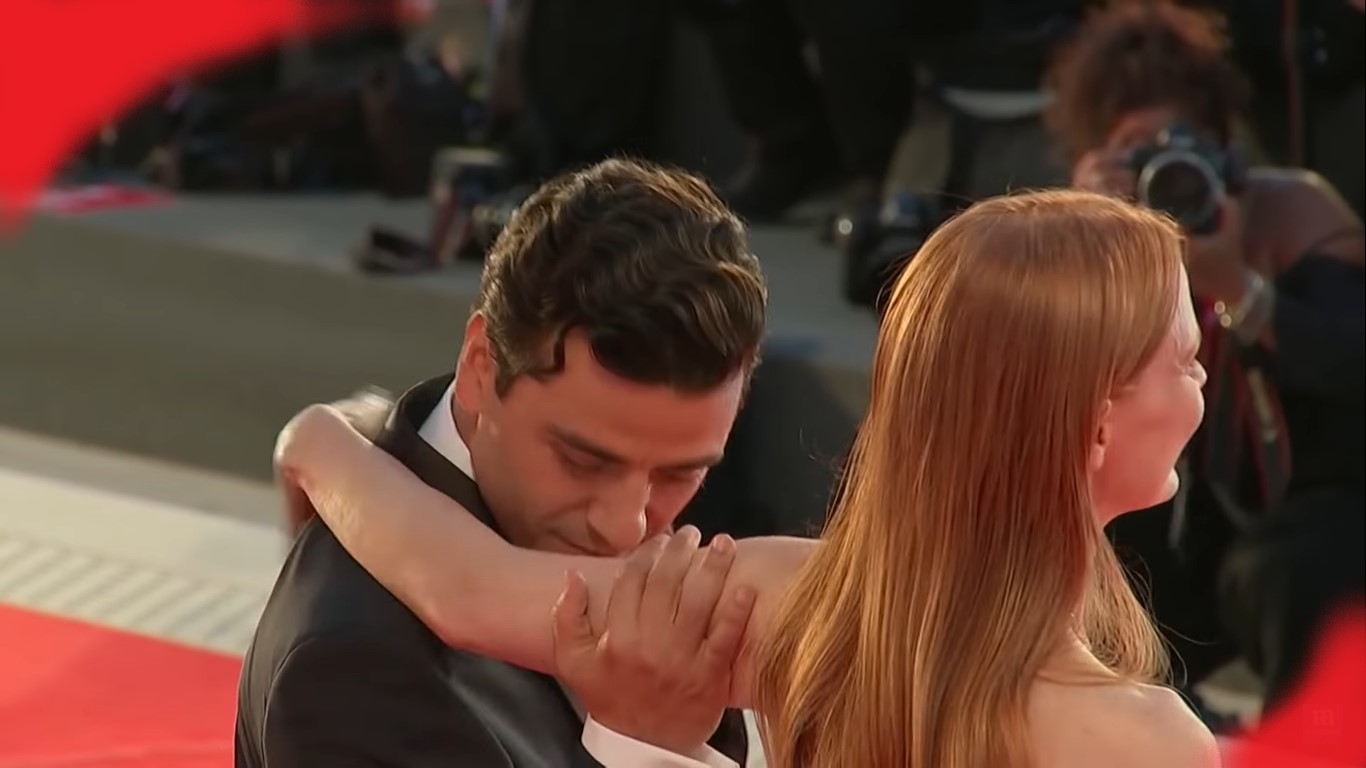 At the Venice Film Festival, the duo walked the red carpet to promote their upcoming show. A video clip from the red carpet is going viral where Chastain and Isaac are flirting with each other. At one point, Oscar Isaac looks at Jessica Chastain with dreamy eyes and kisses her arm. After that, they give each other a tight hug and walk around holding hands. Although it might have been a stunt for promoting their show, they definitely made us all skip a beat. While Jessica Chastain is married to fashion executive, Gian Luca Passi de Preposulo, Isaac's wife is director, Elvira Lind.
After the video went viral, people had a lot to say.
While some thought they were dating, others just loved the ease they had with each other. People took to social media to express their thoughts. According to one Twitter user, romcoms need to make a comeback as we are deprived of good chemistry.
Meanwhile, another talked about how Pedro Pascal must be feeling.
Another user thought we are all starved for 'on-screen se**al tension'.
Interestingly, Oscar Isaac's wife was standing just a few feet away.
Related: Jessica Chastain's sexy 'Siblings Day' wish for Tom Hiddleston will creep you out
While that video is still all the rage, Jessica Chastain responded in a hilarious way
After people could not stop talking about it, Jessica Chastain took advantage of the moment. She made sure to not miss this opportunity to promote her upcoming show. In a tweet, Jessica Chastain shared a picture of Gomez kissing Morticia Addams's arm and posted the release date of her show. Scene From a Marriage will be releasing on 12th September.
While off-screen chemistry has blown us away, can we hope for a superb on-screen performance? I think so.