Well!! I have to say that I am really surprised with Jeffree Star's activeness and speed of dropping makeup products and accessories. And before we move into further details about the upcoming makeup collection and accessories. I would like to give you all a little insight into what has been happening in Jeffree's life. So we all know that Jeffree bought a beautiful ranch in Wyoming last year. Jeffree sold his Pink Calabasas mansion in which he has many memories with his ex-boyfriend Nathan and fur babies. Not just that, Jeffree has made tons of makeup videos in that mansion, too. But he sold the Pink Mansion in order to buy a massive land in Wyoming.
Talking about the current status of the Hidden Hills Calabasas mansion, we don't know if it sold or not. But it has been up for sale in the market since June 2021. Jeffree moved into the million dollars mansion in 2019 and right after that he parted ways with his long-term boyfriend Nathan Schwandt. The beauty mogul was caught in a lot of controversies after that. And then he announced that he is buying a massive land in Wyoming. Why? Because he wanted to work on his inner peace and mental health. Now he is living a very happy life on his farm. He has also bought some horses and Yaks. And we are totally in awe of it.
Related: Jeffree Star Unveils New Collection 'Pricked', his second collection of this month!
Jeffree Star Is Launching Star Ranch Collection Inspired By His Wyoming Ranch
Yes, guys, Jeffree Star Cosmetics is coming up with a mini collection by the name of "Star Ranch". And it will be launching tomorrow. Apart from this, Jeffree Star Cosmetics is also restocking some products which were loved by the fans. Like the F*ck Proof Mascara and Wyoming Iced Tea lipstick from the Velvet Trap lip collection.
First of all, let me give you all a little glimpse of the products of the Star Ranch collection and two of the restock products. Starting from the Star Ranch Bundle to the Mirror Bundle and the mini eyeshade palette, everything is already sold out. I really like the designs of the new Yak Hand Mirrors. And we can't possibly ignore the cute Yak Pink Plushie.
Now, the restock products have Jeffree's F*ck Proof Mascara which is also sold out. But you can still grab a hold of the Wyoming Iced Tea from the Velvet Trap restock. Everything is already sold but I would still like to share how breathtaking this mini eyeshade palette is from the Star Ranch collection.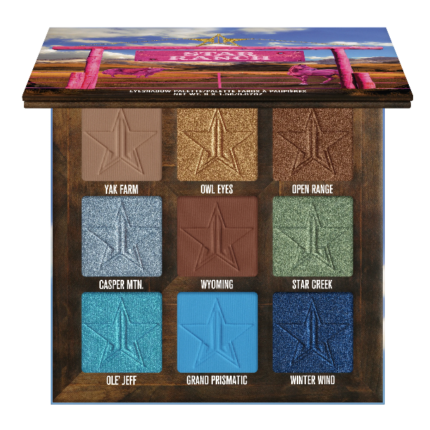 So this mini palette has a total of 9 shades with a mix and match of glittery, shimmery, and matte colors. And I have to say that Owl Eyes, Winter Wind and Wyoming are my most favorite. And the price of this palette is $28. This mini palette is inspired by the beautiful outskirts of Wyoming. Sadly, it's sold out before the launch date. As most of the Jeffree Star Cosmetics lovers might have pre-booked the latest products. But we can still hope that there is going to be a restock of this pretty new Star Ranch collection.
Related: Jeffree Star reveals a new makeup palette, and it's something else!