Ever since the drama in the beauty community of YouTube unraveled, it was only a matter of time before Jeffree Star got involved. The beauty mogul has never come across a feud he didn't love. In fact, throwing shade at other YouTubers is something he appears deeply fond of. But we never thought James Charles would be at the receiving end of it, right?
After throwing some subtle shade at Charles following Tati Westbrook's 43-minute long video, Star seemed to have gotten more direct over the weekend. After personally attacking Charles and his family in his tweets, Jeffree went on to delete his bold messages. But did he have a change of heart against fellow YouTuber? Or did he choose to not lose followers like Charles did over the whole scandal?
Jeffree Star Personally Attacks James Charles on Twitter
Over the weekend, Star seemed to be unable to resist posting all the drafts he had on his computer that weren't released yet. He had already hinted he wanted to get real on what goes on in the beauty community but he was waiting for karma to do it instead.
Maybe, the YouTuber had a change of mind because he took one step ahead in exposing Charles. He posted a now-deleted tweet labeling him as a danger to society, and that everything Tati Westbrook said was true. He further claimed that this was the reason he had not seen Charles following the last birthday party they attended together. In fact, all this was the reason that his partner Nathan had banned Charles from coming to their home.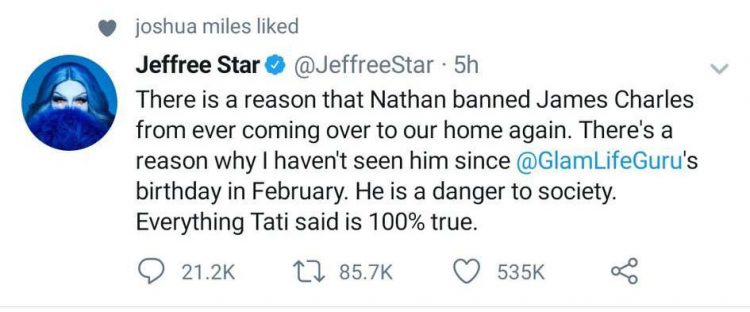 But that's not it because Star even attacked Charles' on his brother's Twitter. When Ian Jeffree questioned why people on the internet were so tough, Star told him to 'shut the fuck up'. In another since-deleted tweet, he questioned him why his brother was a predator. He blamed James Charles as the reason his brother moved back to NYC.
Does this all mean there is war between the two former YouTuber pals?