Def Noodles, the satirical news commentator, just shared this very shocking news in a tweet that Jeffree Star got allegedly robbed by his boyfriend Andre Marhold. Now some of you might not know about Jeffree's new boyfriend 'Andre Marhold'. He is an ex-basketball player and currently CEO of Bella Agency. What's even more shocking is that he already had a girlfriend named Lizzy who is a part of the Bella Agency. And they also have a very cute baby boy together. Fans were very shocked when Jeffree shared his first picture with his new beau Andre Marhold because they knew that Andre already has a girlfriend and a baby. So what is he actually doing with the beauty mogul? Jeffree, on the other hand, tried defending his and Andre's relationship. Soon, JS's fans started calling Andre as a money digger like Jeffree's ex-bf Nathan Schwandt. Now let's see how and why Jeffree Star claims he is robbed by this new boyfriend.
Jeffree Star calls out boyfriend Andre Marhold for stealing his things
Def Noodles just shared this shocking news in a tweet that Jeffree Star just called out his new boyfriend Andre Marhold for stealing things from his house. Def Noodles further attached a screenshot from the comments section of one of Jeffree's IG comments.
https://twitter.com/defnoodles/status/1311431257067151360?s=20
The comments were hidden on this IG post so we really could not see Jeffree's comment. But the question is 'why would he hide the comments' on this post?
As per Def Noodles, the hidden comment goes like:
"Hey! Since you can't answer the phone right now, can you give me all the stuff back that you stole from my house? What kind of lowlife fuc*ing sc*m does that? Give it back!!!! If you need a return label, just ask."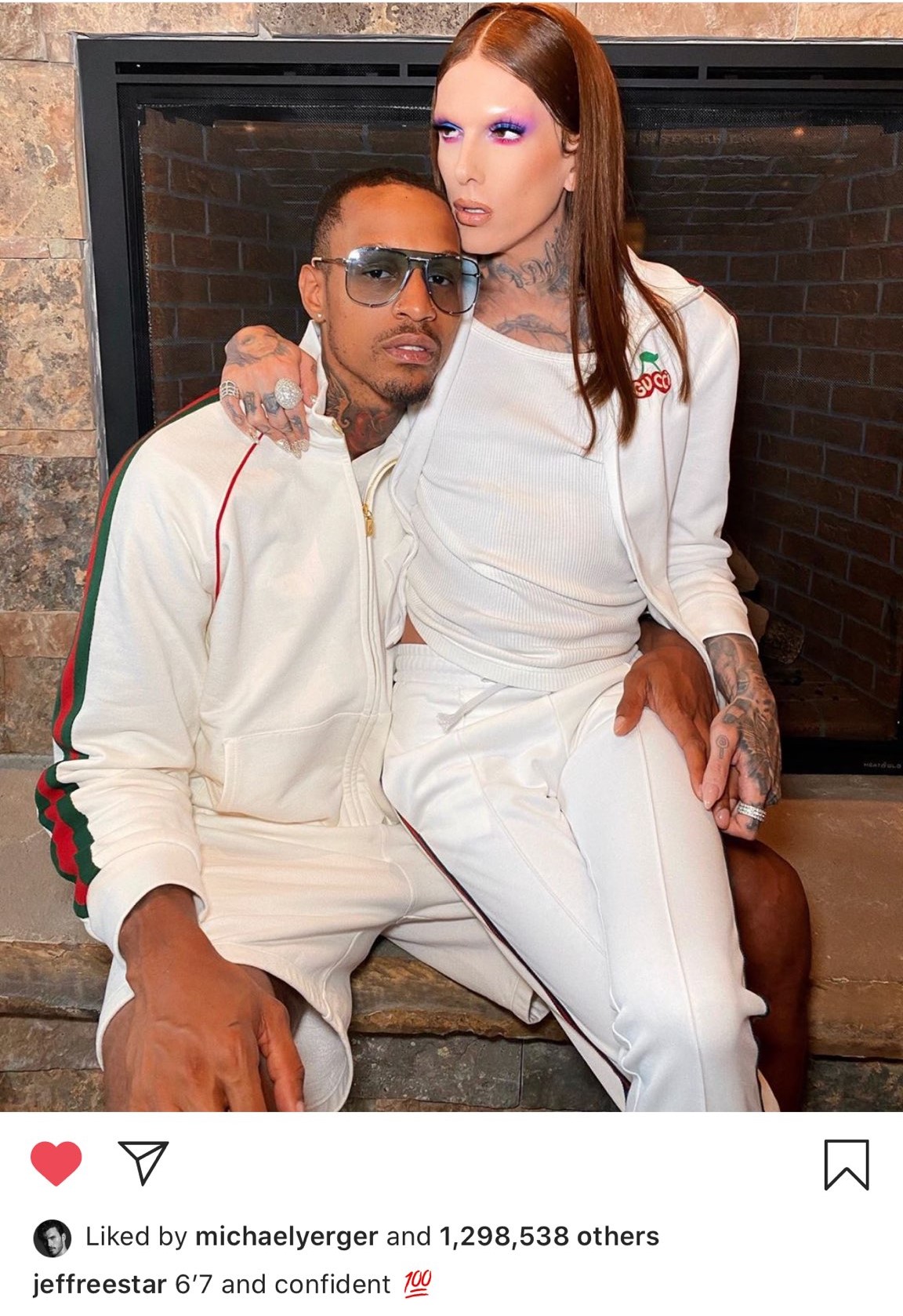 Def Noodles apparently reached out to Jeffree Star and asked him about the stuff which has been allegedly stolen by his boyfriend Andre Marhold.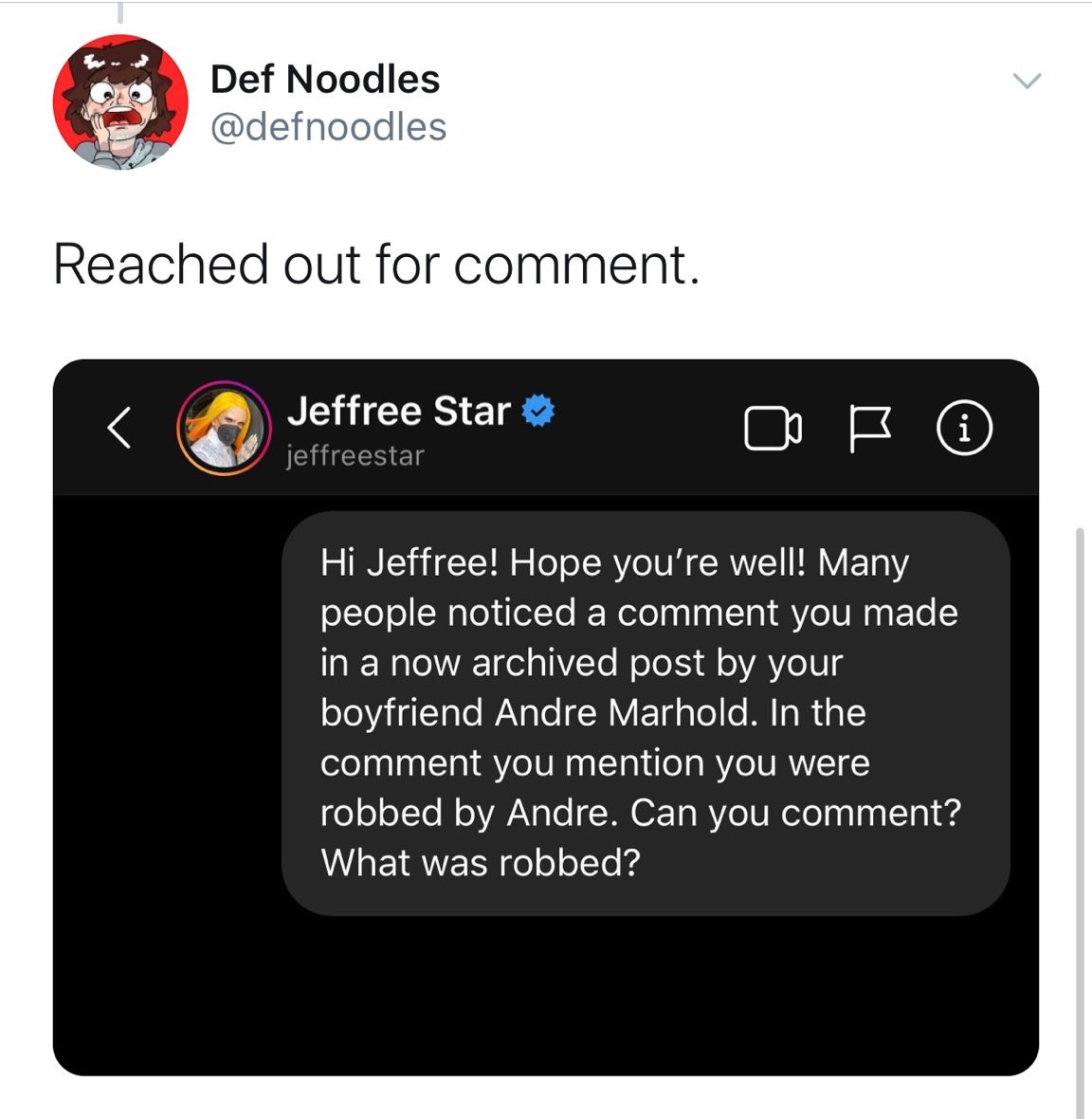 Though Jeffree has not replied to Def Noodles' message. But he posted an IG story which kind of shows that something is definitely wrong between him and boyfriend Andre.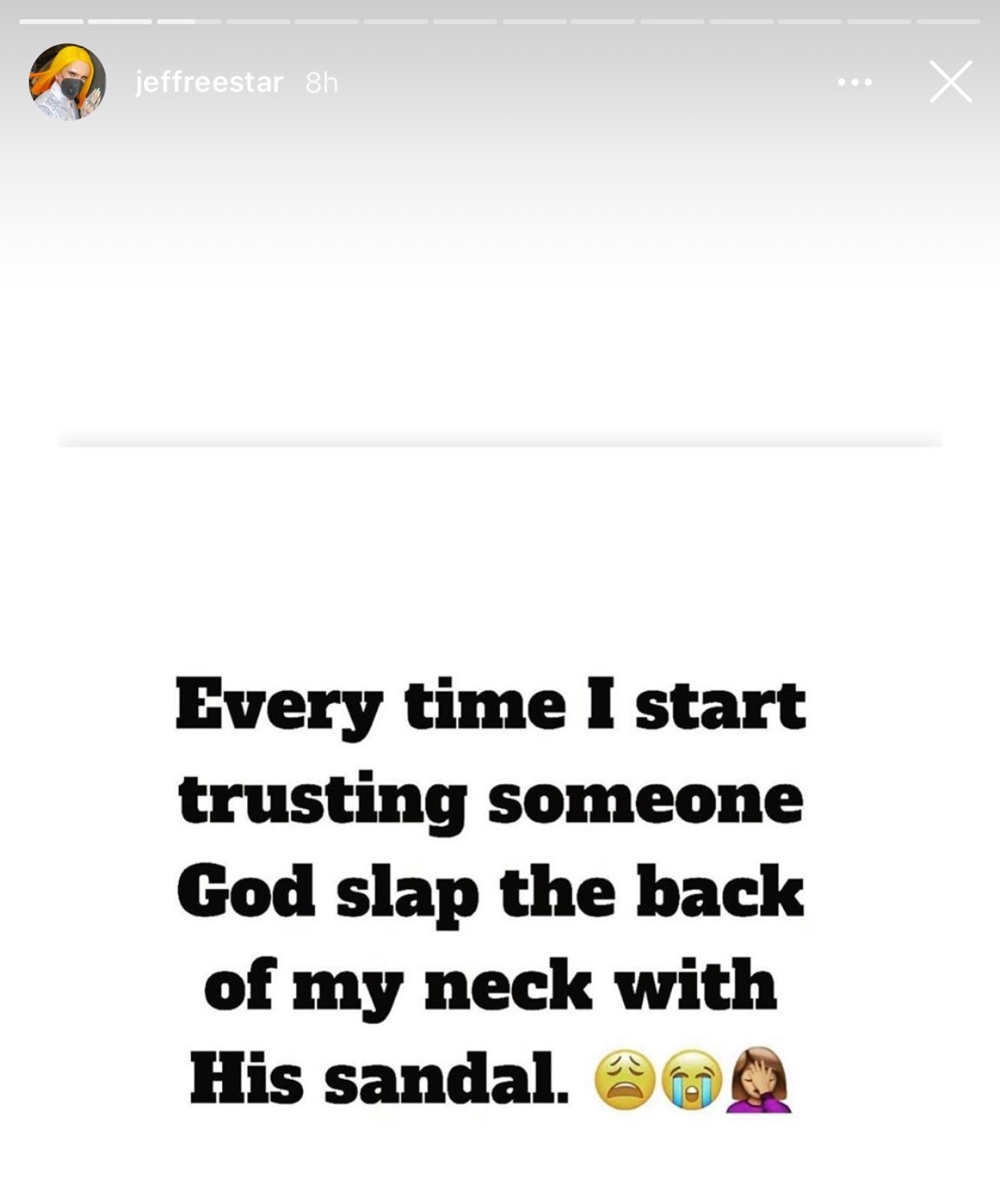 What do you guys think about this shocking news? Do you think Andre would actually steal something from Jeffree's house? Anyways, let's just wait and see if Jeffree is going to make an official statement about this matter?
For now, Jeffree Star has deleted all of his Instagram posts with his now ex-boyfriend.