We all know that James Charles is known for his super amazing collaborations. Recently we have seen him collaborating with the very famous Doja Cat, Jojo Siwa, Emma Chamberlain, the D'Amelio sisters, and many more. While a lot of fans were happy to see these collaborations, some of them even got sad. As James Charles filmed so many collabs during the ongoing COVID-19 pandemic, and that too without following some certain SOPs. So people started giving an example of how Nikkietutorials did a virtual collab with Selena Gomez for Rare Beauty and James should have done the same.
And he started keeping his distance from the social collabs and focused more on doing virtual ones. But a few hours ago, James announced this news on social media that he is launching a new collection on 'Sisters Apparel'. Which features some very special guests.
Who are the special guests in James Charles' new Sisters Apparel collection?
So, a few hours ago James shared a picture on his Instagram. And shared this exciting news with the fans that the new collection of Sisters Apparel features some special guests.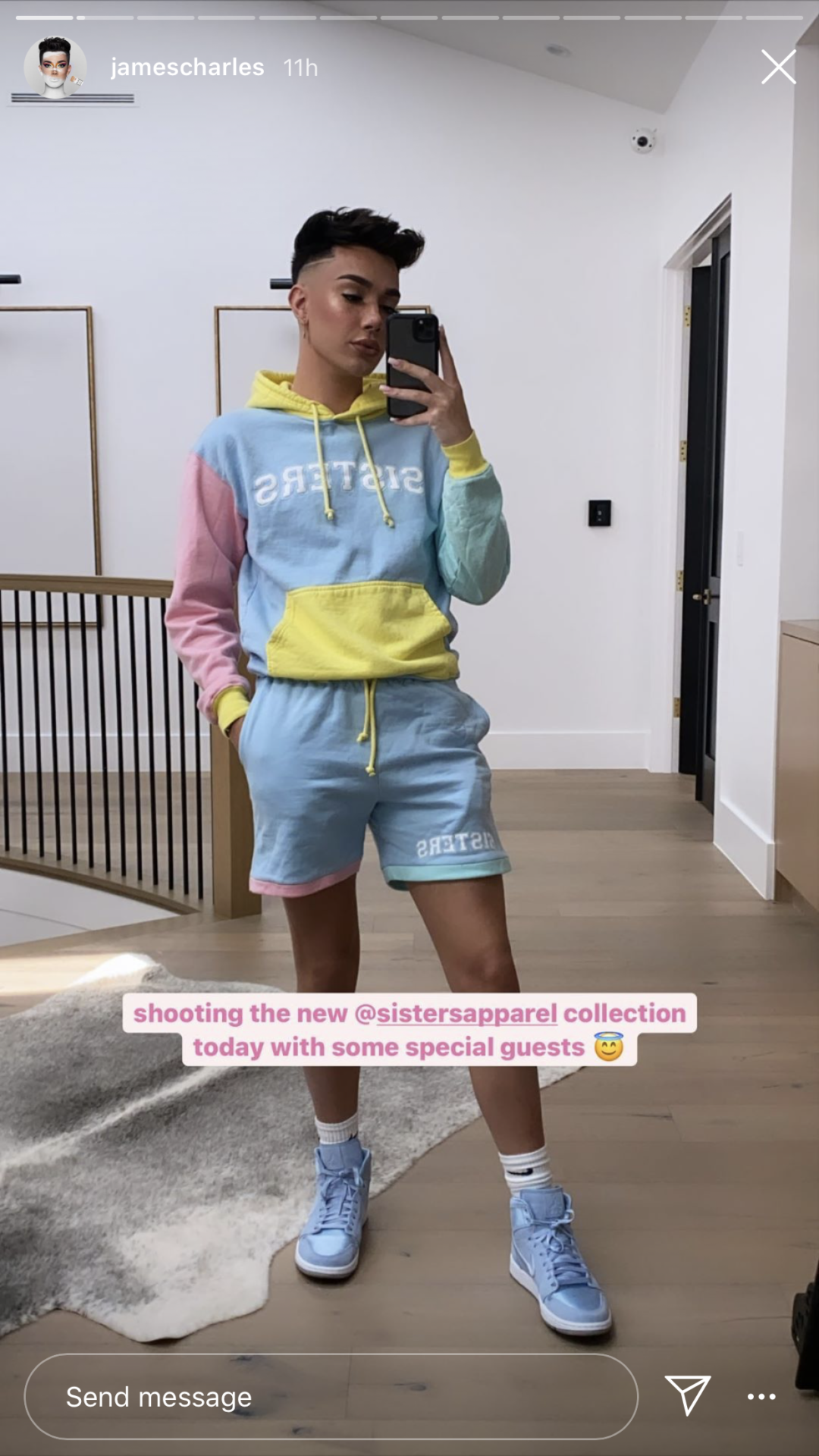 Now you all must be thinking where are the guests? Well, calm down. That's what I was thinking too. But then all these special guests broke the social media with their Instagram stories and TikToks. So it kind of made it easy for us to guess who they really are.
So Thomas Petrou, Alex Warren, and a few other content creators shared some teeny tiny clips from the set of James' Sisters Apparel's new collection. But I think Thomas' vlog was a little funny so I am going to share it with you guys.
I hope you all can see the special guests in the thumbnail. So this new Sisters Apparel collection is going to crash the official website once again. As it features Noah Beck, Blake Grey, Chase Hudson, Thomas Petrou, and Alex Warren.
No no, you don't have to be sad. It also features Charli D'Amelio, Mia Hayward, Kouvr Annon, Avani a few more girlies. Some of these amazing people already have their independent merch. But they are here to support their very good friend 'James Charles'.
So this new collection features some 'Back To School' clothing items. Like hoodies, sweatshirts, shorts, hats, and much more. But I guess we will have to wait till September 24th.
James also shared his feelings about going back to high school with Thomas.
"I have had so many nightmares where I wakeup in class and I kept like crying."
Dayum! The feeling is mutual James. And if you jump to 3:20, James is getting a little upset with Thomas' filming the whole set.
"Nobody can see where you are filming."
I think I broke one or two ribs from laughing too hard.
Let's take a look at some TikTok Videos starring James Charles and special guests
I don't even know what James was thinking while filming this video. He really knows how to entertain his fans.
https://www.tiktok.com/@jamescharles/video/6873223615886724357
No, don't get tired of seeing James shaking bum. Because he is shaking it in a few other videos as well.
OMG! What is even this? I cannot even breathe. Fans are going crazy in the comments sections. So almost 80% of people think Larray shakes it the best. And rest of the 20% are upset with Noah for pushing away Charli and killing the vibe.
And here is my favorite one. The way James jumps out of nowhere and say 'OooOo' is just super cute.
@petroutv

We back in school btw new vlog is out
Last but not the least, here is a sneak peek of the 'back to school' sisters apparel shooting set from Thomas' Tiktok.
I hope you guys enjoyed all of these TikTok videos. Let's just keep our fingers crossed and wait till the 24th of September for Sisters Apparel's new collection launch. Oh and we really missed Addison and Dixie during the shoot.
Peace Out!