Elijah Daniel, one of the rare influencers who are following COVID-19 SOPs, has been calling out many influencers these days. Elijah also called out Jake Paul for hosting a party to shoot his new music video. He even asked YouTube CEO to demonetize Jake and 'remove trash' from YouTube. However, it seems like Elijah did not get time to check Jake Paul's new song Fresh Outta London on his own unless one of his fans asked him to do so. And you'd be surprised at the results.
Fresh Outta London by Jake Paul is not an original song?
If you are not following Jake Paul these days, you are missing the "stats" comparison he is posting on his IG stories. Jake Paul and the official rival of the Paul Brothers, KSI, released their latest tracks on the same day. There was a gap of a couple of hours. But that didn't stop their fans from comparing who is doing better.
KSI and Jake Paul continuously share the stats on how good the song is doing. They even called out to each other for the brains behind the lyrics. It turns out KSI had a team of writers for his song, Lighter. However, Jake Paul confirmed he wrote the lyrics on his own, and he directed his own video for the song.
While Jake is talking about the originality and genuineness of his song Fresh Outta London, one of Elijah Daniel's fans finds out the similarity of the song with Elijah's Pha**ot. Here's the comparison clip:
And here is what Elijah Daniel has to say about it: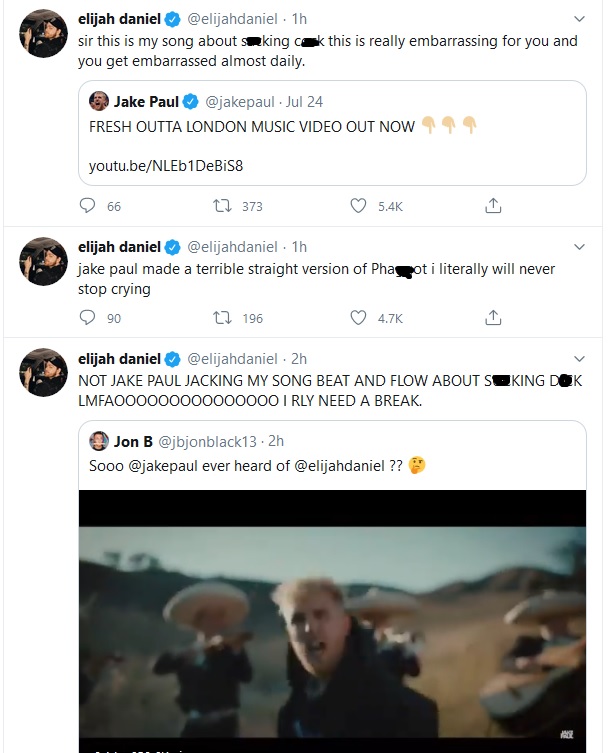 Right after Elijah Daniel posted this, a hashtag started to trend on Twitter.
The Mariachi beats in the start also sound familiar to Sufjan Stevens' Mystery OF LOVE. But they are not a hundred percent identical.
Have you heard Jake Paul's Fresh Outta London and Elijah Daniel's Pha**ot? What do you think of the similarity?