When Jaden Hossler moved away from the Sway House with Josh Richards to focus on his musical career, fans were not expecting him to blow their minds. Jaden has been coming up with some mind-blowing tracks, one after another. He has put smiles on his fans' faces through the track So What. And now, he is reaching out to people suffering from anxiety, depression, and suicidal thoughts, through his new song Pray. The song on its own is a very powerful track where Jaden highlights both phases of the suicidal thoughts; going into it and coming out of it.
Jaden Hossler releases Pray
A week before its official release, Jaden Hossler talked to Radio.com where he opened up about his anxiety and depression. The 19-year-old singer might look like he has everything in his life right now, at such a young age. However, no one really knows what his life has really been like. Anxiety and depression are real, and you never know what's going on inside a person's mind.
Jaden Hossler, or Jxdn, has already talked about how realistic his songs are. However, he confirmed to radio.com that Pray is the most real song he ever made. Pray is about anxiety and depression, and what a person suffering from anxiety and depression goes through daily. Jaden also highlighted how the song starts with a person suffering from suicidal thoughts and he wants to die in his sleep. And towards the end of the song, he sees hope at the end of the road and the song turns to "don't let me die in my sleep".
Pray is not just a song for Jaden Hossler. It's his project to reach out to people suffering from anxiety, depression, and suicidal thoughts, and save them.
The message behind the song
Throughout the video, there are some Easter eggs that serve as strong messages for the people. The song begins with the lyrics:
heaven only knows when i'm in hell

none of my friends can even tell

i wanna f**king die but i never say it

sick of getting high but i do the same shit

i can't even cry so i try to fake it i hate it
Whereas; Jaden Hossler is wearing a sweatshirt that says: Heaven ain't ready.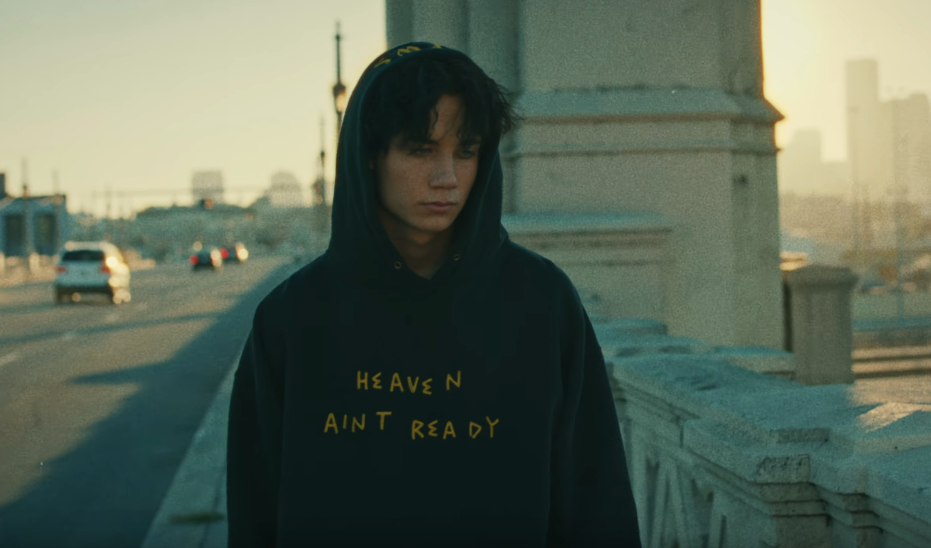 The message counters the lyrics by giving hope to the people that even if they are having suicidal thoughts, don't follow through it because heaven is not ready for them.
Before the start of the song, Jaden also shared a message for his fans so that the song does not have a negative effect on anyone. In fact, the message is the whole vision behind Pray.

The music video of Pray shows Jaden Hossler standing at a bridge. thinking about committing suicide. However, the next video clips are a glimpse of his imagination about what would happen if he goes through with it.
We see Jaden's spirit looking at his parents enjoying their breakfast when a police officer arrives with the news of his death. He sees himself in the casket, and that stirs something deep inside him. On the other hand, his suicide breaks his parents apart. They start arguing and fighting, and Jaden Hossler is not physically there to support them. Even when he tries to comfort his mother, his spirit is unable to comfort her. That's when the song shifts to the second half of the song, that's about coming out of suicidal thoughts. Jaden Hossler shifts from praying "i pray to god to let me die in my sleep" to "I pray to god I don't die in my sleep".
At the end of the music video, Jaden Hossler shared a message with his fans:
You are not alone. If it's just me or if it's million of other people going through the same thing, you are not alone. You are needed. And you are loved. And I promise you it gets better.
Stream Pray and please seek help if you are in emotional distress or having suicidal thoughts.