On Tuesday, Jaclyn Hill unfolded multiple tweets regarding her health. Jaclyn also talked about her personal and mental health (during a get ready with me + opening video), last month on her YouTube channel. But this time, she confirmed she won't be back until she is healthy again.
Jaclyn Hill Opening Up About Herself
On February 3rd, through a YouTube video, she talked about where she had been in the past couple of months. And how things were affecting her mental, emotional and physical health.
Jaclyn Hill talks about how last year has affected her in so many ways. She mentions how people have been making fun of her every single time when she talked about things. in LA.
A lot of people don't even know the reason "why Jaclyn moved to LA for three months". She moved because her house was under renovation. And she had to take care of some work stuff too.
Things didn't go as planned and that's one of the main reasons for Jaclyn Hill's depression. In fact, things started getting worse for her when she got sick for 18 long days. (with influenza, diarrhea, and sinus infection). Then she started throwing up blood.
She later got admitted to the hospital. And got some crazy side effects like Delirium.
Why Jaclyn's cosmetics were one of the reasons to trigger her depression?
The backlash which Jaclyn Hill received from the lipstick drama really did a number on her emotional health.
if we're gonna be totally honest that's when it started I have put on God close to 30 pounds this year and like the past eight months. and there is a reason for it.

and I want to talk about it because I can't post a picture or a video or an Instagram story without people talking about how fat I am.

especially my face, like I just get so much hate for my face.like your face is so fat,what's wrong with you ? and so many people accuse me of getting fillers and Botox.
Well! this is actually really sad. Jaclyn Hill talks about how people have been saying bad things about her. From her weight gain to botox and fillers, oh, and how can I forget how people have been insulting her for a flop brand launch.
She also talks about how Colleen (on Colleen's birthday party) asked her the question, " did you really not know that your lipstick had fuzzies on them"?
We know how it feels when your own friends start pointing fingers at your honesty. To cope up with her depression, she started misusing alcohol just to get rid of her anxiety.
Jaclyn Hill mentions that she was in a very dark place. And she preferred using alcohol over the counter medicines for anxiety and alcohol withdrawal. She misused alcohol for the purpose of self-medication. And that is the main reason behind the swelling on her face.
Things got uglier than usual when people started fat-shaming her.
Recent Tweets from Jaclyn :
Jaclyn Hill returned with her successful Highlighters launch. She also recently released her Morphe collaboration Vol. II. However, Morphe changed her original formula and turned her vegan product into non-vegan. She was hit with hatred again. Following this, a YouTuber attacked her personal life by calling her father a cult leader. Since these things can be really depressing, So, she is taking a break from the internet.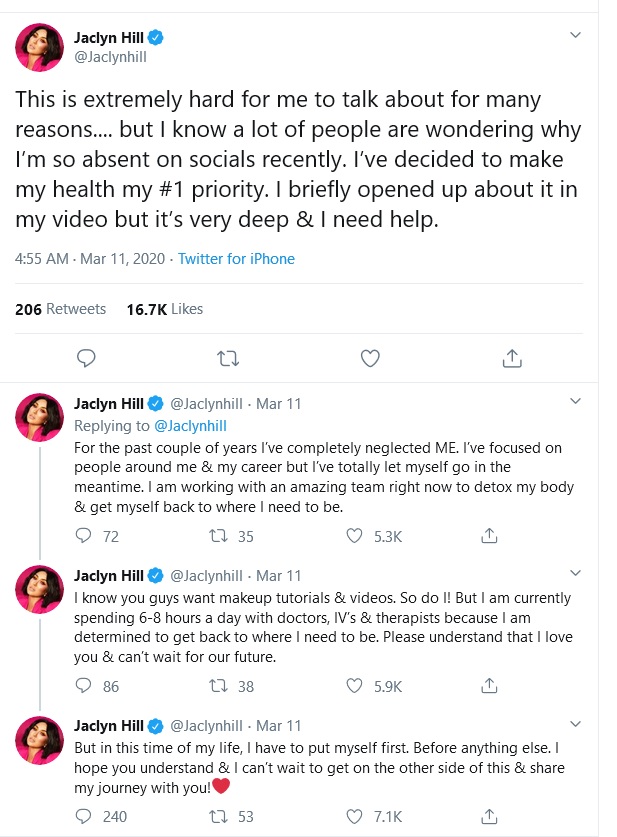 We hope and pray she gets well soon and she gets back to her YouTube channel with interesting makeup tutorials.