Though 2019 was not exactly her year in the beginning, and in the middle also. However, Jaclyn Hill fought her way back into the makeup world by launching her highlighters collection and WOWing everyone. Some of them are even Jeffree Star approved. Jaclyn has been through hell after the flop launch of her cosmetics line. She took the support of alcohol and she recently opened up about her mental health and physical health issues. However, she is on the road to improving her health as well as her products. Meanwhile, she was planning to surprise everyone with her new upcoming product, a collaboration. But someone leaked her product images before she could do it herself in her own time.
Jaclyn Hill x Morphe Vol. II
Just a while back, Jaclyn released a video on her YouTube channel, sharing her winter favorites. That got people speculating that she might be gearing up to launch a product soon. Jaclyn confirmed the rumors in her next YouTube video: Get Ready With Me + Opening Up.
I do have a product coming soon. Very soon!!
She also shared that it might not really be a good time for her to drop a product since she has not been much active on her YouTube channel. Jaclyn Hill did confirm the product will be launching in February. And fans started wondering again: where's the teaser.
Leaked Images
Jaclyn Hill even confirmed on her Instagram Stories that she delayed the teaser of the collab. While people kept wondering whether it was a Kylie collab or Jeffree Star collab, one person already had an image of it. In fact, the whole palette, in real.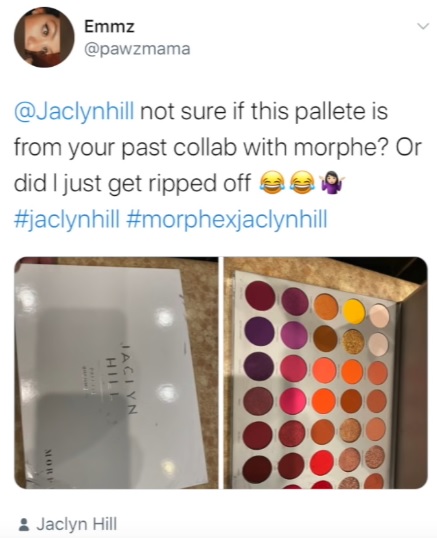 The account is now deleted from Twitter.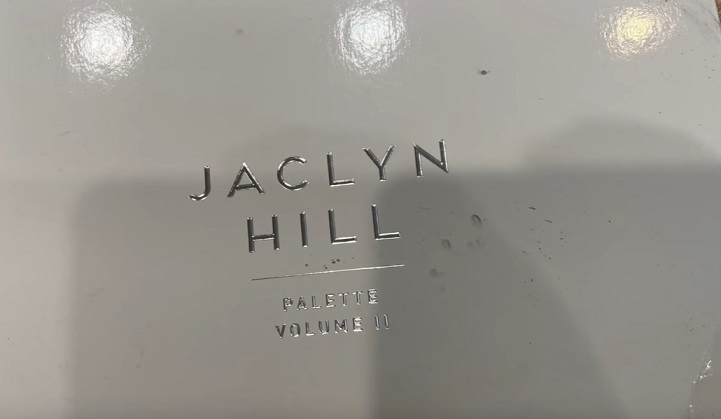 The palette did not appear in good condition. And probably, that's why the buyer might've initially thought it's a fake. How? well before the post got deleted, someone asked the leaked palette sharer that whether she bought the palette directly from Morphe or not. If yes, then Morphe screwed up by leaking an unreleased product. In response, the palette-holder confirmed she bought it from Offer Up. (It's a buy & sell app).
One theory stands out:
https://twitter.com/Alita007/status/1225840933696000005?s=20
It really was defective.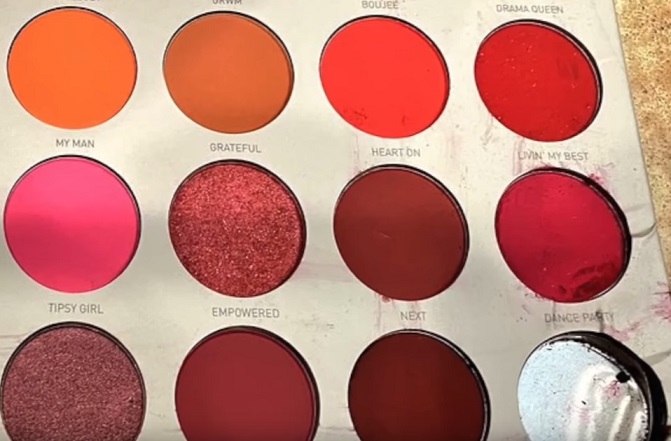 Jaclyn Hill responds
She was not happy with the news. Ultimately, Jaclyn Hill shared the teaser and all the deets about her upcoming palette, the 2nd collab with Morphe.
https://twitter.com/Jaclynhill/status/1225941840270176256?s=20
The palette has 35 new shades, different from Vol. 1. Morphe calls them Bossy Brights.
https://www.instagram.com/p/B8SXe3VgWAB/?utm_source=ig_web_copy_link
The palette will launch on February 13, 2020, on Morphe.com and Morphe stores, with a retail price at $39. Here are the swatches of all the 5 rows.
https://www.instagram.com/p/B8UH8tDAEX_/?utm_source=ig_web_copy_link