Ever heard the name Amber Heard? You should've because she is the ex-wife of one of the most famous celebrities in the world: Johnny Depp. Both of them got married five years ago on February 5, 2015. What seemed to be a cute couple, was not really happy in the relationship. They got divorced in 2017 and recently audio has been leaked where Amber Heard is heard confessing to her crimes.
That is: physical abuse to her ex-husband Johnny Depp. As the fans are taking over the internet, starting a petition against her with the caption Justice For Johnny Depp, one question pops in the mind. Is this the end for the award-winning Amber Heard?
Amber Heard | A Brief History Before Johnny Depp
Amber Heard is an American model and actress. Before meeting Johnny Depp on the shoot of The Rum Diary, Heard was dating a photographer; Tasya van Ree. They were in a relationship for four years, 2008-2012. She came out in 2010. A fan even assumed that Amber Heard might have hurt Tasya van Ree during their relationship.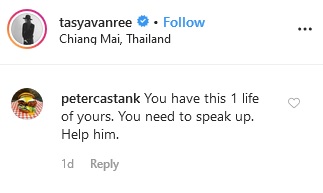 Considering the current circumstances, it is safe to assume that this fan Peter is talking about helping Johnny Depp.
Dating, Marriage & Filing for divorce
Amber Heard and Johnny Depp met at the set of The Rum Diary (2011). They started living together in 2012, got married in 2015 and Amber filed for divorce in 2016. The court declaration regarding allegations of domestic violence can be seen here.
A screenshot of Amber Heard's declaration is as under: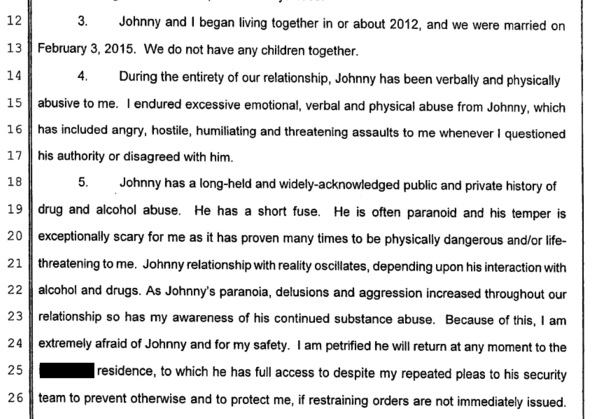 Amber Heard also listed out some events confirming that Johnny was a drunkard and he hit her when he was high.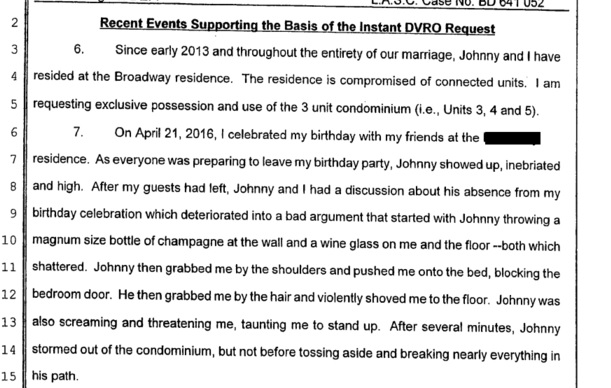 The ex-spouses agreed on US$7 million divorce settlement in August 2016. However, things are just starting to get messier as Johnny Depp's case against Amber for defamation starts this August 2020.
In 2018, Amber Heard wrote in an article:
I became a public figure representing domestic abuse, and I felt the full force of our culture's wrath for women who speak out.
Even though she did not use Johnny Depp by his name, the Oscar winner actor filed a case against her, as he claims her article led to losing his role as Captain Jack Sparrow in a Pirates Of The Caribbean movie. The defamation lawsuit will be heard this year.
Amber Heard & The Future
In light of recent evidence, an audio tape of Amber Heard's therapy session exclusively shared with Dailymail.com, what will be the future for Amber? Will she lose her roles in Aquaman 2 and Run Away With Me?
When it comes to fandom and followers, there is no doubt that Johnny Depp has more fans in the world. But, Amber is a female, and feminists cannot stand when a woman is hurt, both physically and mentally. While Amber might not be as big a star as Johnny Depp, she has 3 awards up decorating her Shelf of Fame.
We do not know what really happened between them and how physical they were with each other. The physical abuse was not one-way though. As per the statement from Johnny Depp:
I left last night. Honestly, I swear to you because I just couldn't take the idea of more physicality, more physical abuse on each other. Because had we continued it, it would have gotten f**king bad. And baby, I told you this once. I'm scared to death we are a f**king crime scene right now.
"More physical abuse on each other". Who started it first though? Can we get an answer to that?
Will the defamation case hurt Amber Heard's future? Will the new evidence turn back the tables? We'll find out in August 2020 when the lawsuit gets heard.