So many close friendships in Hollywood, but none can even come close to what Kevin Hart and Dwayne Johnson have. And we can never get behind this bromance that The Rock and Hart have together. Do they let us? Well, probably not because of every other day a hilarious stunt, a new social media joke, or just some random appreciation for one another.
But that's not what their friendship is all about. It goes way more profound as the two claim to be almost brothers who share their secrets with one another. Have The Rock and Kevin Hart replaced our previous friendship goals- Joey and Chandler?
Kevin Hart and The Rock Go Way Back…
Kevin Hart and Dwayne Johnson met on an Award Show almost five years back. But The Rock reveals that they knew they always wanted to work together.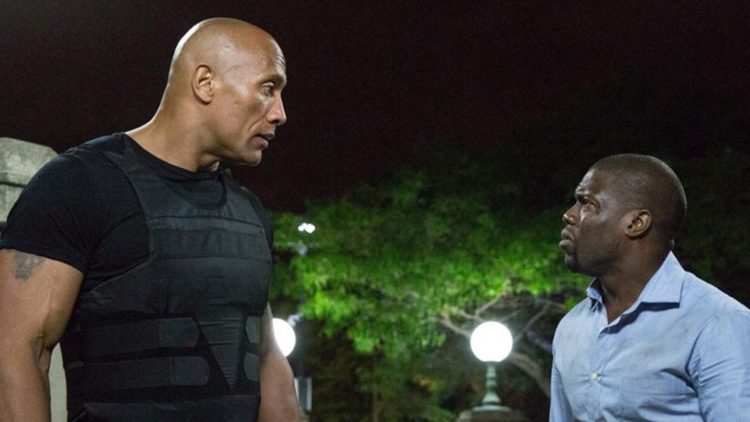 And now that they have worked on numerous projects together, such as Central Intelligence, he shared that,
Since working with him I can honestly tell you that I've never had this type of brotherly chemistry with anyone that I've worked with and it's a cool thing.
The Rock added that the two were so close that they were like brothers. And, because they talked shit to one another, they gave each other shit and even competed with one another, but what mattered to them, in the end, was that they had fun together. The duo has become so close that they can even impersonate each other impeccably.
Many of you might be unfamiliar with that Dwayne Johnson has his own bro-pet name for Kevin Hart. And he calls him 'Snack-sized Denzel,' a direct reference to top Hollywood actor Denzel Washington.
Although the two keep aiming at each other publicly on social media, Kevin Hart revealed that he would wholeheartedly support The Rock in America's presidential campaign in 2020. Hart believes that Johnson is a genuine person who believes in spreading love and laughter on a positive level.
Do Dwayne Johnson and Kevin Hart Match?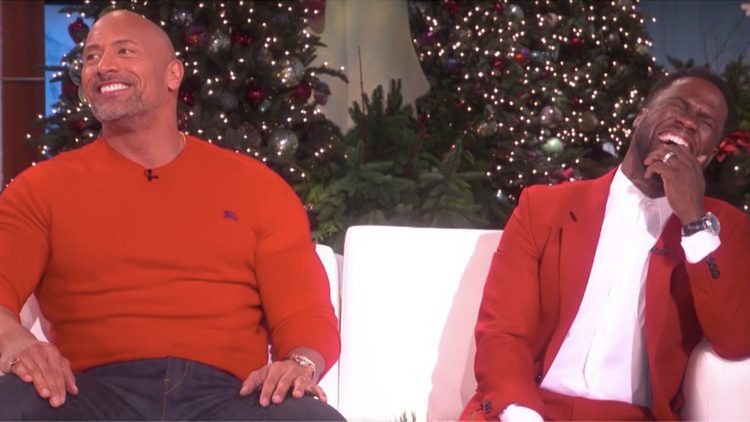 Does that even seem like a possible question? They don't, but the duo always rocks up together to make it seem like they do match. Last year, when they appeared on The Ellen Show, they wore similar red dapper outfits and claimed that on Tuesdays, they wear red. And it wasn't just that one time. The Rock and Kevin Hart made it to the German premiere of Jumanji: Welcome to the Jungle in similar checked suits making it look like they always match. Considering all possible differences in their physical appearances, it might seem harsh. But since they are sharp dressers, it seems to be relatively easy for them.
Kevin Hart and The Rock Go Strong on Social Media
Apart from occasional love and appreciation, Kevin Hart and Dwayne Johnson have roasted each other on social media.
Kevin Hart visited The Rock on his Fast and Furious spinoff sets. And Johnson updated a post on Instagram expressing his gratitude for his buddy and revealing their special bond.
Kevin Hart added the same picture from his own account, signaling that the duo was up for something big this time. He used the caption:
We are in the kitchen cooking people…Can't wait for the world to see what we are working on. Stay tuned
Through everything, be it TV interviews, filming movies, riffing in the gym, or press junkets, the stars have never missed a chance to prank one another. Everything from ridiculous jokes to some serious roasts, their feuds have been nothing but entertaining. Our favorite one was probably the weirdest when The Rock pasted Hart's face over his baby. With that said, there is no need for details.
They've always decided to pick on one another publicly. But then again, their bromance is still incomparable in Hollywood yet. The two have always rocked the silver screens together. From Central Intelligence to 2017's Jumanji: Welcome to the Jungle watching the duo has been a delight.
Do you think another pair is up for offering some competition to Kevin Hart and The Rock?