If you're a fan of Christmas movies, Home Alone has got to be something you love. The movie is one for all ages as family have snuggled up to it with their hot cocoa for more that two decades. The star of the show, the 10 year old Macaulay Culkin amazed us with all the tricks he had to get the robbers. We loved his courage and scenes like when he turns on the TV to get the Pizza really got us good. However, on the 27th of August, Culkin posted something that has fans from around the world feeling super old. The star just turned 40 and is asking fans if they "feel old yet". You can say that again. People ranging from their early 20s to late 50s and elder, are all shocked at how the little boy is that old. He doesn't need his mom to come to rescue now more than ever, does he?
Hey guys, wanna feel old?

I'm 40.

You're welcome.

— Macaulay Culkin (@IncredibleCulk) August 26, 2020
Explaining why he made the tweet, he says,
It's my gift to the world: I make people feel old. I'm no longer a kid, that's my job.
Fans react to Macaulay Culkin turning 40.
The big 40 seems like the kind of age we all always wonder is like, too old for us to do things. And fans from all over the world tweeted at Home Alone's Kevin for the birthday.
https://twitter.com/Cookietheviking/status/1298736274707275777
An odd birthday wish but, makes sense. Some fans are crying over the fact that they really do feel old. Even those 20 years younger than him!!
Damn it Macaulay. I'm only 23 I don't wanna feel old. Yet now I do.

— Ice_Moonlight (@Sara_Janelle97) August 26, 2020
We also discovered in the threads that there are people in this world who have not watched Home Alone. And fans wants answers!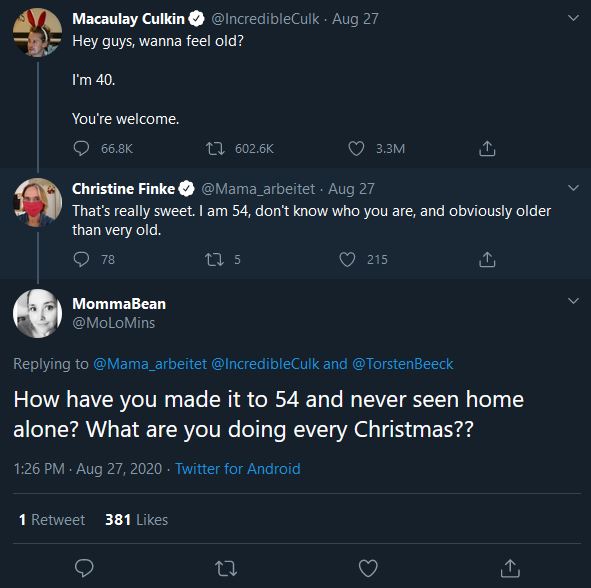 There are also parents sharing how their kids find Home Alone to be illogical.
What actually made me feel old is not that McCauley Culkin is now 40. It happened years ago when I showed one of my kids "Home Alone" for the first time and she thought it was stupid that he didn't just call his Mom on her cell phone.
How do you feel about the mischievous Home Alone kid turning 40? Leave in the comments below!