Larray is a popular TikTok star who is friends with all the famous influencers. From YouTubers to TikTokers, he knows everyone and stays in touch with them too. The same is the case with Griffin Johnson who is also popular for being Dixie D'Amelio's ex-boyfriend. So, while the messy drama between Nessa Barrett, Josh Richards and Jaden Hossler is happening, it's notable to see what he did. Like many who are pledging their loyalty to Richards, Larray seems to do the same. But Bryce Hall and Tayler Holder appear to take a more diplomatic approach.
Related: Jaden Hossler & Nessa Barrett get matching tattoos, alleged "kiss" video leaked by Paparazzi
Nessa Barrett and Jaden Hossler betray their best friend Josh Richards?
Josh Richards and Nessa Barrett were one of the most popular TikTok couples. But their relationship has often been on rocky roads. The major TikTok scandals happened last year when Nessa Barrett was hit on by Chase Hudson aka Lil Huddy. Hudson was dating Charli D'Amelio at the time so Lil Huddy doing that was very controversial. Nessa was also dating Josh Richards at the time. The drama got quite messy and Sway Boys were at war with the Hype House. Hype House consisted of Lil Huddy and the D'Amelio sisters. Sway's Bryce Hall and Josh Richards even dropped a diss track on Lil Huddy called 'Softish'. At the time, Sway's Jaden Hossler (who was Josh's best friend at the time) even went to Lil Huddy's house to confront him and even went to jail because of his loyalty to Josh. Suffice to say, Josh and Jaden were pretty close friends.
Ultimately though, all of them made up and resolved their differences. Charli D'Amelio and Lil Huddy were in an on-and-off again relationship but good friends through it all. The same was the case for Josh Richards and Nessa Barrett. All the Sway Boys and Hype House members also became friends and started to hang out together more often.
Josh and Nessa started a relationship again but recently they took a break. That's because Nessa Barrett wanted to focus more on her mental health. Moreover, Nessa was also busy promoting her music and performing on official talk shows with someone who she collabed on a song with: Jaden Hossler. They collaborated with Travis Barker for the song 'la di die'.
Things started to go downhill when Jaden Hossler's ex-girlfriend Mads Lewis claimed that there was something romantic going on between Nessa and Jaden. She talked about on social media and also on a podcast with Alexandra Cooper. Josh Richards reacted to that on his BFFs podcast with Dave Portnoy, talking about how he was deeply hurt by this news as he is extremely close to both Nessa and Jaden.
First thing, I'm just sad. And then the second thing that happened, these m*therf*ckers are about to breed a demon. Imma be heartless after this.

I love Nessa, I think she's the most amazing girl in the world.

F*ck I could lose both these people. That's what made me sad. F*cking kill me.
Related: Josh Richards confirms Mads Lewis broke up with Jaden Hossler because she does not like Nessa Barrett
But then Mads Lewis's claim turned out to be true as it appears that Jaden Hossler and Nessa Barrett are officially dating.
When the paparazzi deemed them as the new couple and asked them how long they had been together, Jaden Hossler replied with
"I don't know anything about that, but we're just trying to enjoy ourselves. Really trying to be happy."
Furthermore, he said that he and Nessa are trying to handle the whole situation 'respectfully and privately'. Plus, he stated that he's the happiest ever been. Nessa was asked if she felt the same way and she replied with "Yeah".
Jaden Hossler also came on a live-stream and talked about how he stood by Josh Richards for the longest time and urged him to call him because Josh had blocked him everywhere. He explained how he even went to jail to protect Richards because he cared so much about him.
Mads Lewis appeared on Call My Daddy Podcast with Alexandria Cooper to share the full story:
Nessa Barrett, meanwhile posted this on her twitter:
"I don't need to pity myself. i know the decision i made. y'all don't know the whole story and probably never will because the truth hurts and it shouldn't be online. night."
Josh Richards, on the other hand, said the wants to handle everything privately:
Personally, I am going to handle this offline," he wrote. "The last 3 weeks has been hard on me and I just need time to think. I appreciate all of my friends and supporters that have reached out to check in on me. It means more than you know. I'm doing ok and have no ill will towards anyone."
Griffin Johnson pledges his loyalty to Josh Richards
While this was happening, Griffin Johnson didn't hesitate to tweet out his support to his friend Josh Richards. He tweeted out saying:
I will go to war for you @joshrichards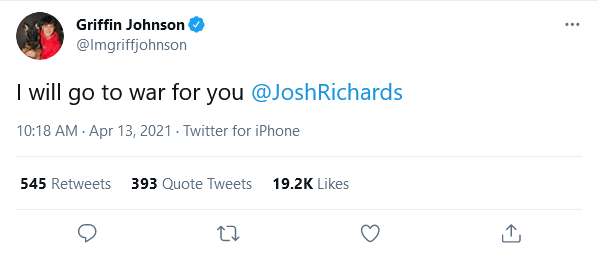 And when Josh Richards' manager Michael Gruen tweeted at him telling him to join the 'latest and hottest trend' of unfollowing Jaden Hossler, Johnson readily agreed.
Then he also later tweeted out saying that 'nobody is loyal'. And he also appears to have shaded Nessa Barrett by saying 'f*ck you poem apologies'.
And he also tweeted out by applauding Larray for also unfollowing Jaden Hossler and Nessa Barrett.
Larray doesn't make a statement with does unfollow both Nessa and Jaden
Both Nessa and Jaden are being looked at with angry eyes from all their mutual friends. Many are unfollowing them both on social media, including Larray.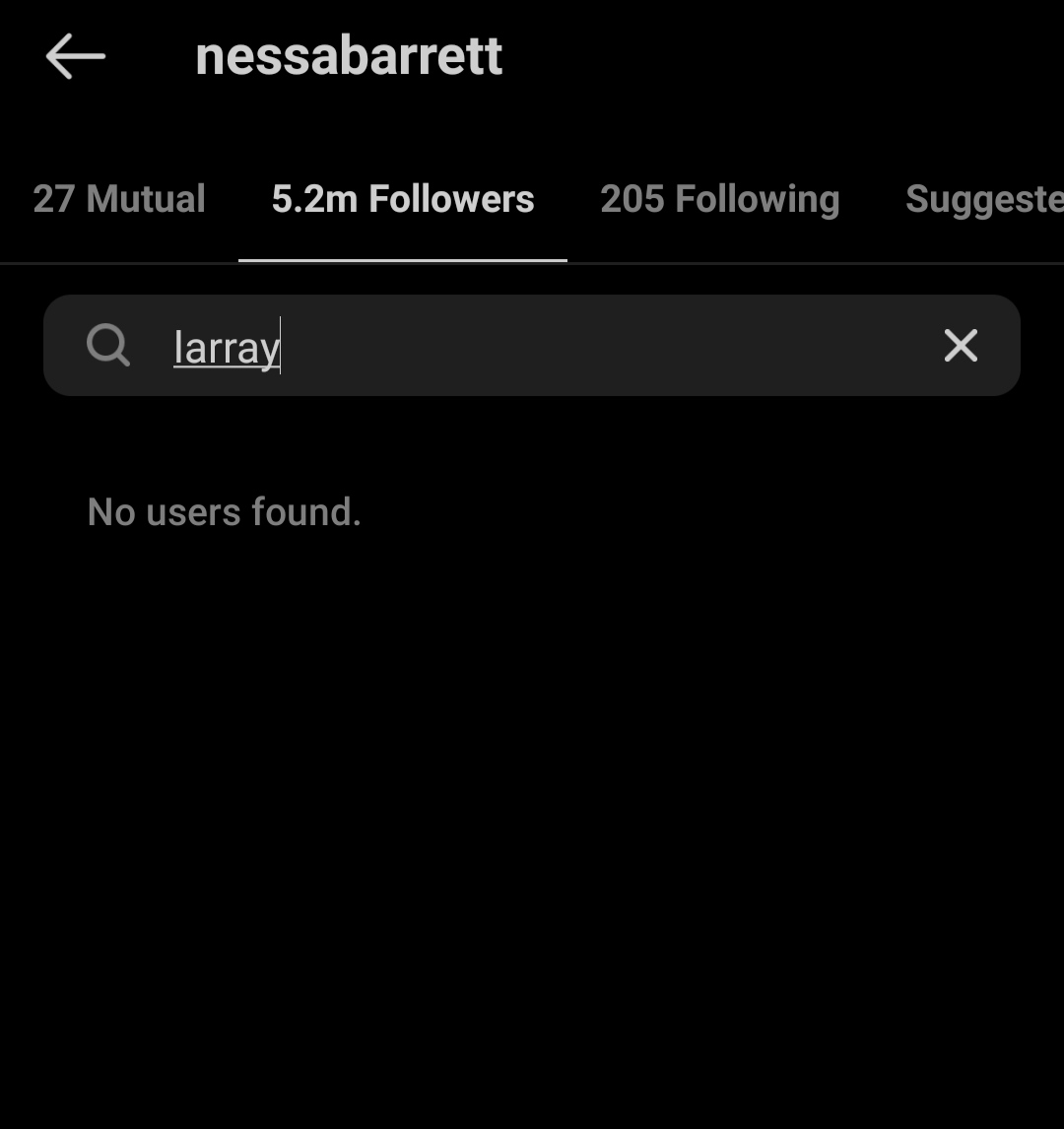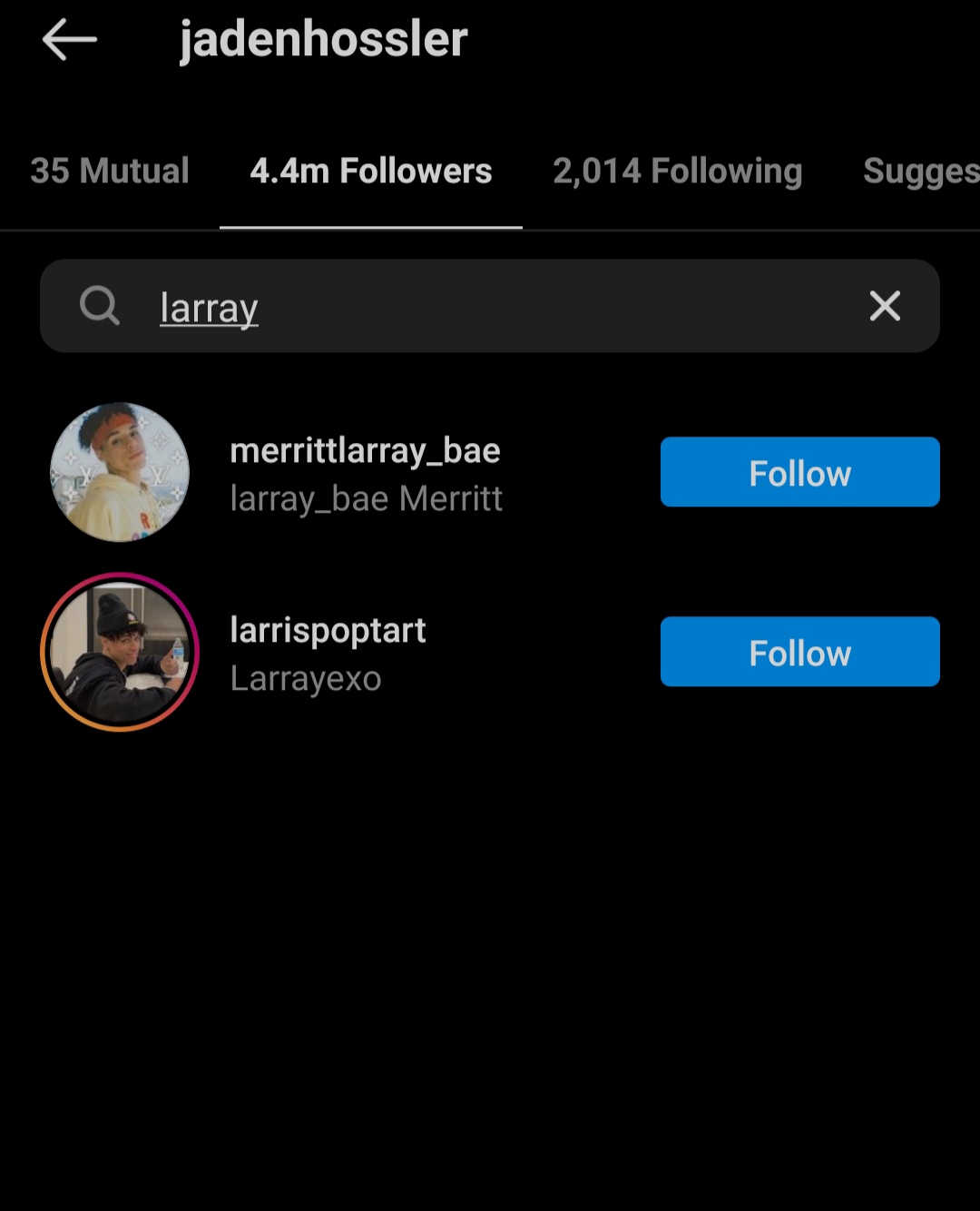 But Larray is still following Josh Richards on Instagram, hinting that he's Team Josh Richards.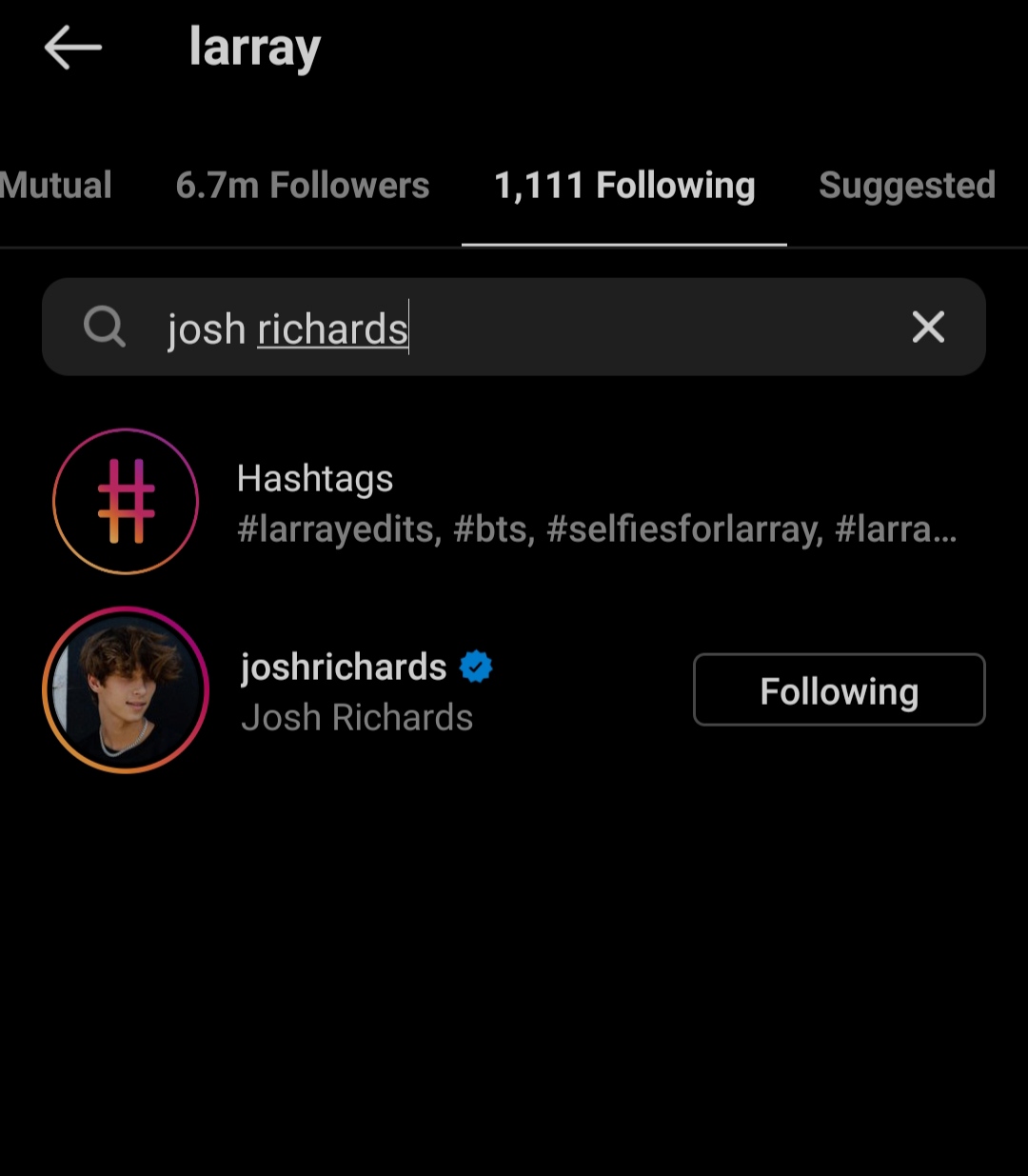 Meanwhile, Bryce Hall and Tayler Holder both take a neutral stance
They were both approached by the paparazzi and inquired about the Nessa and Jaden situation. Bryce Hall spoke to The Hollywood Fix and talked about how he didn't know about what was happening because he had his own stuff to deal with. Hall recently broke up with Addison Rae.
I don't know what the f*ck is going on with that. Honestly, Imma be real. I haven't even kept up with it. I'm trying to stay off and kinda handle my own sh*t. I was shocked when I saw it.

Bryce Hall
When asked if he's still friends with Josh, Bryce replied saying that he is friends with everyone which puts him in an awkward situation.
Then the paparazzi reporter asked him to comment on how people are saying that this situation is similar to how Griffin Johnson and Dixie D'Amelio broke up and Noah Beck and Dixie became a couple. Bryce Hall didn't reply to that and threw that question to Tayler Holder who was walking up the sidewalk to get to his car.
Tayler Holder didn't want to speak on the drama either. He said:
If you wanna ask something about me, I'll answer that. But not [that] I'm just focusing on myself.
Then Holder revealed that he is releasing his own song in a month. He further also talked about how he got angry at the reporter the other day because of this misleading titles they use for their YouTube videos. Holder wanted them to not paint him and the other Sway Boys in a false or misleading light that would bring more drama.
Do me a favor man. Like I'm always been cool with you. I've always treated you with like respect and everything. Just stop trying to make us look like a piece of sh*t.
Despite their neutral stance, both are currently not following Nessa Barrett and Jaden Hossler on Instagram.
That's all we know for now.
Related: Chase Hudson was right when he claimed that Jaden Hossler cheated on Mads Lewis a year ago?