Millie Bobby Brown, also known as Eleven from the famous Netflix series Stranger Things, introduced her own beauty line this year. Despite the existing presence of so many other celebrity makeup brands, Millie, only 15 years of age, created something different. Her makeup line, 'Florence by Mills,' is vegan, cruelty-free, and, most importantly, made for teenage or pre-teen girls.
Florence By Mills is made for teens.
This makeup and skincare line is special because it's tailor-made for teenage girls. Not only are the products appropriate for their age and needs, but they also reflect the vision young girls need.
To align with the needs of her fellow generation, Millie Bobby Brown created the makeup product of "Florence by Mills," keeping in mind bringing out their natural beauty. (rather than caking up with high coverage, intense formulas).
"Lightweight makeup is very important," Milli Bobby Brown explained.
"You don't want to cover up your beauty. You want to add to it. I think that's what we were missing."
Upcoming Holiday Collection By Millie Bobby Brown
Millie Bobby Brown is also launching a "Florence by Mills holiday collection" just in time for Thanksgiving and before Christmas. It was announced by the brand's official Instagram page.
"Introducing the 'its a wonderful lip' Mini Lip-gloss Set"…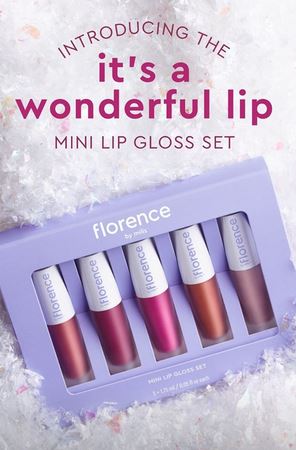 The five new shades are youthful and radiant, each super pretty.
First, there's 'warm n toasty' a warm-toned, brick-rust lipgloss. The second is 'merry berry,' which is a deep, plum shade. There's also a shade called 'midnight kiss,' a stunning magenta pink. Then, a shimmery pearly opal shade called 'Santa slay.' The last shade is 'cozy rosy,' -a actual rose peach shade.
More details on the Florence By Mills special collection
Now that you've seen how pretty all the shades of lip-glosses are. Let's answer some more critical questions regarding the upcoming collection of Florence by Mills.
The mini lip-gloss set will be released on Thursday, 28th November 2019.
The price has not been revealed yet, but keep your eyes peeled on the Florence By Mills website to find out and purchase the set tomorrow.