People knew Eugenia Cooney as a streamer and a YouTuber. Though, she quickly gained a lot of attention based on the fact that she was getting excessively skinnier. People wondered if she was suffering from some sort of eating disorder. Then suddenly she disappeared from the internet and everyone was worried about her. Then, she was brought back by Shane Dawson who did an episode on her. In it, it was revealed that Eugenia Cooney went to a rehab facility for her eating disorder. She was sharing her struggles and looked healthier in the video. But many fans and even her former friend Jaclyn Glenn still thought she was in danger. They all assume that her mother does not have the best intentions for her daughter.
Now, people are again showing worry about Eugenia Cooney's health as she appears much thinner and weaker than before. Here is what the fans have to say on the matter.
Fans are expressing worry over their favorite YouTuber Eugenia Cooney
Eugenia is keeping her social media quite active these days. She's posting about her new merch, random updates in her life, and overall keeping her followers engaged. But, most of the comments underneath her Instagram posts are showing concern for her health.
Here's her latest Instagram post, where she's posing in a close-up selfie:
https://www.instagram.com/p/CDcJPixpeoh/
The caption got many fans' attention:
Always do what you believe is right and stand up for what you believe in 💫 even if it's not the easiest route, it's the right direction 💙
Here are the most prominent comments beneath it, all showing concern for her health. One user commented:
Recovery isn't the easiest route but it's the right direction, please get help and take a break. We don't want to lose you.
There were many followers expressing support and love for her, all the while encouraging her to get better.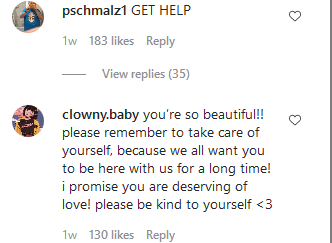 Another fan was a bit straight-forward and didn't sugarcoat his words aimed at Eugenia Cooney:
You say this now hun and yet you refuse to do the only thing that'll save your life recovery was the right thing for you and you should've stuck with it instead you shunned all your friends and those who tried to help you which were those friends if you had gone through recovery and stayed in it until you were fine you wouldn't look as you are now and near death.
Though, people were still showing how much they love her and want her to be healthier:
eugenia were routing for you take care of yourself we love you
wish you a good recovery.
A fan also directly mentioned the eating disorder she suffered from: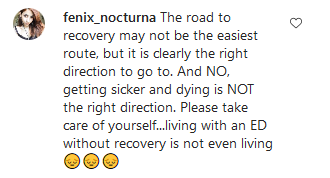 On the other hand, one fan stated that it wasn't nice of everyone to assume anything about her life when they don't know her on that level:
Could all of you please stop posting rude comments and just accept that we know nothing about her private live and if she's getting help or not.
I know you're trying to help her but a lot of you are really posting hurtful comments so please leave her alone.
What Eugenia has shared about her eating disorder
Eugenia Cooney does not open up about her eating disorder on her main channel as much as one would expect. The first time she officially opened up in detail about her struggles was on Shane Dawson's channel when he posted a video about her. She mentioned that she went to rehab and how she recovered from her disorder. Shane also shared his story of suffering from forms of eating disorders.
Though, the video did mention that there were some things that they could not talk about because lawyers were involved. Eugenia also mentioned how her friends hurt her during her struggle with an eating disorder. Later after Shane posted that video, Eugenia's former friend opened up about what happened. Jaclyn Glenn stated that she thinks she's still in danger. She shared:
"Shane Dawson made a video on Eugenia that made me feel sick. The story that was told paints the situation in a very misleading way, whether or not that was the intention. Those of us who had her forced into recovery know so much more of what actually was happening and can't let the people responsible get away with it."
There are also some experts that believe such a video could be damaging to some viewers as it doesn't fully reveal the extent of damage an eating disorder can do.
Eugenia told Kati Morton about her experience of her recovery
Later on, Eugenia also went on Kati Morton's YouTube Channel to share an incident of her recovery process. Karti Morton is a YouTuber who is also a mental health specialist so her content revolves around that. In the video with Eugenia, she shared with her followers what a 5150 means. In the video, Eugenia details how her friends forced her into a mental health hospital so that she could get recovery.
Eugenia was invited to a hangout with friends and then it turned out to be something different:
"I ended up going over there and everything seemed normal. Then they sat me down … and they started bringing concerns up to me. I guess it's still hard to talk about at first, especially, but I was telling them that I was thinking about getting help and was open to that."
Eugenia shared that she assumed her friends were just normally worried for her but then she saw two women come in and ask her questions regarding her mental health and her weight. That's when the YouTuber felt hurt and betrayed by her friends because that's when 5150 happened.
How a 5150 wasn't a good experience for Eugenia
That is when you temporarily commit someone to a mental health facility as you fear they are a danger to themselves or others. When you are taken to a 5150 hold, you're sent to a general facility and not a specialized center for your mental health.
Eugenia Cooney was hence first taken into a mental health institution. The YouTuber recalls the experience of first going in:
"Once you get there, it's very scary because you see some crazy things going on. There was a bunch of people screaming, there was one guy who was telling me how he'd just got out of a county jail."
Katie Morton shared that being in a 5150 hold is not necessarily the best option for some people:
"You can't force anyone into treatment because you can't make them get better. Because at the end of the day, you're the one that has to do the work, and who has to be there."
Jaclyn Glenn shared that they only did that because it was the only option for them to get her help. Jaclyn and her friends believed that Eugenia was only going to get worse. They had talked to her about her eating disorder plenty of times before but she was not focusing on her health.
Fans were concerned about the experience and thought Eugenia Cooney should get more help
In Katie's video, there are some comments that share how alarming the story is since Eugenia did not seek further help other than the one month of rehab:
It's so disheartening to hear Eugenia only stayed for less than a month in inpatient and isn't continuing outpatient therapy 💔
Moreover, another fan shared:
It's extremely concerning Eugenia basically said she doesn't go to therapy and isn't getting more help.
Experts such as the Chief Strategy and Policy Officer for the National Eating Disorders Association
say
this regarding Eugenia's case.
"When we are in the midst of our eating disorder we are very, very good at wearing masks. We're very good at playing a role that is very convincing and wants to let people know that we're okay. A month of treatment is just barely scratching the surface of the road to recovery. While she put on a good face and was very chipper and cheerful, I'm not convinced that's what's going on inside. How do any of us know for sure?"
In her latest pictures, Eugenia Cooney keeps getting thinner and skinnier to the point of fans really worried. Hopefully, she is taking care of herself.
If you or someone you know suffers from an eating disorder, call the National Eating Disorders Association hotline at 1-800-931-2237.