Ever since David Dobrik broke up with girlfriend Liza Koshy, his relationship has often been a great topic for fans. People are always shipping him with any girl he gets a little cozy with on camera. Recently, that girl was Charlotte D'Alessio and they both collaborated for marketing David's new perfume.
Charlotte is the new model for David's Perfume
For those of you who don't know, David Dobrik just came up with a new perfume line. It's called 'David's Perfume' and the marketing for it is quite impressive.
Charlotte D'Alessio is featured in most of the advertisements for 'David's Perfume'. In fact, she and David are the face of the product it seems.
https://www.instagram.com/p/CF2V7Xsg4TQ/
Charlotte had a very cute caption for this post:
commercial for @davidsperfume congrats u legit psycho @daviddobrik at least now we have a video to show our kids.
To which David replied cheekily:
Thank you for carrying the whole thing and teaching me how to not burst into laughter during every moment hahaha
In another post, Charlotte posted a behind-the-scenes post:
https://www.instagram.com/p/CF5E4KDBEkf/
Though this caption wasn't as flirtatious as the previous one:
some bts of shooting @davidsperfume ! 🤍 always fun when i get to shoot with my friends !
This got David Dobrik's notice quickly and he immediately showed his response:
Did u just friend zone me
This coupled with the very romantic video led to so many fan speculations and shipping the two. But first, who's Charlotte D'Alessio?
Charlotte Briar D'Alessio is a model under UK based company 'Elite London' and has been on the covers of major magazines such as 'Hello!':
https://www.instagram.com/p/B8Jta6og-6z/
She boasts about one million followers on Instagram and as of now doesn't have a YouTube channel. But I feel like she might after she has befriended the most popular YouTuber, king of vlog squad, David Dobrik.
Fans are going crazy over Charlotte D'Alessio and David Dobrik
There are so many people shipping Charlotte and David on the internet and are confused:
Is this a perfume promo? Or a video saying y'all are dating?
Some are convinced David was subtly announcing his new relationship using 'David's Perfume':
So I'm confused is it your announcing you have a gf now or is it the perfume or both????
But generally, fans are loving these two as a couple!
WHY DO I SHIP THIS DAVID LOLKS HAPPY
Another follower aptly added:
…and this kids, is how I met your mother
Okay, now David and Charlotte have to do date after teasing everyone like that as a fan pointed out:
if y'all don't actually date I'm going to be upset
One fan shared how they look great together:
Ok but you two look so good together.
Some fans were just generally sharing how the commercial made them feel a different kind of way for David Dobrik:
It's probably because of how intimate the commercial feels. David Dobrik and Charlotte D'Alessio definitely have a lot of chemistry with each other. They seemed really comfortable with each other. And this is something we normally don't get to see from the goofy David who's always pulling pranks.
https://www.instagram.com/p/CF0AcTzAcDL/
https://www.instagram.com/p/CF0CXWngNro/
But are they actually dating?
David Dobrik has not made any announcements of his relationship with Charlotte D'Alessio. Though, Charlotte has a personal Tumblr. In it, she often interacts with fans and answers questions.
Well, one of the questions was asking her if she was dating David Dobrik!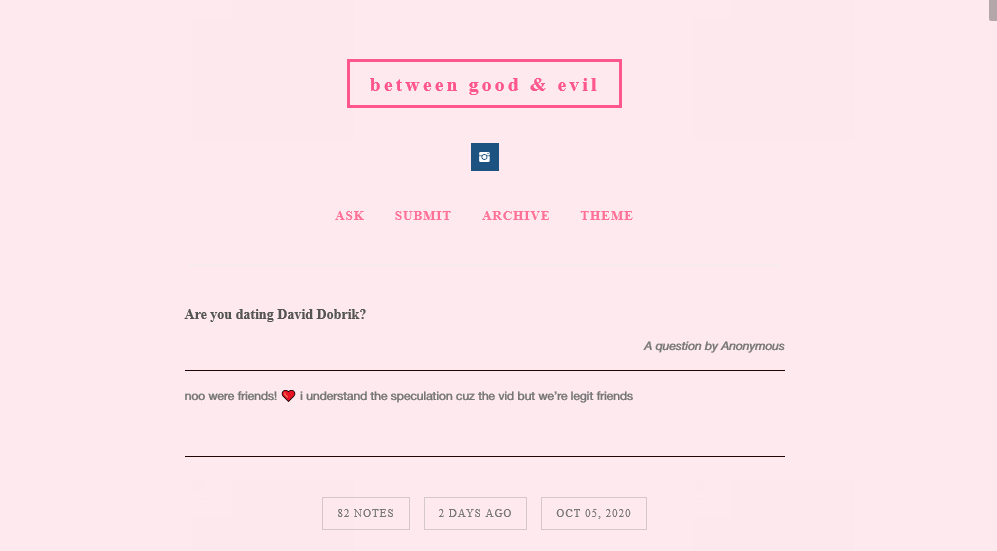 Charlotte isn't leaving any room for speculation it seems. Even in one of the Instagram posts, she even deemed him as a 'friend'.
Perhaps, it was intentional that the commercial of David's Perfume was so romantic. It might have been to get people talking about the advertisement and Charlotte D'Alessio. Leading to more people wondering what David's Perfume is!
Speaking of that…
David's Perfume is David Dobrik's new passion project!
https://www.instagram.com/p/CF2VXvAMKsc/
David shares that he's been working on this for a while now and he's really excited for people to use it:
ITS FINALLY OUT!!! We've been working on this since early last year and i really don't like to brag, but i promise ya this smells delicious!!

Davids Perfume out now!! Link in description 🙂
You can go check out his perfumes here.
David Dobrik hasn't posted a vlog in a while so we might get to know more about his friendship with Charlotte D'Alessio there.