Northwestern Graduate Rishi Mahesh has recently become an internet celebrity. During quarantine, he's found his voice. The voice that gave him 20 thousand followers on Twitter and more than a thousand subscribers on YouTube. Being a Theatre kid, Mahesh is naturally inclined towards the show business world. Apart from co-creating and writing his series 'Using Web Protection Series', he's also one of the main leads of the Show. Moreover, he's also committed to carving out a name for himself online on YouTube and social media with his unique and satirical take on current events and the world.
Q1) For those who don't know you from YouTube and Twitter, could you give us an introduction of yourself in your own words? What would you describe yourself as?
Rishi Mahesh: My name is Rishi Mahesh! I'm mostly an actor and a writer, but I've worked on all sides of production including directing, video editing, and producing. I've found a good degree of success with sketch comedy on Twitter and Youtube. But also studied playwriting at school and have created a variety of substantial, long-form productions in theatre and film.
Q2) What was the experience of graduating amid a global pandemic?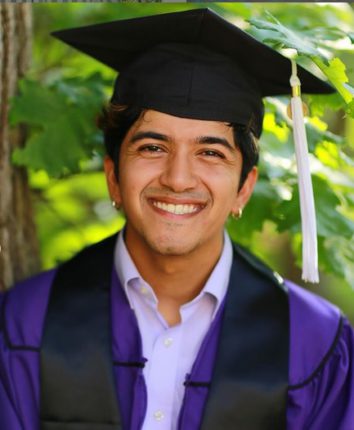 Rishi Mahesh: It was really complicated for me. I graduated having accomplished a lot under my belt – along with the minor internet fame I also won a prestigious Playwriting Award at my school and co-produced an original web series; those were huge goals of mine when I started college. At the same time, I lost almost half of my college years to the virus. I spent my last year of school worried about the health of my loved ones. Ultimately, I was stuck inside my room balancing this horrific time for my communities with being thrust immense visibility and expectations online, all while finishing college at Zoom University. Sometimes I feel like all these privileges will forever be stained by the tragedy that ran under most moments of the last year. I would like to look back on it all with more grace, but with the concern surrounding the variant, I'm definitely entering another bleak phase of reflection.
Q3) You have previously mentioned that you started posting a video on YouTube every day due to quarantine, what was your experience like and are you interested in doing that more? Or are you more focused on the showbiz world seeing that you did Theatre in college?
Rishi Mahesh: It was definitely fun while I was doing it, I loved getting to find my voice as a comedian and entertain myself. The feeling of achievement was really fun to chase. But I never want to pigeonhole myself. So, I've really scaled back how often I post in order to try new things out. I still love creating videos for the internet, but want to make sure it's in a way that feels fulfilling. I've been taking my time before jumping back into making videos super consistently while I adjust to life as a graduate. 
Acting and playwriting were the biggest parts of my life before my internet comedy took off, and that will always be where my heart lies. I want to focus on furthering my career as an actor and writer. And proving that I have the chops for it with whatever I post online. So, that's what I'm working on now. 
Q4) Follow-up to the last question, would you be more inclined to do comedy writing and political satire for shows like The Stephen Colbert, SNL or The Patriot Act with Hasan Minhaj?
Rishi Mahesh: I have endless respect for all of these shows: Colbert was a breakthrough satirist, SNL a comedy pillar, and Hasan Minhaj a trailblazer for Desi comedians with unmistakable personal style.
Being part of any show, to me, would be wanting to help reinvent it for the better. SNL, I believe, could most benefit from a shake up of their point of view.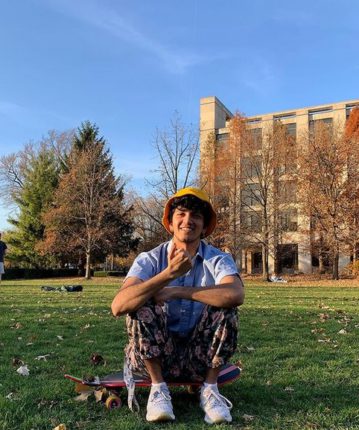 Q5) How does your ethnicity specifically affect your career and life? Is it easier for you in the 21st century or everything is still pretty much the same?
Rishi Mahesh: I have to assume it's easier for me now to succeed in entertainment than it would've been for a person of my ethnicity at any moment previously. But it still remains to be seen. Sometimes I feel limited by my race – I never really know if I would capture a larger audience if I looked different or something. But I also think my race gives me an opportunity to tell stories that have never been heard before and I'm endlessly excited by that opportunity.
Q6) Mental health is something you often talk about on social media, how did you take care of it during quarantine and during your COVID days?
Rishi Mahesh: A big part of what got me through the last year was choosing to find fascination in the world. When I was at my worst was also when I felt the most pessimistic about the future, and the most uninterested in experiencing more of it. When I really dedicated myself to exploring more of my interests – playwriting, music theory, physics, etc., I found there was so much to learn about the world that I couldn't spend all of my time taking it for granted.
Q7) You're big on Twitter and are active a lot so we're assuming you love the app. But is there something that you don't like about it?
Rishi Mahesh: Twitter can be an incredibly negative and judgemental space – having an online environment that's primarily for critique can definitely make me overthink how I'm perceived. That feeling definitely increased once being given a large platform. Also, I wish it was easier to access my actual followers, I feel like I'm always fighting the rest of the timeline to actually get something I've made seen by those who follow me.

Q8) Who would you consider are your biggest role models?
Rishi Mahesh: My parents and other family members 100%. It's endlessly grounding to know that their love isn't contingent on what I achieve or produce. Their ability to prioritize care for others and not being self-serving is always what I lean back on when I need a model of what growing up can look like.
In terms of work however, my biggest role models are probably Zack Fox, Tyler the Creator, and Donald Glover for their wide range of artistic achievement and dedication to their personal voice and vision.
Rishi Mahesh is going to star in 2 new series 'Using Web Protection Series' and 'How to L0ve'

Q9) And you have 'Using Protection Web Series' coming soon! The teaser looked great! What inspired you to make it, what was the process that went into it during quarantine and what do you hope viewers get from it?
Rishi Mahesh: I'm incredibly excited to debut Using Protection Web Series! What inspired my co-creators and I to make it was wanting to create a show that represented us and our identities better than we have been experiencing currently in the world of film. For me as an Indian-American, it's been clear that roles come few and far between, and artistically fulfilling ones are diamonds in the rough. Writing this web series was a chance to demonstrate the full range of my personal capabilities as an actor.
Q10) When and where will 'Using Protection Web Series' be available to watch?
Rishi Mahesh: Using Protection Web Series will spend a while being edited and then submitted to festivals – it's too early to tell when the premiere will be, as it will either premiere at a festival or independently, ideally in 2022!

Q11) What's next for Rishi Mahesh?
Rishi Mahesh: The biggest thing upcoming is a move to Los Angeles! I'm packing up my college apartment and heading out there soon. Within the next year a ton of projects will debut. Some short films I was in, and another web series called "How to L0ve" that was executive produced by the singer-songwriter Halsey. Having accomplished big projects in theatre, film, social media, and recently releasing an audio play online. So, next I really want to tackle music. I'm currently working on an album with a friend from high school that should be a reimagining of the story of Bodhisena, a Tamil monk who helped spread Buddhism to Japan. 
There's also a project that Rishi has done recently. An audio play "Harmonic Interference (or a soul's emigration from spacetime)". It's an adaptation of a Hindu folk tale that uses concepts in quantum mechanics to discuss cycles of loss in a south Indian family. It's available wherever you listen to podcasts!