Netflix's 'Murder Mystery 2' plot (which was kept under wraps until now) is set to be released in 2023. We can't wait to see what the sequel has in store.
When Murder Mystery was released in 2019, no one expected a Netflix sequel to the mystery comedy series. But fast-forward 4 years and we're eagerly awaiting the arrival of Murder Mystery 2! It's no surprise the streamer ordered a sequel, given the success of the first installment – and Adam Sandler and Jennifer Aniston are back to reprise their roles.
It looks like Nick and Audrey have taken sleuthing to the next level and are now making it their full-time job as they gear up for their next adventure.
Murder Mystery 2, written by James Vanderbilt and directed by Jeremy Garelick, with Adam Sandler on board as producer, is sure to bring the same hilarious antics and crazy adventures we've come to expect. This time, they're heading to the City of Lights – Paris – to solve the newest case! Get ready for another wild ride.
With this being his 10th original Netflix production, Adam Sandler is no stranger to the streaming site. Despite the mixed reviews his most recent film, Murder Mystery, got from critics, it was a huge hit nonetheless.
It became the most-watched Netflix Sequel movie at the moment after generating 31 million views in its opening weekend. It's understandable why it was included in Netflix's Top 10 list since it starred both Sandler and Aniston. Not to mention the forthcoming You Are So Not Invited to My Bat Mitzvah film starring Adam Sandler.
Are you anticipating Murder Mystery 2's release?
You have plenty of time to catch up on the first movie and get a sense of what to expect because it won't be released in theatres until March 2023. Additionally, if you enjoy mystery comedies, you'll enjoy this one as well. And you'll chuckle throughout without a doubt at it.
What do we know about Murder Mystery 2 in reality, though? The story is still a secret, but we do know that the same people from the first film will appear in the sequel. Additionally, we are aware that some actors from the initial cast will return.
So while you count down the days until the sequel's release, make sure to brush up on the first movie so that you're up to speed. This amazing crime-solving movie is sure to be a hit – don't miss it.
Murder Mystery 2 release date
Mark Friday, March 31, on your calendar if you want to put your mystery-solving tactics to good use! Murder Mystery 2, the follow-up to Murder Mystery, will make its Netflix debut. You'll need a Netflix subscription to watch the Crime investigation movie.
Don't worry; Netflix offers a variety of plans, so you can pick the one that best suits your viewing requirements. If you've been eagerly awaiting the Murder Mystery 2 trailer, then your wait is finally over! Netflix just dropped the official trailer and it's a real showstopper.
From the moment Ariana Grande, Jessie J, and Nicki Minaj's "Bang Bang" starts playing in the background, you know you're in for something special.
We open with a van crashing into a café, with Nick and Audrey popping their heads out of a broken window, and then it's off to a destination wedding on a picturesque island. Unfortunately, this exotic setting is also the site of a gruesome murder.
The trailer promises thrills, a Crime scene analysis, and laughs in equal measure, so don't miss it. Nick and Audrey have taken us on a wild journey thus far, and it will only get crazier, wilder, and funnier!
This time, they're going on holiday with a mix of friendly and unfriendly new people. But in the upcoming Netflix Sequel, we can anticipate the same hilarious action, fast-paced chases, and comedy of mistakes as the first film. Buckle up because things are about to get crazy.
Who is in the cast of Murder Mystery 2?
Adam Sandler and Jennifer Aniston are back and they're bringing an impressive ensemble cast with them for Murder Mystery 2!
Joining them are Mark Strong (Tinker Tailor Soldier Spy), Mélanie Laurent (Inglourious Basterds), Jodie Turner-Smith (After Yang), Enrique Arce (Money Heist), Tony Goldwyn (Scandal), Annie Mumolo (Bad Moms), Zurin Villanueva (The Marvelous Mrs. Maisel), and Kuhoo Verma (Plan B). Sandler plays Nick Spitz, an NYPD cop-turned-detective, and Aniston plays Audrey Spitz, a hairdresser and murder mystery novel enthusiast.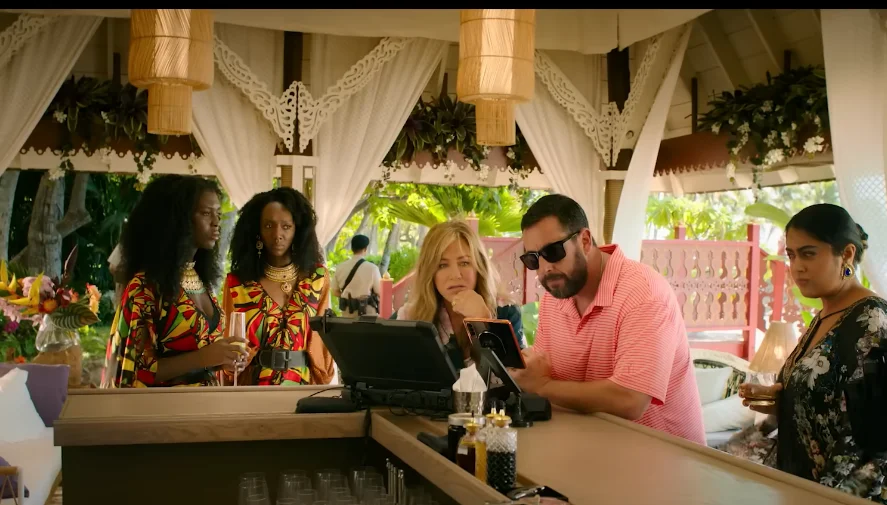 Adeel Akhtar reprises his role as the Maharajah, and John Kani (Black Panther) returns as Colonel Ulenga. Get ready for a wild ride – Murder Mystery 2 is going to be full of intrigue and suspense.
Making of Murder Mystery 2
In 2019, James Vanderbilt wrote the screenplay, and Kyle Newacheck directed the movie. Jeremy Garelick, however, is the new director for the follow-up! He has written and directed the TV series Best Worst Weekend Ever, as well as working on the films The Wedding Ringer, the Binge, and other projects.
The script is being penned once again by James Vanderbilt, who has previously contributed to successful films like Zodiac, The Amazing Spider-Man, Independence Day Resurgence, and the upcoming Scream VI. With these two formidable creators, the sequel is bound to be fantastic.
Story of Murder Mystery 2
Have you seen Adam Sandler and Jennifer Aniston's first "Murder Mystery" film? It was a power pack of clue-gathering detective work that was very much exciting and enjoyable! Now that they have returned for a sequel, we are unsure of what to anticipate.
Although we are aware that the pair will be doing yet another murder suspect interrogation, we are unsure of its potential relevance to the first film. It might lead them on an entirely new Crime-solving adventure or it might be an extension of the first tale.
All we can do is watch and see! Whatever the case, we are certain it will be engaging and puzzle-solving. After cracking the case of the murder, the Spitzs were ready to continue their vacation aboard the Orient Express.
It's the same train famously featured in Agatha Christie's novel "Murder on the Orient Express" and its numerous film adaptations. What an exciting adventure it was.
If this train is a part of the sequel, it could offer a chance for the film to put a comedic spin on one of the world's most well-known whodunit.
It looks like the sequel to the popular movie will take us to some amazing and exotic locations! Paris, the Caribbean, and Hawaii were all used for filming, and it has us all wondering what other exciting places the plot will take us to.
Netflix is playing it close to the chest with the plot details, which makes sense given the success of the first movie.
We can only speculate what's in store for us, and hopefully, Netflix will give us more information in the coming months so we can get a better idea of what to expect. In the meantime, all we can do is wait and see.
Does Murder Mystery 2 require you to see the Murder Mystery first?
So, is the first Murder Mystery movie required viewing before the second one? Both yes and no are the responses.
Although the first one isn't strictly necessary to understand the second, if you've never watched a Murder Mystery, it might be worth your while. By doing so, you can get to know the primary characters, Nick and Audrey, and learn a little bit about their history.
Additionally, even if you haven't seen the first movie, you can still catch up on the protagonists' backstories because the plot will be distinct. Don't forget to watch this amazing murder investigation movie Murder Mystery on Netflix.