Disney Pixar feels right at home when making movies that warm hearts and make us feel fuzzy. They're back with Elemental and boy does it look promising.
Disney and Pixar are getting ready to take us on yet another heartfelt, mind-expanding journey through charming animated characters and fantastical worlds, as they have done since captivating us with Inside Out back in 2015. They've become known for delivering stories that touch on themes of self-love, bravery, empathy, and pursuing one's aspirations, leaving a lasting impact on audiences of all ages.
Their latest project, Elemental, aims to keep that tradition going by showcasing a tale of finding common ground despite our dissimilarities. This heartwarming story is guaranteed to leave you with a warm and fuzzy feeling, as the characters work towards bridging their differences and overcoming any obstacles that come their way.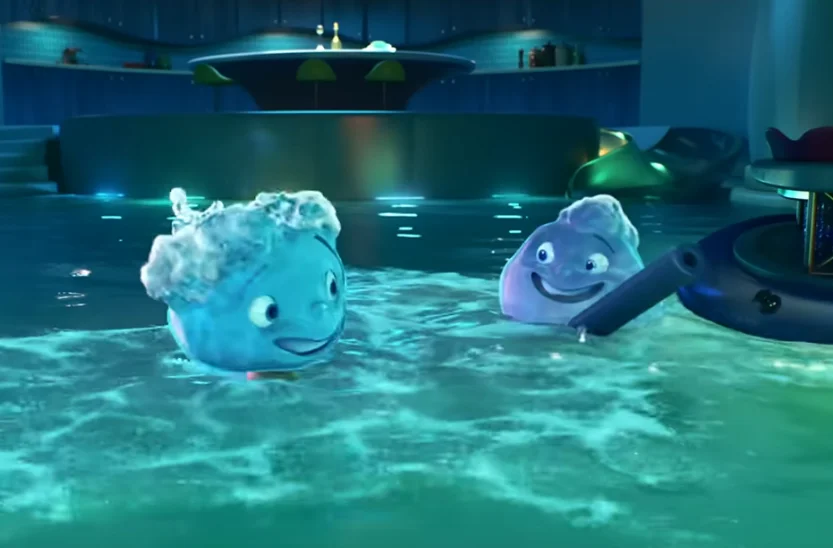 Related: Scarlett Johansson & Disney finally reach a settlement over Black Widow lawsuit
The Teaser Trailer
Walt Disney Pictures and Pixar's Elemental's teaser trailer is an absolute delight – charming, whimsical, and wonderfully absurd. It gives us a glimpse into the Element City, home to four distinct types of creatures – airy wisps, lumpy earth-dwellers, watery drops, and fiery flames. We also get to meet the two main characters – Ember and Wade – as they board a bustling train, and the physics of this new universe is showcased in playful ways. Air beings float around effortlessly, even defying gravity by sitting upside-down on the train's ceiling.
When a water-being drops her lipstick and it floats around her head, it's clear that there are some quirky challenges to living in this world – she might need to visit the filter station that the train passes by to get it removed. Meanwhile, a land-being smiles happily as grass sprouts atop his head, and poor Ember gets hurt when Wade accidentally drips water on her hand. All in all, it's a delightful sneak peek into this whimsical world.
The ELEMENTAL Trailer
Pixar Films has just dropped the full, official trailer for the movie, and it gives us a deeper look into what the film has in store for us. We get to see Ember and Wade interacting with their parents, giving us a peek into their family dynamics. Additionally, we see them introducing each other to their families, which should be interesting to watch.
The trailer also showcases a slightly different animation style than we're used to seeing from Pixar, giving us a more stylized take on the characters and their world. We get to see how the characters navigate the challenges of living in Element City, and it all looks visually stunning. All in all, it's an exciting sneak peek into what promises to be another heartwarming and engaging film from Pixar.
Here's the synopsis released alongside the trailer:
"Check out a brand-new trailer for Disney and Pixar's "Elemental," an all-new original feature film that transports moviegoers to an extraordinary place called Element City, where a host of elements live and work. The trailer showcases each element—air, earth, water and fire—and what sets them apart according to Ember, a quick-witted and fiery woman who's always stayed close to home in Firetown.

In "Elemental," which opens in theaters on June 16, she finally ventures out of her comfort zone to explore this spectacular world born from the imaginations of Pixar's filmmakers and specifically crafted for the big-screen experience. Element City is inspired by big cities around the globe and embraces theorized contributions from each elemental community—from giant pine-tree-like buildings and waterfall skyscrapers to a tornado-shaped arena called Cyclone Stadium."
Release Date
Get ready for a hot summer at the movies, as Elemental is set to hit theaters on June 16th, 2023 – right in the middle of Father's Day weekend. It's going to be a competitive release date, with some big contenders vying for movie-goers' attention. DC's The Flash is sure to be a blockbuster hit, while Wes Anderson's Asteroid City boasts a star-studded cast that's sure to attract its fair share of fans. And for those in the mood for something a little different, Lionsgate's horror-comedy The Blackening is also hitting theaters that same weekend. But with its heartwarming story and delightful characters, we're sure that this animated movie will hold its own and charm audiences of all ages.
Just like Lightyear, Elemental will be hitting theaters exclusively – meaning you won't be able to catch it on Disney+ anytime soon. While Disney had previously experimented with the Disney+ Premiere Access option for some of its feature films, which allowed subscribers to watch the film at home for an additional $30 on top of their monthly subscription, it seems the studio is now opting for a more traditional release strategy. With many films now returning to theaters, Disney has decided to ditch the straight-to-streaming system and give movie-goers the chance to experience the magic of watching Pixar's animated movie on the big screen.
After its theatrical release, the animated movie will most likely be exclusively available for streaming on Disney+. Disney usually runs its feature films in theaters for around 45 to 90 days before making them available for digital purchase or streaming. So if you're eager to see this animated movie but prefer to watch movies from the comfort of your own home, you may have to wait a little while before it's available for streaming. But rest assured, once it's available on Disney+, you'll be able to watch and re-watch the heartwarming tale of Ember and Wade whenever you like.
Related: Disney rejected Michael Jackson for 'Hunchback of Notre Dame' soundtrack
ELEMENTAL – The Plot
In the movie's teaser trailer, we are introduced to Ember and Wade, the film's main characters, who reside in a busy bayside city connected by bridges. The city is designed to accommodate its residents' specific elements, with towering skyscrapers for land-beings, water slides for water-beings, and windmills powering the homes of air-beings. Interestingly, the fire-beings appear to live separately in low buildings with chimneys billowing smoke. It is unclear why they live apart, but it could be to prevent the other residents from getting hurt.
Throughout the trailer, we see how the different elements interact with each other, giving us clues about the plot. For instance, a water-being's sneeze causes a land-being's grass to grow, and Ember's presence causes an air-being's head to evaporate. Additionally, when water drips from Wade's hand, it causes Ember's hand to sizzle, suggesting that she gives off intense heat. It seems that Ember's struggle to fit in and form relationships with her fellow Element City residents will be a key plot point in the film.
Here's what the official synopsis says:
"The film journeys alongside an unlikely pair, Ember and Wade, in a city where fire-, water-, land- and air-residents live together. The fiery young woman and the go-with-the-flow guy are about to discover something elemental: how much they actually have in common."
The trailer hints at a possible romantic subplot between Ember and Wade, with the phrase "opposites react" appearing on screen after they meet. Whether their relationship will become more than just friendship remains to be seen, but viewers are curious to see if things will get a bit steamy between the two. It's worth noting that the amazing animated movie will be released exclusively in theaters, unlike previous Walt Disney Studios Motion Pictures that were available through their Disney+ Premiere Access option. After the theatrical release, it will likely be available for streaming only on Disney+.
The Makers And Cast
Disney-Pixar's upcoming film based on elements will be helmed by director Peter Sohn, who has been a part of the Pixar family since 2000. While this is his first time as a credited director, Sohn is no stranger to the animation industry, having worked on classic films such as Finding Nemo and The Incredibles, and even lent his voice to Lightyear and Luca. The movie will be executive produced by Pete Doctor, the brilliant mind behind celebrated works like Inside Out, Up, Soul, and Wall-E, and produced by Denise Ream, whose impressive portfolio includes Up, Cars 2, and Toy Story 4. Some of you might not know that Pixar's first movie was Toy Story.
Fans are eagerly anticipating the impact that these industry veterans will have on the screenplay, written by Brenda Hsueh. Hsueh, a seasoned producer and writer known for her work on adult comedy series like How I Met Your Mother and Truth Be Told, has previously collaborated with Domee Shi, the director of the poignant coming-of-age Pixar project Turning Red.
The character Wade Ripple in Elemental will be voiced by Mamoudou Athie. According to reports, Wade is a laid-back individual who prefers to avoid conflict and seems somewhat uneasy when he and Ember start to shake things up in the world of Elements. Although Mamoudou Athie is known for his role as Ramsay Cole in Jurassic World: Dominion and as a VHS enthusiast in the Netflix thriller Archive 81, he will make his voice-acting debut in this film.
On the other hand, Leah Lewis will be voicing the character of Ember Lumen in the movie. Ember is described as a lively and passionate person. From her home on a fiery island, she looks over to the busy, futuristic city on the other side of the bridge with a sense of longing, dreaming of a world where she can live without fear. Leah Lewis has previously starred in other films and TV shows, including The Half of It, Nancy Drew, and Station 19.
Pixar's Impressive Cast Of Voice Actors
Pixar has announced an impressive cast of voice actors for the movie in addition to Mamoudou Athie and Leah Lewis. Ronnie del Carmen, who previously voiced characters in Soul, will voice Ember's father, Bernie, while Shila Ommi from Tehran will voice Ember's mother Cinder. Wendi McLendon-Covey, known for her role in The Goldbergs, will voice Wade's boss Gale, and Catherine O'Hara from Schitt's Creek will voice Wade's mother Brook.
Mason Wertheimer, a newcomer, will voice Ember's neighbor Clod. Joe Pera, who stars in Joe Pera Talks with You, will lend his voice to Fern, an "overgrown city bureaucrat." The addition of these talented actors will no doubt enhance the experience of watching the amazing animated movie and bring the characters to life in new and exciting ways.