Despite not having shared the screen since 2014, Ellen Pompeo and Sandra Oh's friendship is still going strong. It looks like the Grey's Anatomy cast has become an inseparable family. Ellen Pompeo has congratulated Sandra Oh on her Emmy nomination. They shared the screen in the medical drama series 'Grey's Anatomy.'
Related: Ellen Pompeo Slamming Dr. Oz and Dr. Phil For Insensitive Coronavirus Comments
Pompeo Congratulates Oh For Her Emmy Nomination on 'Killing Eve.'
Sandra Oh received an Emmy Nomination for Leading Actress in a Drama Series for her role as Eve Polastri in 'Killing Eve.' Killing Eve is a British spy thriller series aired on BBC America in 2018. The show follows the cat-and-mouse relationship between two women: Eve Polastri, played by Sandra Oh, a British intelligence investigator. Eve is tasked with hunting down an assassin named Villanelle (Jodie Comer), and Villanelle, a psychopathic killer, naturally becomes obsessed with Eve. The show has gained critical acclaim for its stellar writing, acting, and unique approach to the spy genre.
Ellen Pompeo shared on Twitter how happy she was for Sandra,
"Yes!!! So incredibly happy for @IamSandraOh who deserves this more than anyone..No one can touch this girls dedication to story telling or her talent."

Ellen Pompeo
Ellen Pompeo's heartfelt message to Sandra Oh on her nomination reflects her enthusiasm. And the friendship is winning hearts all over.
This year Oh's nomination as a lead role has made history. It makes her the first woman of Asian descent to be received such a nomination. In an industry where rivalry and competition have taken over almost everything, Ellen Pompeo still congratulating Sandra Oh is worth applauding. Their friendship has gone remarkably well despite them not sharing a screen anymore.
Everyone in Hollywood should practice this supporting and encouraging behavior.
The Whole Grey's Anatomy Crew Is Happy For Sandra Oh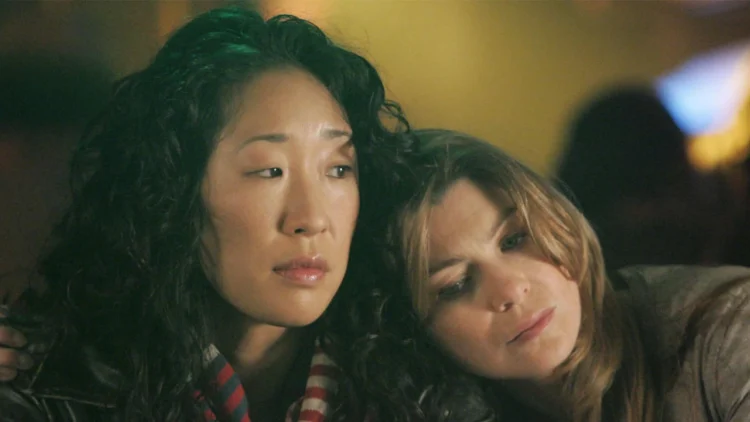 Even when Pompeo and Oh go a long way, other people from Grey's team are happy at Sandra's success. Shondaland, the production company behind the TV series, expresses excitement:
Our hearts are bursting with pride and excitement for Sandra Oh, making history as the first woman on Asian descent to be nominated for Lead Actress in a drama series.
For those who don't know, Grey's Anatomy is a long-running medical drama television series that premiered on ABC in 2005. The show follows the exciting lives of surgical residents, attending physicians, and their mentors as they move through their medical education while balancing their personal and professional relationships.
The show is named after the original series protagonist, Dr. Meredith Grey, played by Ellen Pompeo. Dr. Grey's best friend was Dr. Christina Yang, played by Sandra Oh. In the show, these two characters become close friends who would do everything for one another. Unfortunately, Oh left Grey's Anatomy in season 10 to pursue other projects. Fans were sad to see Dr. Christina Yang go, but the show still found a way to keep its audience hooked.
Grey's Anatomy is known for its diverse cast and depiction of complex medical cases and personal relationships. So, of course, they were happy to hear the news of Sandra Oh's Emmy nomination.
Let's see and hope that Sandra Oh can win the Emmy award because she did a remarkable job in 'Killing Eve.' Fans all over the world were in awe of her performance. The Emmy award show will take place in June and May of 2018. Oh is competing against Claire Foy for 'The Crown,' Evan Rachel Wood for 'Westworld,' Tatiana Masley for 'Orphan Black,' Keri Russell for 'The Americans,' and Elisabeth Moss for 'The Handmaid's Tale.'
Who do you think will win the award?