The Sopranos is famous for its morally grey characters. From Tony Soprano to Carmela and Christopher, everyone had their strengths and flaws. However, Carmela Soprano was a bit unique in her moral dilemma. She was religious and condoned fidelity, but loved the luxurious life that her husband's criminal life brought her. So, how did she reconcile with it? Well, who better to answer that question than the actor Edie Falco herself!
Edie Falco explains why Carmela stayed quiet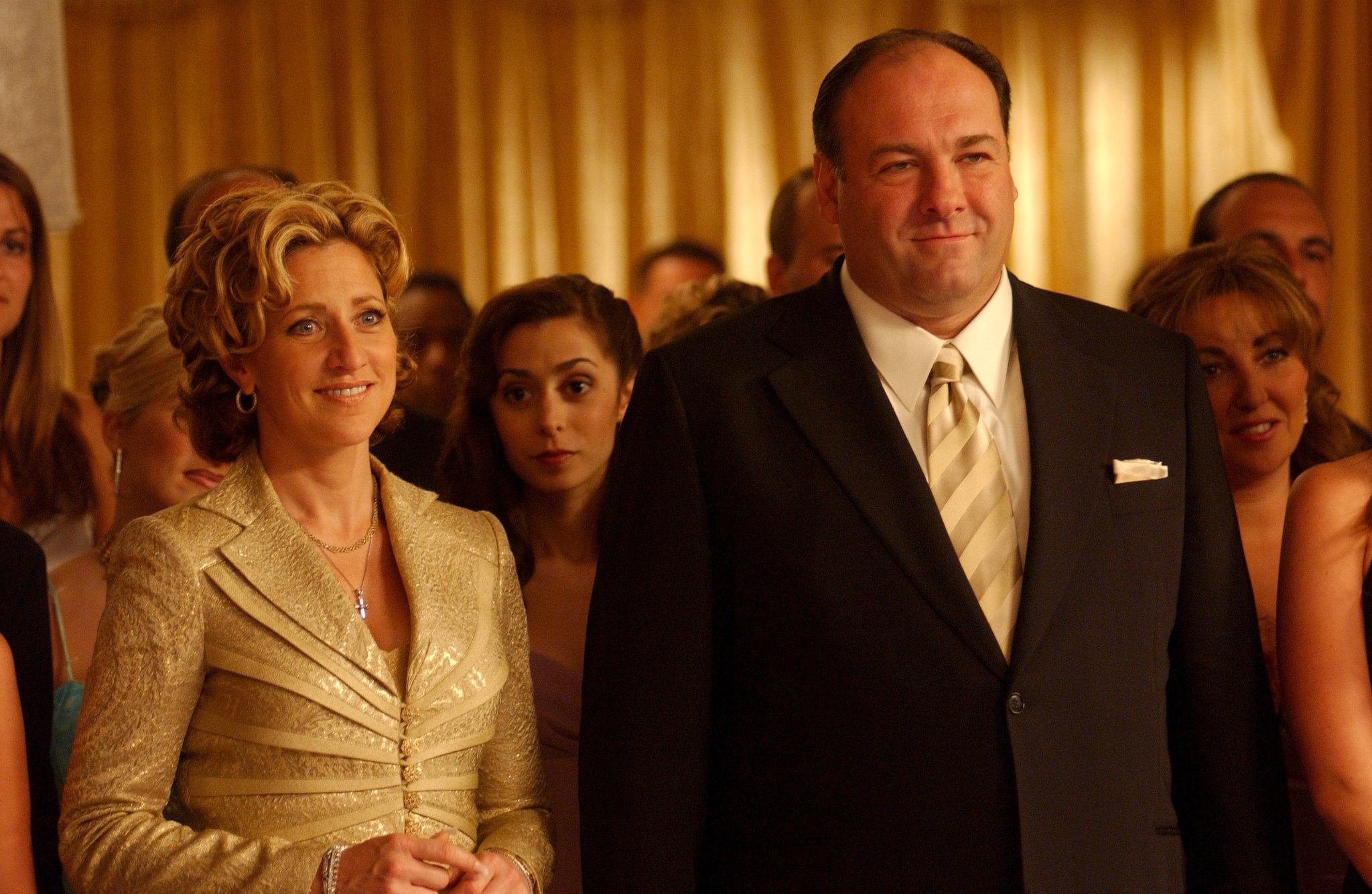 Recently, the Talking Sopranos Podcast is giving us a lot of insight about The Sopranos. In their latest podcast, Edie Falco made an appearance and talked in great detail about her character, Carmela Soprano. One important question that Michael Imperioli and Steve Schirripa raised was why Carmela was content with Tony Soprano's mob life and mob money? Falco said that "a lot of people do in their real-life":
If you really have to admit to the things that you're not okay with, then you're gonna have to make some changes, right? So, I think there was a big part of her that was in denial on some level about the way her husband made money, the way their money came from.
Moreover, Edie Falco specified that Carmela knew everything, but had to lock it up somewhere inside her head:
It's as if she could pretend she didn't know. Of course, she knows, she knew everything but I think she had to keep it in a closet way the hell in the back of her brain or she'd have to do something about it. You know, change your life, take your kids in a car and go to your mother's house. None of that was something she was willing to do because she loved the life.
However, there were moments when Carmela was willing to rebel. Edie Falco explains that that only happened when Carmela felt the suffering was not worth the comfort:
I think so. When the payoff wasn't as good as what she was putting herself through. When the ratio started to get a little iffy, I think she had some doubts. But, you know they didn't last long. She always came back to him.
How did Carmela accept that life, despite being religious?
Now, we all know that Carmela Soprano was an ardent Catholic. That makes her acceptance of Tony's life even more bizarre. But, Edie Falco believes that the status that came with that money was just too precious to Carmela:
I think on some level, you know, she talks a good game about wanting to get out. Because it's almost like as long as God hears her say those words, she's covered. But, there's a bigger part of her that was very attached to their status in the community, status within the family with the capital F, and knowing your kids would be taken care of. That was all a big part of what she agreed to early on.
Despite her amazing performance as Carmela Soprano, Edie Falco is nothing like her in real life.
Edie was very different
Even though Edie Falco and Carmela are synonymous for many of us, the two couldn't be any more different. Falco is not into jewelry, makeup, hairstyles, and even cooking! Falco admits that she never actually cooked on The Sopranos, even though fans in real life would constantly ask her for recipes!
You ever noticed how the camera is framed? it's like from here (gestures to her neck). So, I start doing this with my hands like I'm chopping or something.
But, Falco admits that playing Carmela Soprano was very exciting for her, as she likes variety in her roles:
Who wants to play themselves over and over again… I loved that she was so high maintenance with the hair and the nails and the jewelry, the clothing. It was all a big part of all who she was. And it was really fun like for the first five years, and then it was like the amount of time I spent on hair and makeup, it was a grating on me. It was a fair amount of lead-in time before work. But, yeah nothing was more exciting than playing someone so different from me.
Despite not being anything like her character, it's fair to conclude that Edie Falco's performance as Carmela Soprano is one for the history books. I don't think there's any other lead female character that was so expertly portrayed by anyone else. Falco was able to portray Carmela's internal conflicts seamlessly. In some moments, it was impossible to tell if what we were seeing was real life or just fiction. She was that good!