Remember when Dakota Johnson and Ellen DeGeneres had a rift on her show? Looks like Drew Barrymore also had beef with The Ellen Show host. After two years, Barrymore and Johnson reminisced on the awkward interview. Recently, Johnson appeared on The Drew Barrymore Show where the viral interview came up. Needless to say, the two actresses threw some shade on the comedian and did not hold back.
Back in 2019, Dakota Johnson and Ellen DeGeneres had the most awkward exchange ever
In 2019, Fifty Shades actress made an appearance on The Ellen Show. When Ellen DeGeneres accused her of not inviting the host to her 30th birthday, she hit back with an epic reply. Johnson said:
Actually, no, that's not the truth, Ellen. You were invited. Last time I was on the show last year, you gave me a bunch of s–t about not inviting you, but I didn't even know you wanted to be invited. I didn't even know you liked me!
Despite this, DeGeneres kept insisting that she was not invited. To this, Johnson told her to ask her staff and the producer. When it was clear that DeGeneres would not be able to get out of this situation, she said:
Why didn't I go? Oh yeah I had that thing. The party was probably in Malibu, that's too far for me to go to.
Turns out, The Ellen Show Host was hanging out with George W. Bush on that particular weekend. She also received a lot of backlash for this.
Interestingly, Drew Barrymore and DeGeneres has also had a feud in the past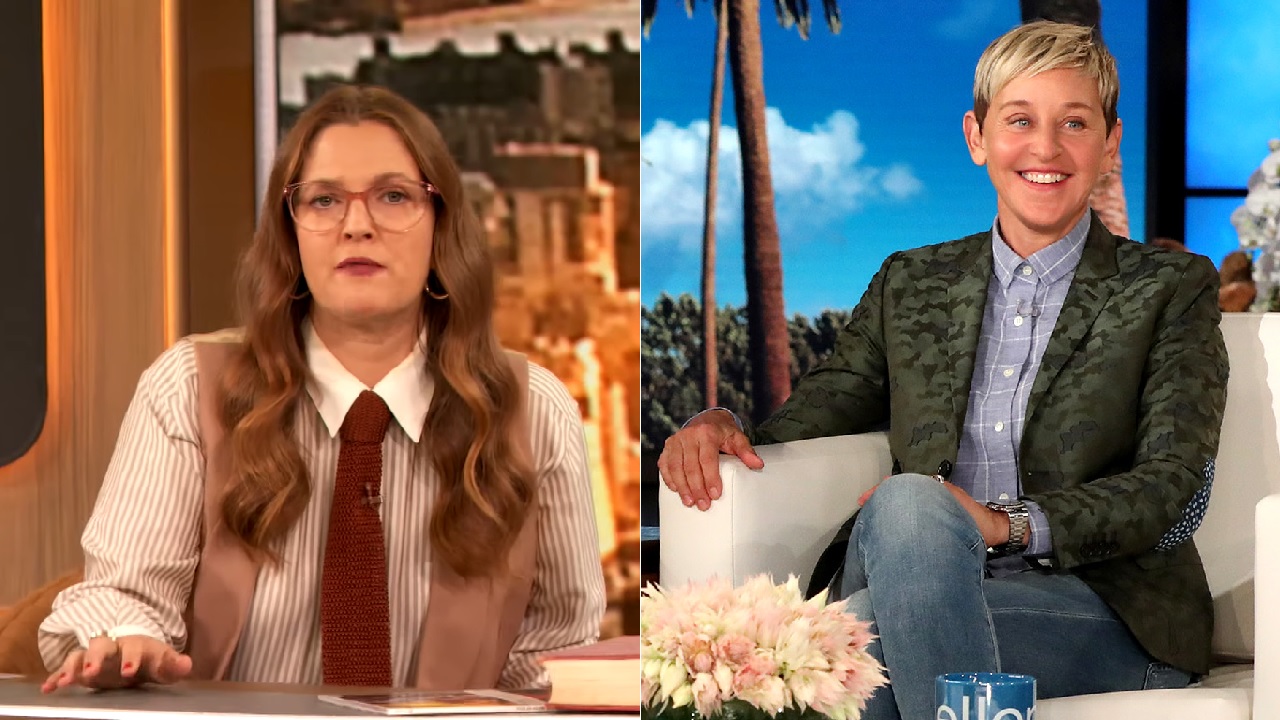 In 2017, Drew Barrymore and Ellen DeGeneres collaborated on a show for NBC called First Dates. The show revolved around couples of different age groups and their experiences of first dates. While the show could not make an impact, it also led to a feud between Drew Barrymore and DeGeneres. According to an insider:
"Ellen and Drew are a case of oil and water. Ellen expected to be the one calling the shots, but Drew Barrymore thinks she should have creative control because she's the movie star people are tuning in to see."
Related: "The Ellen DeGeneres Show" Is Ending After Viewership Falls
Recently, Drew Barrymore and Johnson threw shade on the comedian
This week, Dakota Johnson made an appearance on The Drew Barrymore Show. While on the show, Johnson talked about her neighbors, Jimmy Kimmel and his wife. According to her, they throw a lot of parties but never really invite her. This led to Drew Barrymore reminding her of the viral interview with Ellen DeGeneres. Without mentioning her name, Barrymore said:
"People have gotten in trouble for claiming not being invited to your parties. That was amazing, by the way. Like amazing."
Throughout this conversation, Johnson kept laughing wholeheartedly. Meanwhile, the audience at The Drew Barrymore Show cheered her and clapped.
While it is unclear if DeGeneres will reply back, it did seem to make everyone else's day better. Including Drew Barrymore and Dakota Johnson.