Griffin Johnson and the Sway Boys are back with the toe jokes on the internet. Recently, Bryce Hall confronted Griffin Johnson when he asked him about the reasons why he would demand toe pictures from someone. Blake Gray specified the question even more and asked Griffin why would he ask someone other than Dixie for toe pictures. Griffin Johnson could not answer the question at the time. Or at least, the answer was not shown to the audience in the vlog. However, that did not stop him to continue the toe jokes on the Twitter. Unfortunately, turns out Dixie D'Amelio is not in a mood of toe jokes.
Dixie D'Amelio not in a mood for Griffin Johnson's toe jokes
Bryce Hall's vlog might have made it to Dixie's news feed as many fans observed her tweets were taking a dig at Griffin Johnson, her ex-boyfriend. Their breakup had mostly to do with Griffin asking girls on Snapchat for their toe pictures.
Dixie is suffering from a foot infection these days and she shared a picture of her feet on Twitter.
When a fan asked her why did she share her feet picture for free, Dixie shades Griffin Johnson by saying: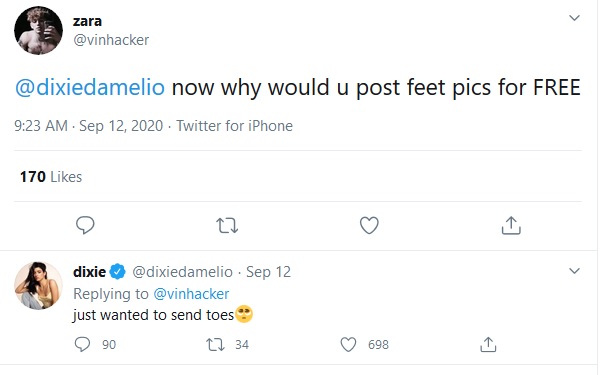 That's not all. Dixie D'Amelio also shared a picture of her toe in response to a fan asking for her picture.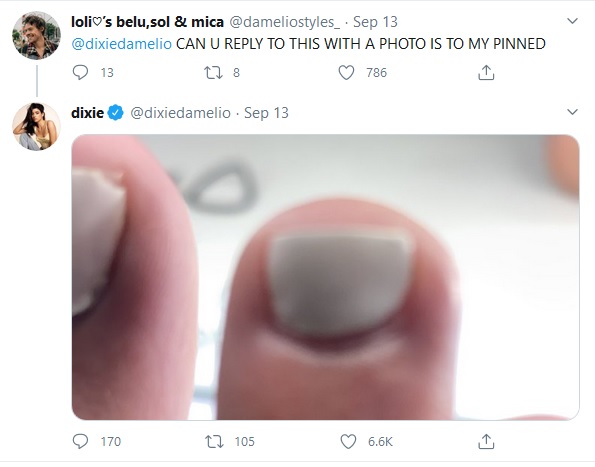 Things got interesting when Griffin Johnson retweeted Dixie's toe picture with a heart-eyed emoji.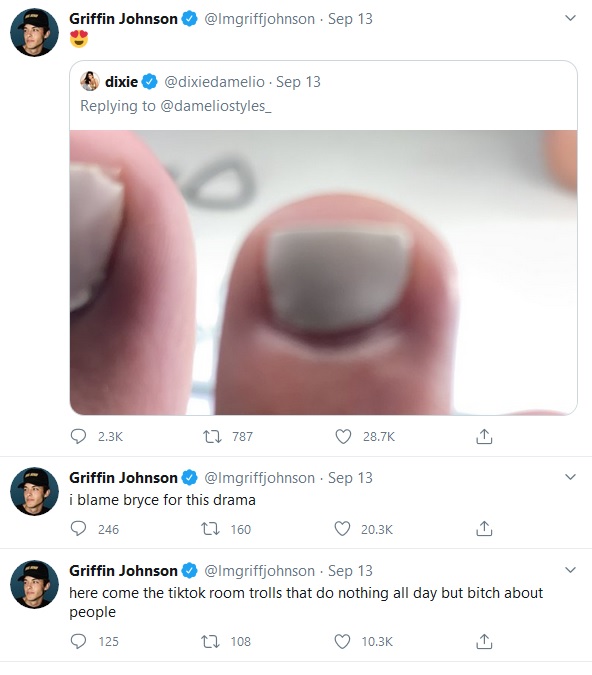 And Dixie D'Amelio was not up for the joke. She immediately shut him down with a simple response: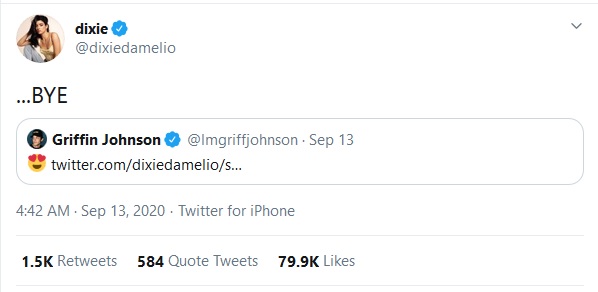 Many fans highlighted that Dixie is ready to make toe jokes herself and also send toe pictures. However, that offer is not valid for her ex-boyfriend Griffin Johnson. Bryce Hall, whose vlog started it all, also retweeted Dixie's BYE tweet and thanked her for making Twitter interesting.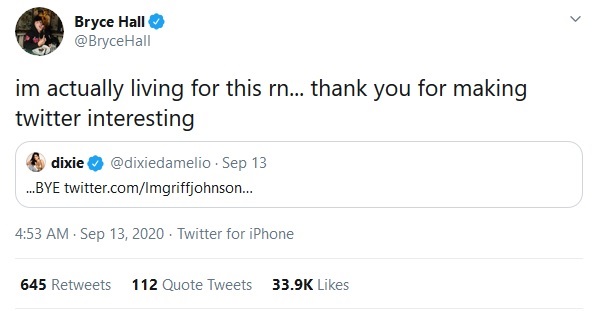 Even Josh Richards said that he might bring back his famous segment TeaTok now. The Sway boys are facing so many dramas these days.